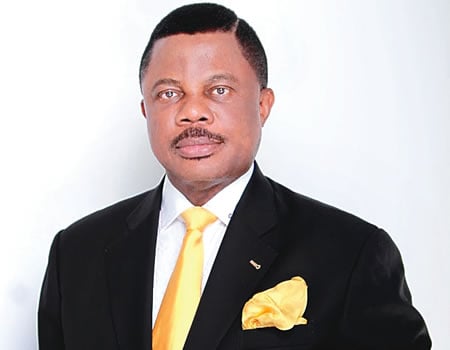 ANAMBRA State Governor, Chief Willie Obiano has been urged to check the activities of illegal revenue collectors in the state, who are allegedly still collecting revenues that he personally directed should be stopped.
The call was made by members of Road Transport Employers Association of Nigeria, RTEAN, Anambra chapter, who alleged that "in spite of Governor Obiano's directive against illegal collection of revenue, the molestation and intimidation of motorists by illegal revenue collectors had continued without recourse to the governors directive
and order."
Addressing journalists in Onitsha, yesterday after their meeting, State chairman of RTEAN, Hon Celestine Anere, appealed to the Governor, to state the exact levy for commercial bus drivers to avoid ongoing extortion of their members by fake revenue collectors.
He also alleged that similar cases of extortion were ongoing among commercial tricycle and motorcycle operators in the state, noting that for the past one year, most people collecting revenue in the name of the state were not remitting same to the state coffers as expected.
He said: "While we agree that the government has every right to tax motorists, what we question is the fake revenue collectors who use hooligans and touts to force motorists to pay between N2,500 and N3,000 daily.
"RTEAN in Anambra State decries and sees as unacceptable, multiple taxations imposed on our members by illegal revenue collectors. We, therefore, appeal to Governor Obiano to address the ugly situation. The unfortunate thing about these fake and illegal revenue collectors is that they are being shielded by some government officials, and those close to the corridors of power in the state."
"RTEAN is a statutory body registered in 1978 under the Trade Union Act to represent the owners of all commercial vehicles in the country, but we discovered that some illegal associations infiltrated the state and collecting the same revenue, ranging from N2,500 to N3,000, with intimidation, harassment and all forms of hooliganism, claiming to have authority from Anambra State government."
"We are a trade union and registered under the Federal Ministry of Trade. While association can be registered under Corporate Affairs Commission, CAC as an NGO, so coming to do our work with intimidation and harassment of our drivers is illegal.
"We have written the Secretary to the State Government, SSG, to clarify the issue that a welfare association registered under Part C of the Corporate Affairs Commission, cannot do business for profit, either for themselves or for the state government, but we are yet to get a response from him.
"There is also a law that states that an incorporated trustee registered under part C cannot function as a Trade Union, so why are government officials supporting the illegal association to function as a Trade Union, we want to know governments position on this and how they can help us stop this extortion and hooliganism being meted on our members before it results to breakdown of law and order in the state."