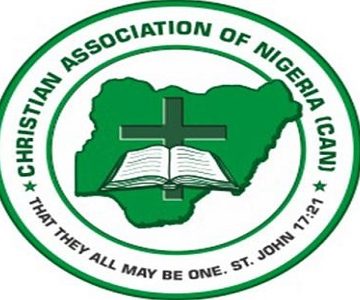 THE leadership of the Christian Association of Nigeria (CAN) has commiserated with the victims of recent flood disaster and the wanton killings in the country.
In a statement issued by the Special Assistant, (Media and Communications), to the CAN President, Pastor Adebayo Oladeji, the Christian Apex body tasked government at all levels and relevant agencies to wake up to their responsibilities.
The statement reads "rising up from the meeting of its National Executive Committee (NEC), the Christian umbrella body expressed its disappointment, over the loss of lives in the country in recent years due to some unavoidable factors and urged government at all levels and security agencies to revive their intelligence gathering.
"On the missing General Idris Alkali, CAN wonders who is safe and secured again if an Army general could be attacked and be missing for weeks now. It charged the security operatives to wake up to their responsibilities and protect the lives and property of all and sundry.
ALSO READ: Era of free money in politics over ― Buhari
"On the flood disasters in some parts of the country, the Association warns the populace against violating the environmental laws even as it calls on the National Emergency Management Authority (NEMA) and the National Orientation Agency (NOA) to intensify efforts in educating the people on how to prevent flood in the country.
"CAN which received the report of the Panel that investigated some allegations against its leaders expressed disappointment in the failure of the petitioner to appear before the Committee and passed a Vote of Confidence on the President and caution members against using the media to settle personal scores.