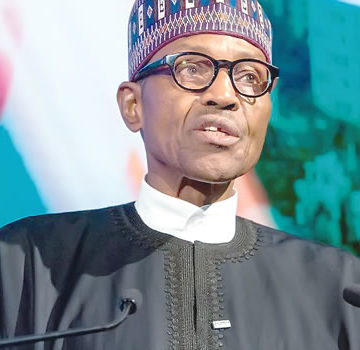 PRESIDENT Muhammadu Buhari has challenged the Nigerian University System on the need to conduct cutting-edge research and well-thought analysis in providing solutions to the nation's development challenges.
Buhari, who is the Visitor, spoke at the 22nd convocation ceremony of University of Abuja on Saturday, where not less than 3,160 students graduated with Third class degrees and 180 Passes.
Vice-Chancellor of the University, Professor Michael Adikwu, who gave a breakdown of the graduating students the said this figure was out of about 7,148 students graduated from various faculties, comprising 6, 902 undergraduates and 242 postgraduate students from the 2016/2017 academic session.
A total of 16 students graduated with First Class Honours, 507 Second Class Upper Division and 3,143 Second Class Lower Division.
The General Superintendent, Deeper Life Bible Church, Pastor William Kumiyi, was conferred with the award of Honorary Doctorate Degree (Honoris Causa), by the management of the University alongside Alhaji Dikko Aliyu and a posthumous award on a respected Historian of Ahmadu Bello University, late Dr Yusuf Bala Usman.
Buhari said his administration recognised the unparalleled role of universities as a catalyst of industrialisation and knowledge economy, urging the University System to key into the activities of government through the conduct of research that would make every citizen of Nigeria derive maximum benefits from government policies, activities and pronouncements.
He said: "It has been postulated that by the year 2050, Nigeria will be the 3rd most populous country in the world.
"It is, therefore, incumbent on Nigerian Universities to begin to research into and analyse the implication of this impending development on the various sectors of the economy and proffer recommendations that will assist government and all relevant stakeholders mitigate the effect of this increase in population.
Buhari's speech was read by the Executive Secretary of National Universities Commission.
Meanwhile, Pastor Kumuyi, who spoke on behalf of other awardees, thanked the University management for the recognition and pledged to contribute to the development of the University from the privileged status of special Alumni.
He noted that he has in his various endeavours sought to promote the unity of the country, adding that it was remarkable to see that over the 30 years since the founding of University of Abuja, it has been a good model of the harmonious and peaceful relationship that could exist among the diverse people of Nigeria that are greatly endowed.
He said the fact that the University now ranks among the best in the country and that most of the courses offered, secured the hard-earned accreditation from the National Universities Commission (NUC), have attested to the institution's serious commitment to scholarship.