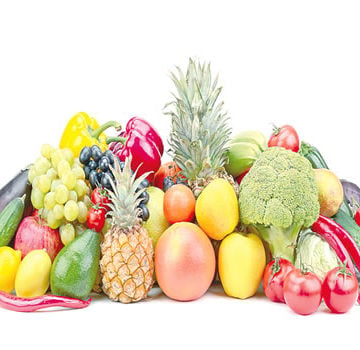 FOR thousands of years, painful menstruation is one of the leading causes for women to miss work. This regular monthly pain is also one of the leading reasons for regular use of painkillers. But scientific evidence is suggesting remedies can take care of menstrual cramps.
Research into the menstrual cycle suggests that nutritional intake and metabolism may play an important role in the cause and treatment of menstrual disorders.
"Women with menstrual cramps tend to have a low amount of potassium and magnesium levels in them and this can be consciously increased by taking potassium and magnesium rich foods such as banana, cucumber and green vegetables to resolve it," said Dr Funmi Akinyele, Executive Director, Food Basket Foundation International.
Dr Akinyele said that when the body has sufficient amount of magnesium and potassium before the menstrual period, at least the level of pain can be reduced or it can be totally prevented.
According to her, "fruits such as bananas and cucumber as well as green vegetables are cheap and accessible sources of magnesium and potassium. There is no limit to amount of fruits and vegetables a person can consume, so it is safe.
"That is why even extracts made from such green vegetables like bitter leaf aside its rich iron content should be taken by women that experience menstrual cramp."
Programme Officer, nutrition, Food Basket Foundation International, Mrs Yetunde Adeseluka-Oladejo, said to ensure the benefits of these essential minerals and vitamins in vegetables and fruits can be maximised, they can also be taken in their juiced or smoothie forms.
"There are so many vegetables that we can take. Consider jute leaves, okra and mint leaves; one can never go wrong with vegetables because they have their unique health benefits. And the recommendation is to add vegetables to as many meals as it is possible," she added.
Also, researchers have found that some home remedies are effective in reducing the severity of menstrual pain and spasm. In a study, researchers compared the effectiveness of ginger, mefenamic acid, and Ibuprofen on painful menstruation.
According to the 2009 study in the Journal of Alternative Complementary Medicine, ginger was as effective as mefenamic acid and ibuprofen in relieving pain in women with menstrual pain.
Mefenamic acid and ibuprofen are non-steroidal anti-inflammatory drugs often used to treat menstrual cramps.
At the end of treatment, severity of menstrual pain decreased in all groups and no differences were found between the groups in severity of menstrual pain, pain relief, or satisfaction with the treatment. There was no severe side effect, either.
The double-blind comparative clinical trial conducted between September 2006 and February 2007 involved 150 students (18 years old and over) with menstrual pain who were alternately divided into three equal groups.
Students in the ginger group took 250 mg capsules of ginger rhizome powder four times a day for three days from the start of their menstrual period. Members of the other groups received 250 mg mefenamic acid or 400 mg ibuprofen capsules, respectively, on the same protocol.
Another study, published in BMC Complementary and Alternative Medicine in 2012 that analysed the use of ginger root powder or a placebo in 120 women with moderate or severe menstrual pain found that there were significant differences in the severity of pain between the ginger and placebo groups.
Those taking ginger root powder two days before the onset of their menstrual period and continuing through the first three days of their menstrual period had the shortest duration of pain.
Research shows that compounds found in ginger may help reduce the body's production of prostaglandins, a class of pro-inflammatory chemicals involved in triggering the muscle contractions that help the womb shed its lining.
Because the onset of menstrual cramps appears to be linked to excessive production of prostaglandins, it is thought that consuming ginger in dietary supplement or tea form can help reduce menstrual pain.
For the nausea, vomiting or diarrhoea due to painful cramping and hormonal changes; ginger is also one of the best herbs to soothe the stomach.
In addition, there is some evidence in a clinical trial published in Phytotherapy Research in 2015 that ginger may help control heavy menstrual bleeding. The levels of menstrual blood loss dramatically declined.
The clinical trial involved 92 women struggling with heavy menstrual bleeding were treated with either ginger or a placebo for three menstrual periods.
In addition, pure honey consumption in women, who suffer from menstrual pain, reduces significantly the severity of pain and amount of bleeding.
The study in the 2012 Evidence Based Care edition involved 60 female students. It compared the effect of pure and impure honey on severity of pain, amount of bleeding, and duration and interval of menstrual cycles in female students with menstrual pain.
The researchers suggested that pure honey can be considered as an alternative treatment approach in affected women since a significant difference was observed in the severity of pain following taking pure honey.