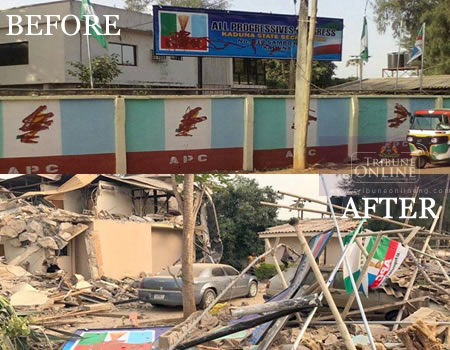 THE Nigerian Army has said it was not involved in the demolition of the factional APC Secretariat in Kaduna in the early hours of Tuesday.
The denial was contained in a statement titled: 'RE: ARMY DEMOLISH PROPERTY IN KADUNA' signed by the Deputy Director Army Public Relations 1 Mechanised Division Nigerian Army, Colonel Muhammad Dole on Tuesday evening.
The statement said, "The attention of the 1 Division Nigerian Army has been drawn to a Twitter message, a report in mass and social media of alleged involvement of military personnel in the demolition of a politician's property by KASUPDA in Kaduna.
"This is not true. No Nigerian Army soldier was involved in the exercise.The allegation and the attempt to drag the Nigerian Army into the issue of demolition is yet another baseless and unsubstantiated claim to malign the hardworking, loyal and professional officers and soldiers of 1 Division Nigerian Army and discredit them," it emphasized.
It stated that contrary to claims, the troops of 1 Division have not been involved in any illegal activity of either harassment of politicians or demolition of their properties in Kaduna and its environs.
"Therefore this claim remains the highest mischief and misleading and it is viewed as another calculated attempt to distract our troops from performing their professional duties. Therefore, the public should disregard such false allegation.
"The troops of 1 Division Nigerian Army will continue to remain apolitical and non-partisan in the discharge of their constitutional roles. Presently our troops are dutifully engaged in EXERCISE AYEM AKPATUMA (CAT RACE) in Niger and Kaduna states, combating Kidnappings, Cattle rustling, armed banditry and Terrorism
Also, the Director-General of Kaduna Geographic Information Service,( KADGIS), Ibrahim Hussein has exonerated the army in any involvement.
In a statement issued to newsmen in Kaduna on Tuesday evening, the DG explained that "one Yahaya Shinko, a retired major, is trying to drag the Nigeria Army into a simple and routine matter of law enforcement. This is unfortunate, and we make bold to say that it is totally unnecessary.
ALSO READ: Army denies killing any vigilante member in Edo
"Since his exit from the military, Yahaya Shinko has nursed ill-will towards the army. He should not besmirch an institution just because it spat him out earlier" than he wished.
"We see echoes of his treatment of the Army in the way he turned against the government of Kaduna State once he was removed as a local government interim chairman.
"Whenever KAPSUDA is carrying out its statutory functions, it receives the support of law enforcement agencies, and this does not involve the Army, it stressed.