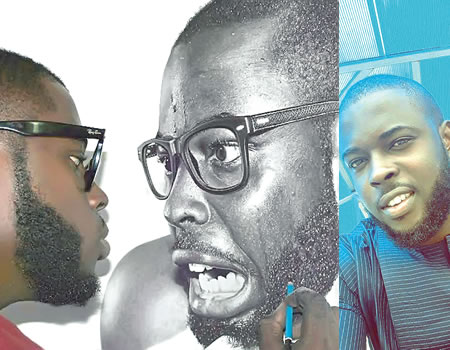 Arinze Stanley Egbengwu is one of the ever-increasing young Nigerians who are following their passion and discovering fame, success and fulfillment.
He graduated from the Imo State University with a degree in Agricultural Engineering, but Arinze had found an undying love in the art, from the age of six.
He says his art is "born out of an undying zeal for perfection both in skill and expression". It's not difficult to believe him. Arinze's artworks are so lifelike it's hard not to take them for photographs.
One of his drawings, Insomnia, recently won 25 American Galleries' World's Best Self-Portrait award – and he's just getting started!
How does he do it?
"Most times, it's almost like I lose control of my pencils; and, like energy transfer, the art flows through me from my pencil to the paper," he says.
He spoke to Saturday Tribune.
Give us a little about your background and how this has affected or influenced your life and choices.
I'm the first son of a family of six living and working in Lagos, Nigeria. My father owns a paper conversion company. Basically, we produce envelopes; so, all my life, I've had the opportunity to grow up playing with a lot of paper and pencils also. These were the only toys I had while growing up. I started drawing about the age of 6, training myself in creating realistic drawings and expressions on paper… This was like the only way I could play and express myself as I wasn't really good in any of the sports.
You studied Agricultural Engineering, but today you're practising art…
Well, I guess it took me a couple of years after applying for the university to realize that I had a stronger bond with art than engineering. Both ways, I feel a lot freer being a self-taught artist, not being bounded by society's understanding of art, but solely what I've grown up to become.
You're a 'self-taught' artist. Looking at the sheer finesse of your artworks, it's difficult to imagine that mere raw talent took you this far. How did you hone your skills to achieve this level of expertise?
Well I feel like this wasn't really a 'thing' as it was a part of my growing up, so basically it's a daily-growth kinda thing. All I just needed was the zeal and focus.
You're noted particularly for working in a genre of art called hyperrealism. Can you tell us a little about that?
Well, hyperrealism, in my understanding, is an exaggeration of realism. This is a movement of art that involves drawing or painting in a manner that looks like a photograph, with an ability to pass a message or tell a story and exert some amount of emotion/feelings to the viewers.
How do you choose your objects or the personalities you sketch/draw? Is there a philosophy behind this, or are they just random choices?
Actually, it's kinda beyond me… I could take hundreds of photos from different sitters, but I find that when I'm more connected to my subjects, it just flows through me to the paper.
Did you at any point along the way ever consider financial success or fame as a motivating factor, and would you say your choice has paid off?
Not for a single day throughout my years of practice did I consider financial success as a motivating factor for me. I just wanted to do what comes naturally to me. Definitely, art has paid off a lot.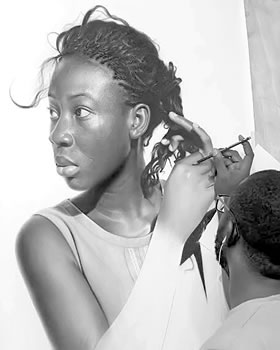 What measure of fame and success has your talent brought your way so far?
Well, I don't like to consider myself as successful just yet, but consider myself as a work in progress and hope to learn more as the day goes by.
Which of your works, so far, would you say gave or gives you the greatest sense of accomplishment as an artist?
Every single piece of art I create gives me a sense of accomplishment… I think this is common with all, because each new piece reflects growth both in my mental and physical abilities.
Who is the strongest influence on your life as an artist?
At this stage of my life, with all I've been through in life, the decisions I've had to make, the mistakes I've made and how everything has led me to become what I am today, I know God is the greatest influence on my career as an artist.
What is the philosophy that drives you?
Patience… Practice and persistence