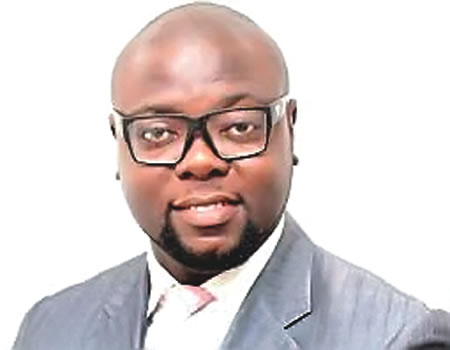 Honourable Dipo Olorunrinu is the only Peoples Democratic Party (PDP) member in the Lagos State House of Assembly. In this interview, he speaks on Governor Akinwunmi Ambode and the Lagos Assembly, among other issues. SEGUN KASALI brings the excerpts:
As the only PDP member in the house, are you satisfied with all the decisions in the house or you are hindered by fear?
Can I tell you this? Coming to the Lagos Assembly, I came in as a minority; I can't be afraid of anybody. Like you said, it is just a matter of 39 against one. I might not be satisfied with everything they say as you have rightly said; 39 against one and it doesn't also mean that I am not happy with what they also do, you understand. But the important thing is that the majority of the representatives have keyed into it, so we just work with the people we are standing in for. What we stand in for in the assembly as an institution is for the people. So, it's like one person coming to say it should be like this against every other person. It does not mean that I don't have my personal opinion and it does not also mean that I would say yes because every other person is saying yes also. But it is just a matter of give and take thing. We can't all get it right and we can't all have it right.
Have you been sidelined as a minority?
Let me say this and make it clear. In the Lagos State House of Assembly, you don't come here to do political party, inasmuch as you can't do away with it in some angles. Everybody has where they all came out from. But the important thing is that Lagos is a state where its people are highly expectant of what we are here for. On the issue of being sidelined, I have never been sidelined. The governor himself has to govern the whole state. So, it is the interest of the governor and the executive that they also get to the minority areas, where the minority parties are. It doesn't mean that he won't because it is PDP that wins in my area now the governor won't work there. He will and as you can see, he is the governor for everybody.
What has been your driving force as the only PDP member in the assembly?
In the most sincere truth, my driving force has been the majority that sent me here. Some people sent me here, some people sent everybody here. In my area, the majority that sent me here is PDP. They keep me going. And even the opposition party, APC keeps me going. I have a relationship with every party- Labour, APGA, APC and PDP. Once you win an election, you should have an administration for the entire people. You can go do your findings, regardless of everybody's motion about party, it is a laid down constitution to have a formidable administration.
Have you ever been tempted to defect to APC like your other colleagues?
When you say tempted, temptation has to do with choice.  Something must attract you. 'Tempted' has an undertone of attraction. Well, nobody wants to be in a lonely place, but you must also look at the reason and what you come to do in that place. Most times, I try to remember that some people sent me here and I look back and said that they are not really in line with that temptation. So, it makes you respect yourself by aligning with the people that sent you to work here.
Do you think the achievements of Governor Ambode propelled the defection of your colleagues from PDP to APC?
One man's meat is another man's poison. My colleagues might have seen that. But like I said, Governor Ambode is a very intelligent and hardworking man. As you can see, the governor is working and who will see something good and would not reckon with it. And he is working because I am working. He is working because the legislature is working. It is a synergised government. There is nothing Governor
Ambode is doing that does not pass through the Legislative arm. So, saying that Governor Ambode has not worked is like saying the Legislative arm has not worked. It is like saying Dipo Olorunninu has not worked. For me, I think we should get more practical with the administration and keep it real since we are using the American system of democracy. For instance, if the Republican wins while the Democrat did not, they still work together after election. It does not mean he is trying to cross-carpet.
How would you describe the Lagos political system?
It is a system where you have people that are highly intelligent and it is a sort of competitive approach in politicking. It is a system where people from different kinds of orientation, idea, styles of life, styles of governance have to come together to make a meaning. For me, it is a politics where you just crave your own layout.
Recently, the President of South Africa resigned because of a certain allegation. Do you see such happening in Nigeria?
The lesson from that naturally is that when people don't want you, just take a bow. Most times, we find it difficult to take a bow. These seats are not seats that anyone can inherit. It is people's seat. It is a seat of privilege. It does not mean that because you did well someone else cannot do better. Like I said, you should be humble enough to do that. Look at what former President Goodluck Jonathan did despite the allegations and everything, he let go. That is something we should learn to salute. Remember what he said that he will never let a blood for any reason. It is his personal ambition not what some people claim.
The Deputy Senate President, Ekweremadu said that civil servants are free to join politics. Is this consistent with our constitution?
I don't equally agree to that. Well, that is his opinion. Civil servants should be seen as like the word goes "Civil," you should be found to be upright; you have a service to render as a civil personnel. So, it makes you to be called a civil servant. You must be found neutral to take the right decisions.
How would you describe the 8th legislative assembly?
To be frank with you, there is a place in the Bible that Paul says "I have fought a good fight of faith."  I can tell you that the 8th Assembly has fought a good fight of faith. We have made laws that have created employment. We have been able to make laws, move motions and identify credible ideas. We have been able to partner our ideas in the legislative arms. We have been able to create peace in the Assembly.
There is a rancour everybody is expecting because there is an opposition party, but it has been peace all the way because peace shows some level of understanding. What do we gain from rancour? We gain nothing. So what matters is the approach to governance.