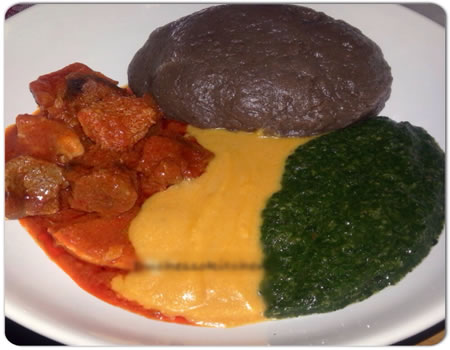 Amala and abula is one of the favourite meals of many people in the South Western part of Nigeria. Amala is a staple food made from yam flour while abula is a mixture of gbegiri (bean soup) and ewedu, a draw soup. This food is usually served at parties, restaurants and some eatries. Below is the recipe for amala and abula.

Recipe for Ewedu
A handful of frozen jute leaves (1/4 pack – ewedu leave)
-1 teaspoon of Iru (locust beans)
-1 teaspoon of blended crayfish
-A pinch of salt
How to prepare Ewedu
-Blend the jute leaves and pour in a pot
-Pour in the Iru, blended crayfish and salt
-Stir in pot and do not cover throughout the process
-Boil on medium heat for about two to three minutes
-Serve with your stew and Amala
Recipe for abula
-1-2 cups of brown beans, peeled
-cayenne pepper
-1 cup of palm oil
-seasoning
-salt
-assorted beef
How to prepare abula
-blend cooked beans in a blender
-place a cooking pan on a medium heat, add palm oil for about 3 minutes (don't bleach)
-stir purred beans in palm oil, add water if needed to achieve thickness
-add assorted beef and cayenne pepper, stir till well combined.
-add seasoning, cook till all ingredients are well combined.
-serve with ewedu and swallow of your choice, most especially with amala.
How to Prepare Amala
Amala is a popular delicacy of the Yorubas in South – West, Nigeria  and is usually eaten alongside ewedu. Amala is one of the lightest "swallows" making it easily digestible.
Steps to making a lump – free Amala
-Heat water on the fire to a boiling point
-When the water is boiled, bring it down from the fire and gradually begin to add your yam flour. Do not add the flour to the water while still on the fire so it doesn't form lumps.
-Begin to turn the yam flour with a wooden stick quickly so as not to form lumps. Turn for a while add little water and put it back on the fire to cook on low heat for about five minutes.
-After five minutes, begin to turn the Amala again, keep turning until a smooth lump is formed.
———————————–
With this Abula buka, Ibadan won't be dull again
A new restaurant, known as 'ABULA'  has just been established in Oyo State along  The Polytechnic Ibadan, South campus gate, to meet people's need for local delicacies in the city of Ibadan. A  non-Executive Director of the buka, Mrs  Oye Adediran, in this interview by KEHINDE ADIO, speaks about the relevance of the centre to the hospitality business in the state. Excerpts:
What informed the establishment of the restaurant?
There is the need to provide healthy meals with proper home cooking at affordable prices in a decent environment. Ours is an attempt to offer Ibadan and Yoruba food culture of international standard that will support tourism. You don't have to eat amala, abula, eegbo, asaro and other delicious traditional meals in an uncomfortable environment. Also, families should have a conducive and decent environment for the whole family to eat at affordable prices, especially on Sundays, when Ibadan is said to be dull. Not anymore will Ibadan city be dull on Sundays.
What distinguishes your restaurant from existing ones?
The real abula taste, the comfortable environment, the hygienic condition in the kitchen and size of the restaurant that makes it the biggest restaurant in the South West of Nigeria, outside of Lagos! We also want this to be available 24-7, Monday to Sunday.
We also host parties like anniversaries, birthdays and exotic engagements and receptions.
Clubs and associations can hold their regular meetings and anniversaries at our first floor party hall or the executive lounge, also on our first floor, all fully air conditioned. We seek to host families in a decent environment. So, it is a full service environment.
What type of food are being served and why?
We are promoting every type of Nigerian food especially of Ibadan origin. We currently serve the real Abula – Amala with ewedu, gbegiri and "obe ata". We also serve ofada rice, jollof rice is best here, ekuru, asaro or yam pottage, efo riro, egusi, dodo, eegbo and semovita. We are about to launch pounded yam, eko and efo riro etc.
What can you say about food vendors and hygiene generally in Nigeria?
Part of the motivation for setting up Abula is the need to ensure proper food hygiene. We cannot sell what we can not eat. A lot of kitchens of several restaurants in Nigeria will make you lose your appetite. Ours is the first attempt to make the kitchen visible to customers. You can see where the food is prepared from A to Z and be reassured of the health and hygiene consciousness of our cooks and servers.
How do you maintain balanced diet through your dishes?
Our menu provides all components of balanced diet in varieties that are fairly priced. There are options of animal and vegetable proteins, vitamins and minerals, energy giving food and all prepared fresh. It is home cooking provided fast through the expertise of our seasoned cooks and rich ingredients. We obtain all our food ingredients from the best sources and fresh too.
What other services do you render or intend to render to distinguish your establishment?
We are the only restaurant in Ibadan providing fully air-conditioned space that can host clubs, associations, seminars, parties, anniversaries, big meetings and even wedding receptions despite the fact that we are not an event center! We have a state of the art party hall for 200-400 guests. Our executive lounge is for VVIP customers to eat and meet too. We accommodate family get together and bonding eat outs. We also handle outdoor catering for different organisations.
Very soon, our art gallery will open its doors to art lovers and local talents in the South West.
Similarly, our live band entertainment stand will be launched to boost local talents.
A lot more is in the offing for fish farmers to provide the market for their products.
All these will be rolled out very soon for the benefit of our numerous customers and the great people of Ibadanland.