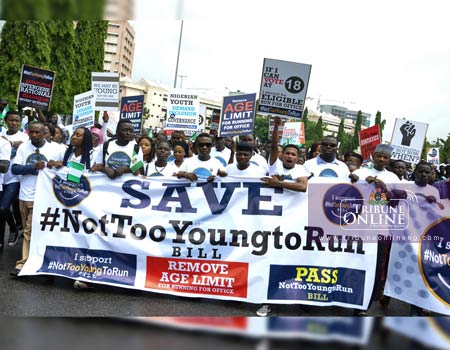 AS the 2019 political activities hot up, stakeholders led by the 'NotTooYoungToRun' Movement in Gombe state on Monday decried the high cost of forms for expression of interest and nomination for the 2019 general elections being sold by political parties in the country.
A national leader of the movement, Hamzat Lawal, told newsmen at a press conference in Gombe that the high costs of the forms would make youths and other qualified politicians to shelve their ambitions saying that the whole idea of paying exorbitant rate for nomination form smacks of a grand conspiracy to keep the system only for the moneybags and shut out those with less financial muscle.
He stated that, "The movement notes with concern the announcement on the cost of nomination forms by various parties which presents a major impediment to youth participation in politics."
Hamzat Lawal also decried the manner at which some state Governors have hijacked the process of the sales of nomination forms to thwart the aspirations of young aspirants and perceived political enemies.
ALSO READ: This is how successful CEOs spend their time
The group, therefore, recommended that the cost for nomination forms by various parties should not exceed, N2 million for presidential aspirant, N1 million for governorship, N600 thousand for senatorial, N400 thousand for house of representatives and N200 thousand for state assembly.
The group further appreciates the leadership of the various political parties that have reserved party tickets for young men and women with character, capacity and competence as well as parties that have adopted open, transparent and direct party primaries in the candidate selection process.
The group also urged political parties and their candidates to engaged in issues-based campaign and shun comments that could incite their followers during campaigns.
They then called on the people to use the period of the campaign to assess the candidates and also shun any form of financial inducement from the candidates or their agents.
According to him, the movement will soon host a public dialogue series with political parties in order to address some concerns relating to the candidate selection process by the political parties.