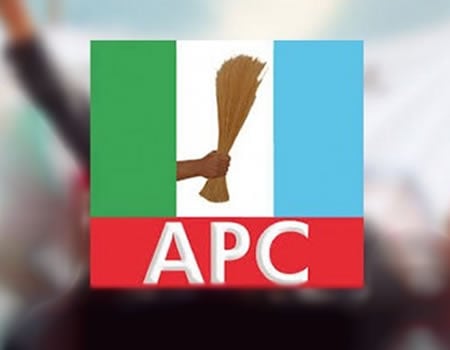 THE crisis rocking the All Progressives Congress  (APC) Deepens on Sunday, as the party raised an alarm over the plot by some aggrieved party members to challenge the party's National Executive Committee, NEC position on the mode of Primary for the party electives positions ahead of the 2019 elections.
To this end, the party through its acting National Publicity Secretary, Mr. Yekini Nabena in a statement said that, " the attention of the National Working Committee (NWC) of the All Progressives Congress (APC) has been drawn to an illegal meeting scheduled to hold on Sunday at Transcorp Hilton hotel in Abuja by some members of our Party organs, with a view to fault the decisions made by the NWC followed by the National Executive Committee (NEC) as regards the mode of the Party's primary elections.
The statement read: "We want to state clearly that the meeting which has been fixed for 2 pm is illegal and an attempt to puncture the sincere efforts being made by the Comrade Adams Oshiomhole-led NWC to reposition our Party ahead of the 2019 General Elections and to ensure unity, equity and justice in the Party.
"The outcome of such meeting which is already known will be a nullity and we admonish our members to disregard such meetings in the interest of the Party. It is illegal to call such meetings outside the purview of the constituted authority.
"The identities of those plotting such meetings have been identified and unless they desist from such they will be dealt with in line with the Party's Constitution at the appropriate time.
"The NWC will resist any attempt to disrupt the current peace and harmony prevailing in our great Party after the exit of some members of our Party.
"We urge any member who is not satisfied with the decisions of the Party to utilise channels provided by the Party's constitution to air their views.
"We remain focused on delivering good governance to Nigerians and above all ensuring the victory for our Party come 2019 and we will not be intimidated by the antics of a few in ensuring success for our Party", the statement concluded.
It will be recalled that at the weekend, the APC acting spokesperson had to issue two different statements clarifying the NEC position on the mode of primary to be adopted for elective positions in the coming 2019 elections.
The party's NEC as announced by governors of Plateau and Kogi states, Simon Dalung and Yahaya Bello respectively had told reporters after the NEC meeting that the NEC adopted direct primary for choosing the presidential candidate and indirect primary for governorship candidates and all other elective positions.
After the NEC meeting fireworks within the party continue to the ruse, with different legacies party that formed the APC returning back to caucus with the different position on the party's mode of primary for choosing candidates in the coming elections.