Plateau State, especially its capital Jos, earned the sobriquet appellation of tin city as a result  of tin and other solid minerals mining in large quantity in the state. At a particular time, Plateau State was placed as the 6th largest producer of tin in the world. This solid mineral brought fame and lured a lot of miners both within and outside the country to Plateau State.
Though mining of tin was said to have started in 1904 but the exploration of the mineral reached its peak in the 40s up to the early 70s. It attracted many foreign mining companies whose equipment are now relics of the past at various abandoned mining sites across the state. The booming of tin then and the clement weather also attracted many Europeans to Jos up to the 80s.
The Nigerian Tribune findings revealed that proceeds from tin mining formed part of the resources used to develop some cities in the United Kingdom such as  Liverpool, Manchester including Scotland. Hence, the recent call for reparation by some eminent sons and daughters of Plateau over degradation of  their land occasioned by years of mining in the state.
A member of House of Representatives, representing Barakin Ladi/Riyom Federal Constituency of Plateau State, Hon. Istifanus Gyang, recently told Nigerian Tribune that Plateau State, especially his constituency,  deserved compensation and reparation from United Kingdom and Europe for environmental damages caused by mining in colonial times.
The federal lawmaker said the colonial government exploited the minerals resources in the state such as tin among others and exported them to cities in UK such Liverpool and Manchester including Scotland, adding that their years of mining activities caused a lot of degradation presently posing different types of challenges to most communities in Barakin-Ladi, Riyom and in some other parts of the state.
He said the aftermath of mining activities was presently affecting farmers, fishermen while people faced different types of health challenges, adding that water from mining ponds were not fit for consumption as they contained a lot of iron.
" Colonial people came, exploited our mineral resources. They devastated our land, that is why you find mining ponds at every nook and cranny of the state, especially in my constituency, these ponds are now threat to our survival. For these reasons, I am pushing for reparations.
" I am packaging a position papers for the National Assembly, the Queen of England for reparation. I am ready to go to any length devoid of violence to actualise this. Most of the lands have been taken over by mining ponds, farming is at the lowest ebb. I am making efforts to get the backing of the federal government, they must pay reparation" he said.
However, discovery of crude oil in the 50s slow down the tempo of mining, attention was therefore shifted to oil. A septuagenarian, Hamish Ibrahim who claimed to have worked with foreign miners in the 50s up to the 70s said in spite of the large deposit and years of exploration, it did not translate to wealth and development.
According to him, the whites and the few local collaborators simply exploited the people, " I can tell you that only few locals benefited from this mining of tin then. We were paid peanut and made to work from dusk to dawn. The money realised was not used to develop this place. That was why many of our youths abandoned mining and joined the military when the civil war broke out"
One of the challenges of tin mining was the degradation and devastation of land, Arewa investigations revealed that no fewer than 4,000 abandoned mining ponds dotted every nooks and crannies of Plateau with majority of them in the Northern part of the state. These mining ponds are presently posing a threat to the environment and inhabitants.
Quite a lot of people mostly children and cattle have been drowned in these ponds while some of the ponds contain radioactive elements. The ecological damages are massive, so also is the threat to human existence. The ponds left behind are now death traps.
In Gyel, Jos South local government area of the state, a 65 years old woman, Abigail Dung,  told the Nigerian Tribune that she was yet to recover from the shock occasioned by the death of two of her children who died at a mining site close to her residence while excavating tin from a  deep hole.
According to her, the two were laborers working for a white man, adding that they  were digging deep when the earth collapsed on them and were buried alive and their bodies never recovered. " Our lands are totally destroyed, that is why you find mining ponds everywhere.  The ponds are not useful to us, the waters are not good for human consumption, not good for irrigation farming and also pose threat to our children. Government should come to our aid," she pleaded.
Though previous government had attempted to address the ecological problems through an intervention tagged " Ecological Fund"  It will be  recalled that the Federal Government in 2002 released a sum of N1.6 billion as ecological fund to Plateau State Government to tackle the problems, but the money was mismanaged and diverted to address political issues. A former governor of the state, Chief Joshua Dariye, who is now a senator representing Plateau Central, has been dragged to court over the fund by the Economic and Financial Crimes Commission (EFCC)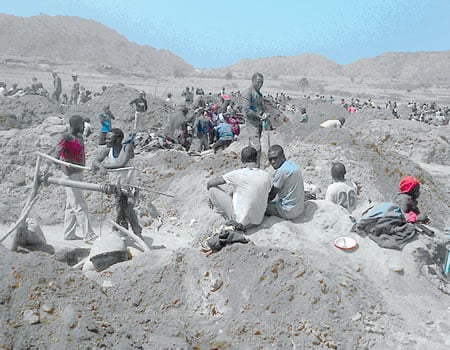 Though tin mining on the Plateau has reduced drastically, exploration of minerals such as zing,  ore tantalise among other are still going on in  large scale by illegal miners  in different parts of the state. In places where these mineral resources are found both  school children who have abandoned schools and their parents are perpetually on mines fields.
From all indications,  ilegal mining thrives on the Plateau more than before hence the recent surprise visit of the Minister of Solid Mineral Development, Dr. Kayode Fayemi and National Security Adviser Mallam Ali Baba Mouguna along with Governor Simon Lalong to a notorious mining site in Wase Local Government Area of the state where an illegal mining company was shut and some foreign nationals and their local collaborators arrested.
The Nigerian Tribune findings revealed that foreigners, mostly Chinese and other nationals from Asian countries, were behind most of the illegal extraction in Plateau State. They operated unhindered with the active connivance of some unscrupulous natives and government officials from the state and Federal Ministry of  Solid Minerals.
A certified miner, Danladi Ibrahim, who said  foreigners, especially Chinese were gradually taking over mining in the state stated that majority of the foreigners were carrying out mining activities without licence to do so. " To me, this is second slavery. In some cases, they bribe both the youths and community leaders including government officials to carry out the this illegal act"
As a result of this, there are quite a number of unlicensed miners in the state operating illegally.
"These foreigners are everywhere in Plateau State, they go into mining unmolested under the watchful eyes of security agencies until the Dr. Kayode Fayemi and National Security Adviser recently stormed the notorious mining site in Wase Local Government Area of the state where some Chinese and natives were arrested and the mining company sealed off."
He considered it as economic sabotage saying  the Federal Government was not benefiting from it and neither the Plateau State Government nor the community was benefiting from it.
You May Also Like:
I have mandate to sign all mining licenses in Nigeria no one else, Fayemi declares
Former British PM, John Major, old European miners for 100th anniversary of Plateau Club
FG fingers 2 companies in N100 billion illegal mining activities
Plateau police command dismisses police officer, 144 promoted