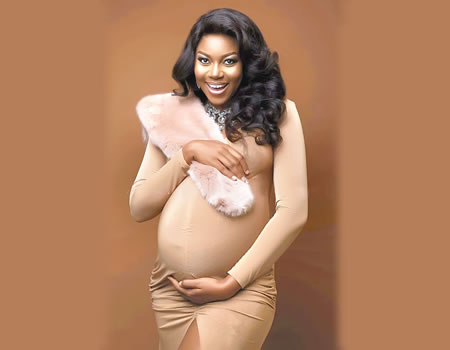 Actress Yvonne Nelson, who is expectant of a baby girl anytime from now has come out to reveal the name to her fans. The actress, who has been under pressure from her fans to reveal the father of the baby, however, still kept his identity under wraps when she took to her Twitter page days back to intimate her fans of her baby's name.
Yvonne, a Ghananian, had dated Nigerian superstars, Iyanya and Ice Prince Zamani but the relationships ended on a sad note for her.
The actress moved on from there and kept her relationship cards to her chest with many people asking what she has been up to.
The news of her pregnancy came as a big surprise to her fans but the tall actress kept quiet.
Sharing her daughter's name on Twitter with a prayer, Yvonne called her yet-to-be delivered baby "RYN ROBERTS."
She tweeted: "RYN ROBERTS …..you'll be great in Jesus name.Amen."
The actress also revealed that a new show which she shot while she was pregnant, entitled Waiting for Ryn, will soon be aired.
Congratulations are already trickling in for the actress.