World leaders react to Sri Lankan Easter bombings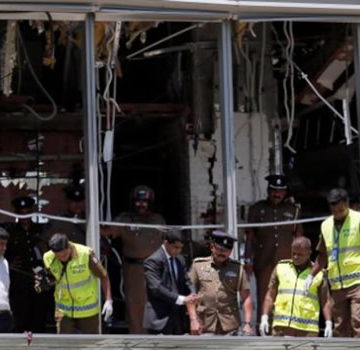 World leaders have reacted to the series of bomb blasts that struck luxury hotels and churches across Sri Lanka on Sunday.
Tribune Online had earlier reported that at least 140 people were killed and 560 have been injured in the coordinated terror attacks, which have put the entire country on lock-down.
The first wave of attacks struck at the heart of the country's minority Christian community during busy Easter services at churches in the cities of Colombo, Negombo and Batticaloa on Sunday morning.
Additional blasts ripped through three high-end hotels, the Shangri La, Cinnamon Grand and Kingsbury Hotel, all in the capital city Colombo.
In a statement, the Shangri-La hotel in Colombo said that the hotel's Table One cafe was hit just after 9 a.m local time. The hotel is popular with foreign tourists and the country's business community.
A seventh and eighth blast, at a hotel in front of the Dehiwala Zoo in Dehiwala-Mount Lavinia and at a private house in Mahawila Gardens, in Dematagoda, occurred Sunday afternoon.
Places reported to have been so far attacked include, St Anthony's Shrine, Kochchikade; St Sebastian's Church, Negombo; Zion Church, Batticaloa; Cinnamon Grand, Colombo; Shangri-La Hotel, Colombo; the Kingsbury Hotel, Colombo; Near Dehiwala Zoo in Dehiwala-Mount Lavinia and a house in Mahawila Gardens, Dematagoda.
At least 20 foreigners are among the dead in Colombo, according to hospital Director General Anil Jasinghe. Hospitals have opened their doors to scores of victims.
There was no immediate claim of responsibility for Sunday's attacks. Sri Lankan security officials said police and security services immediately rushed to all affected areas and sealed off the churches and hotels.
Leave has also been cancelled for all police personnel in Sri Lanka.
The violence ends a decade of relative peace in Sri Lanka following the end of its civil war in 2009. Terrorist bombings were common during the brutal 25-year struggle.
Father Edmond Tillekeratne, Social Communications Director for the Archdiocese of Colombo, spoke to CNN from St. Sebastian's Church, one of the locations targeted.
He said that the blast took place after Easter Mass and that there were about 30 bodies lying in the area of the church.
He said three priests had been celebrating the mass at the time of the blast. Two of them were badly injured by flying glass and debris, and one was only lightly injured because he was behind the altar.
ALSO READ: Buhari shocked by Sri Lanka deadly Easter attacks
He estimated that more than a thousand people had come to the church for Easter Sunday. Many came from villages, "because it is a special day," he said.
He described the ground as covered in rubble and shattered glass.
"You can see pieces of flesh thrown all over the walls and on the sanctuary and even outside of the church," he added.
CNN reports that Christianity is a minority religion in Sri Lanka, accounting for less than 10% of the total population of 21.4 million.
According to census data, 70.2% of Sri Lankans identify as Buddhist, 12% Hindu, 9.7% Muslim, and 7.4% Christian.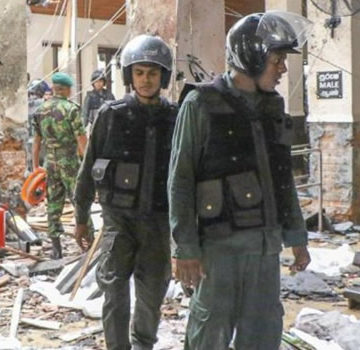 It is estimated that 82% of Sri Lankan Christians are Roman Catholic.
Leading the pack of world leaders who consoled with Sri Lanka is Pope Francis.
He said: "I wish to show my affectionate closeness to the Christian community, hit while gathered in prayer, and to all the victims of such cruel violence."
President of the United States, Donald Trump via his Twitter handle @RealDonaldTrump also said: "138 people have been killed in Sri Lanka, with more than 600 badly injured, in a terrorist attack on churches and hotels. The United States offers heartfelt condolences to the great people of Sri Lanka. We stand ready to help!"
UK Prime Minister, Theresa May on Twitter via @theresa_may also said, "the acts of violence against churches and hotels in Sri Lanka are truly appalling, and my deepest sympathies go out to all of those affected at this tragic time.
"We must stand together to make sure that no one should ever have to practise their faith in fear."
President of Turkey, Recep Tayyip Erdogan via his Twitter handle @RTErdogan also said: "I condemn in the strongest terms possible the Easter terror attacks in #SriLanka. This is an assault on all of humanity.
"On behalf of the Turkish people, I offer my condolences to the families of the victims and the people of #SriLanka, and wish a speedy recovery to the injured."
Prime Minister of India, Chowkidar Narendra Modi on Twitter via @narendramodi said: "Strongly condemn the horrific blasts in Sri Lanka. There is no place for such barbarism in our region. India stands in solidarity with the people of Sri Lanka. My thoughts are with the bereaved families and prayers with the injured."
Prime Minister of Pakistan, Imran Khan on Twitter via @ImranKhanPTI said: "Strongly condemn the horrific terrorist attack in Sri Lanka on Easter Sunday resulting in precious lives lost & hundreds injured. My profound condolences go to our Sri Lankan brethren. Pakistan stands in complete solidarity with Sri Lanka in their hour of grief."
Ifedayo Ogunyemi with additional reports from CNN.