Serial entrepreneur and creative director of Azaria Bespoke Company Limited, Adeola Layade, is a movie producer, actress and baker. Layade, days back, premiered her movie, Labyrinth, to a few audience and shares the story of her filmmaking career, among other issues with SEGUN ADEBAYO.
From cake making to shoe designing and now to acting, what's the purpose?
I think I am a serial entrepreneur that has a passion for creativity.  Actually, baking is entrepreneurship, shoe making is entrepreneurship and film acting as well.  There is a simple element in all of them, being creative. So, I have a passion for creativity and changing the narratives. I think that explains my restlessness and ability to easily link my businesses.
How did you come into filmmaking?
It happened four years ago. A friend of mine has a studio and he invited me over for a recording programme, Aa jii rebi, and after the programme,  I told him I love  to act because I know  he is a movie producer. He was surprised and asked if I was serious. I answered in the affirmative. Some time after our discussion, he invited me to be on the set of one  of their productions entitled 'Family First.'   Also Bimbo (Oshin) invited me on the set of her movie, 'Eyitayo.' When  people watched Eyitayo, it was the encouragement and positive responses that made me consider acting. I then told my friend who is the owner of the Rare Edge Film Academy, Adeleye Fabusoro, and he said okay. He told me he was starting a school and asked me to come for acting for Film and Film Making Concept to improve on what I already knew. I enrolled and it changed my life. That was the genesis of how I got into acting.
Anambra 2021: PPA collapses structure to PDP
And since then, you have become an actor?
Yes, I just graduated recently. Most people don't do that, they just go into acting and producing without proper training. But I feel that it is necessary to learn because in school, they teach you how to talk, speech casting, all these are very essential and I learnt a lot.
Have you ever done any major acting?
I just finished shooting my first movie, produced by me, it is called Labyrinth. It is really nice and it just came out. We did the screening some days ago.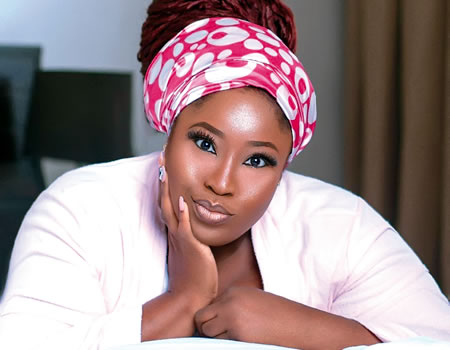 What is in Labyrinth?
It is a family story that is actually different, then the quality of the equipment used and the cast and storyline are fascinating and different from what people have been seeing.
Do you strictly do English movies?
No, I do both. I am actually trained to do both. I have more English movies that I am working on with a team of people. It is my idea and a big project that will soon get to the cinemas.
So, Labyrinth is not going to the cinema?
No. Labyrinth is just to show people what I can do, it is a short film going to the festivals, it is for people to just see that this is what Azaria can do.
Is Azaria what they call you in the industry?
Yes, but Azaria started from the shoe designing. My brand name is Azaria, that is why people started calling me Azaria. In the school and most of my entertainment people, they know me as Azaria.
How do you plan to grow your businesses together, cake making is a business on its own, shoe designing is a profession and now you are into filmmaking?
As you can see, it is like multiple streams of income, most people in the industry have certain side businesses because there are some times they are not doing anything. So, those times they need funds from another source. When you shoot a movie, it takes time before you start getting the prospect. So, you need something to fill the vacuum.
How much did you spend to produce Labyrinth?
In producing Labyrinth, apart from personal funds, I had the support of my friends. You know in producing a movie, the major thing is your equipment, the school supported me with the equipment I needed,  but I won't tell you how much I spent. All I know is that we spent quality money, the actors came from Lagos actually to act in the movie,  it is my first and I got support of friends and my director too tried.
How many movies have you featured in?
As a starter, I think I have done five so far.
Were you paid to feature in those five?
I am just starting.
Okay, you acted for free?
No, I don't have an answer, but I have featured in about five movies including my own.
What are the challenges you are facing?
One of the challenges for most people is funding. Another one that is common is getting the right people at the right time because you might want someone on your set and the person has something else he or she is doing. There is also the challenge of having people with like minds, people that have good work ethics. Some people don't actually have good work ethics. It is also good for you to form like a team of people that you will work with and understand what you are trying to bring out and you work together.
Do you actually think filmmaking can fetch you what you earn in your other businesses?
Well, I am acting because I have a passion for it. When you reach a certain age, you just want to try something different. It is more of the creativity and how I can change myself and be better. I won't lie to you, since I got into the film school, I have changed. I am more creative, I am different. For me, it is not all about the money now, the money will definitely come when all these things are put together. The money will come because at the end of the day, I will be a filmmaker and actor but I am not sure I am going to act for so long. I am going to act maybe for three years and focus fully on making films.
Filmmaking in Africa is big business. We see  Netflix taking up a film for $2.3 million.  What is your own projection?
We are wrapping up the major project I told you about. It is a big deal and we are praying that it works out well. If it works out well, I am sure we will have another meeting soon because it is actually a big deal and it is different.
Producing a movie, acting, speech making entail a lot of creativity. Where do you get inspiration?
The truth about it is that as a filmmaker or actor, I don't have to be the one to write my script. I could give you my story idea and you bring it up. The mistakes many people make is that they want to write their stories and they want to act, but there are some people whose job is to write the scripts. I don't have to be the one to give myself that stress. So, I talk to the people that are experts and we have the deal. They will still get their credit on the screen. I don't have to be the one doing the thinking or writing.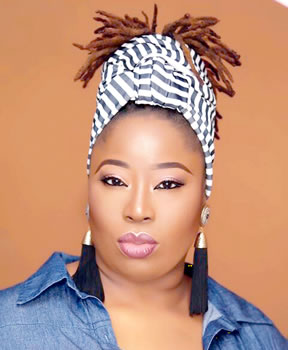 Lagos is believed to be the hub of entertainment in Nigeria and Azaria is from Ibadan, lives in Ibadan. What is your next plan, are you moving to Lagos?
Azaria will shuttle between Lagos and Ibadan because truly as you said, entertainment hub is Lagos but a lot of things are also going on in Ibadan. Most of the programmes you watch on DSTV are being produced in Ibadan. So, it is both ways. I might be in Lagos and produce from Ibadan.
The Nigeria entertainment industry is usually bedevilled with one scandal or the other. For a starter, how prepared are you for something like this?
I know I am not going to be involved in any scandal. I don't get scared of things like that because I've learnt to make my dealings open. With that. you won't have things to hide.
 As a beautiful woman, you would have a lot of male admirers and the issue of sex for role is common. How do you intend to handle this?
If you produce your movies, you don't come across that, and again you don't need to sleep with someone before you get things done. I don't think sex is limited to the movie industry alone, it happens everywhere and it all depends on how you handle yourself.
In your early journey into acting, did you experience such?
Well, I see myself as a professional and if you see yourself as professional, you don't have to go through that. Some people say that you bend the rules but you really don't have to. If I don't like a particular role, I don't have to take it and if I know that these are the kinds of roles I like, then I put myself in those roles.
Who are your role models?
Viola Davids. You remember how she gets away with murder, you need to watch it, I like her. In Nigeria I will say Nse Ikpe-Etim and Aunty Bimbo Oshin.
Of your contemporaries here in Nigeria, who are the ones you like?
There is this lady that I like that I think I am toeing the same path like her, Oyin Las. She is a movie producer and actress, she is new and I like her.  She is from the UK and I have seen some her movies as well.
As far as film making is related, do you have passions related to what you do?
Yes, I go to cinemas. As an actor, you have to be watching movies a lot, both local and international movies. You have to know what is happening, you have to see the way people are acting. I also read books a lot and do a lot of exercise.
Have you read any book that inspired you?
The newest book I have been reading is a book written by Mitchel Obama entitled Becoming. It is not related to acting but lifestyle, what happen to human being and how you can get out of it.
There is something that is trending on instagram, where some people put short short story (skits), I have not been seeing you doing that, how do you see this?
Skit idea is not bad for those that like to skit but I am not interested in skit. Rather than do skits, I would do monologue; you will see a lot of monologue on my social media page. So, people do skits because it makes people laugh, and for them to get more followers most people do it, and to become a brand influence most people do it. But for me, I prefer monologue.
There is a trend people tend to follow now in acting in the Nigeria film industry, I think people tend to follow the path of comedy, why what is the appeal and are you seeing yourself producing such?
You know that Nigerians are sometimes being funny when someone does something everybody follows their path and because like I said earlier most people are depressed, so, most people need something to laugh at, that is why you see that most of the things that sell apart from very good story line are things that make them funny, things that make them laugh. But the bedrock of a film selling is story and most people get it wrong, so, on that, because they are teaching us in school, the people we are working with to get the story right, once your story is right comedy or no comedy you keep people glue to their TVs.