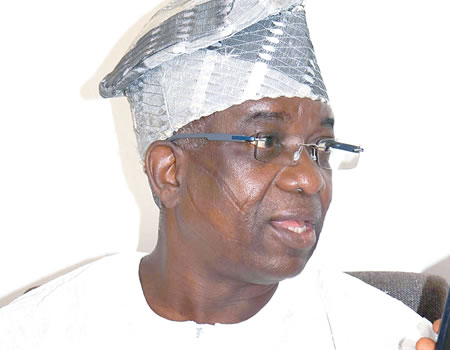 Given his experience as an engineer and entrepreneur who retired as permanent secretary after 26 years in Oyo State civil service, Mr Rauf Olaniyan, eyeing the Agodi Government House in 2019 on the platform of the All Progressives Congress (APC), speaks with KUNLE ODEREMI on his ambition, the scramble for the party's ticket, among other issues. Excerpts:
OYO State has a governor who would be concluding his second term of in office soon, what do you think you can do differently if you become the governor of the state?
Well, the governor is from my party and he is following the cardinal point of the party, which can lead to general transformation of the society. So, what I would do differently is God willing, if I am called by people of Oyo State to serve, I would think outside the box. By my calling, I am an engineer. There are many routes to solving a problem in a differential equation. We have a general solution, so anybody can take his own route to development. I would do my own differently because I am a different person. It doesn't say the person there is not doing well, no, he is doing his best, but I might decide to take a different route and arrive at the same end. What is the target? It is the overall development of the state.
You are in APC and there are so many aspirants jostling for the ticket of the party from Oke Ogun. Will this not affect the chances of the zone at the end of the day?
Those aspirants we are talking about, just like one puts turkey, chicken, fish, goat, beef, all sorts of meat, the cook will decide which one to prepare. The only one cook is the APC, it will decide which of the aspirants to pick. Even the number of candidates you got now from Oke Ogun is not many enough, they are not enough.
The Head of Service is from Oke Ogun, don't you think the people would be asking for too much if they want to be governor again?
No, they are not asking for too much. The Head of Service (HoS) is a career post, it's not contested by anybody, at least. The yardstick for picking the HoS is different from that being used to pick governorship candidates, they are not the same. HoS is an established government's position. To appoint a head of service, a government doesn't have to advertise it; no need for expression of interest form, no executive that would ratify it; no need for primaries or any contest whatsoever. So, it is not a point to now consider that since Oke Ogun has head of service, they don't need governorship again. This is not the first time the zone is producing head of service, even the current head of the judiciary is from Oke Ogun.
What do you think Oke Ogun people need to do to get the ticket?
What they need to do is what they are doing now, which they have not been doing before. If you agree with me, this is the first time we would see people of Oke Ogun serously determined to get the governorship.
You were in the civil service for 26 years and now into politics. Do you think governorship should be the first shot for you, being a new entrant into politics? Why not consider the House of Representatives or the Senate?
Well, that is your own way of defining politics, but politics is defined in a different way. From the day you were born, you are in the political system; you are a politician. The psychologist would call everybody a political animal. I was in the public service for 26 years, what are we doing there? Is it not politics? Politics is the administration of man and material for the betterment of the society. The fact that I have not been to the House of Representatives or the Senate does not matter. Look at Governor Akinwunmi Ambode, he was in the public service before he retired. Two years later, he became the governor. Look at Babangida Aliyu, he went back to Minna and became the Niger State governor after retiring as a civil servant. Chief Olusegun Osoba was in your profession and he became the governor of Ogun State. He didn't start from the Ogun State House of Assembly; he didn't go to the House of Representatives; he didn't go to the Senate. The moment you can answer the questions: can I do this? Do I have the mental capability to do it? Then, that is all you need.
You have Chief Niyi Akintola (SAN), Alhaji Adebayo Shittu other prominent persons, including the state deputy governor, Chief Moses Adeyemo, who is from your area as contestant, don't you feel intimidated by their credentials?
What is that credential that would intimidate me? I am a Fellow of Nigerian Society of Engineers (NSE), which is equivalent to a lawyer becoming a Senior Advocate of Nigeria (SAN). What will a SAN have that would intimidate me? Everybody has different careers. Am I at the bottom of my career? Apart from my professional engineering career, I climbed the ladder in the public service to become a permanent secretary. If I retire as a permanent secretary, what would anybody have to intimidate me? I was in the public service of Oyo State for 26 years, who will now come from anywhere, whether from outside, as a commissioner or whatever, that would now say he knows better than me. So, all the names you mentioned and others, without sounding immodest, I can tell you I am the best qualified.
Some people are suprised that you want to use APC as a platform, in view of the fact that the scramble for the ticket is already tearing the party apart. What is your take on that?
You know the essence of communication. When there is a communication gap, many other gaps can come in.
Don't you think that has weakened the structure of APC in the state?
Let me ask you, the number of aspirants in APC, are they up to 1,000? Not yet. This is because the APC is the most serious party at the moment. No sensible person will say because APC has many aspirants, he will go to a party that doesn't have any candidate. Am I a stupid man? I would be the most stupid person to say I want to contest under a party where nobody would contest the ticket with me. There are so many parties beckoning to me to come and take their ticket. In fact, I asked one recently: do I look like a stupid person?
But the PDP is coming strong, why are you not considering its platform?
Look at history, trace successes, you will understand me. APC is a well-organised party; some even say it is a cult, yes, it is because its members are disciplined.
To what extent can the panel headed by Tinubu reconcile your party?
Any society where you don't notice disagreement is dormant, inactive. Disagreement between the party members is one of the ingredients of democracy, one of the ingredients of development. That means they are very active. This disagreement was there in 2014, 2015, everybody kept saying APC would not win, Ajimobi cannot come back for a second time, now what happened? When the ballot boxes were assembled and ballot papers counted, what happened? So, it's normal in the society, in politics. I studied the rule properly, more than any of the aspirants coming up. So, it is a sap in the right direction.
So what do you consider your core challenge in this race?
I don't see any challenge that is not surmountable. If I come out on my own that I want to be a governor, I only need to sell myself to the people on what I can do. Many of the aspirants, they are just looking at the Government House; the siren, others. How many of them know the nooks and crannies of the state? I challenge anybody that knows the nook and crannies of Oyo State more than me out of all the people that want to be governor to come and tell me.
Are you telling me that you have N20 billion to prosecute your governorship project if you are made the APC to candidate?
I am happy you mentioned that. You see people that don't understand the terrain would have to pay for it. I was at Ogo-Oluwa, we tarred the road in 1987, it's not Oke Ogun you know. I was able to point to something that took me there before, yes, I worked there. From Owode Ogbomoso to Iresadu, I was not going there for campaign, no, I went for the development of the area. So, if somebody needs N10 million to introduce himself, I am already known. I have my goodwill. Even here in Ibadan, I was the General Manager of the Oyo State Road Maintenance Agency. Tell me, who has that goodwill that I have among the aspirants? Therefore, I don't need a lot of money, no!
But, you need money for logistic purposes, you need money to settle agents and so on?
No, I don't believe that. I don't need money for those things. So many people would volunteer, they know my antecedents. I may not be a noisemaker, remember I am an engineer by profession, worked in the public service, where you are not supposed to be heard, only to be seen. I have paid my dues there.
You defected from Accord to APC. Some others left the party thereafter. If, perhaps, the APC does not give you its ticket in 2019, what happens to your political career?
My movement in politics is not determined by one person or one party. I don't know about whatever is happening to Accord. Now to answer your second question, that is, what is my plan B local council. I have a second address. Your question gave me an insight to an issue of discussion within Oke Ogun, one of the aspirants, I won't mention name, said if they don't give us ticket in Oke Ogun, we should get ticket elsewhere and so we would move there. I told him straightaway: 'count me out, I am not jumping from one bed to another.'
I like your optimism, but so many factors do come to play in determining who gets the party's ticket. The power of incumbent will equally come into play. The governor has a deputy who may have the advantage over you. Don't you see the factor working against you?
You see, the present governor of the state, Senator Ajimobi, for one thing, is very intelligent. He knows the assignment on the table, he knows who the cap fits. You see, people talk of democracy, democracy equally entails fairness, justice, equity. If the governor now said, base on that, he wants Oyo State to be politically stable, he wants everybody to have a sense of belonging and that Ibadan, out of 20 years of democracy, would have taken like 15 years by 2019, he wants Oke Ogun to have a shot, that is fair enough.
Then, the question is: who from Oke Ogun can fit into the role of succeeding Ajimobi? Is it his deputy? Who? Don't forget I worked with the governor before, he knows my worth and if I am not working with him now, the records are there that there is one Engineer Rauf Aderemi Olaniyan, who passed through the service from 1986 to the time he retired. He can get the record.
---
---