Gloria Adagbogun indeed shone as a shinning star in the midst of her peers at the last convocation ceremony of Crawford University, Igbesa, Ogun State. And she was cynosure of all eyes. In attendance at the event, 11th in the series, were many high profile individuals across walks of life including the nation's education sector. Among them were the former Executive Secretary of the National Universities Commission (NUC), Professor Peter Okebukola; member of the Board of Trustees of The Apostolic Faith West Africa and Central Africa (WECA) District, Dr Emmanuel Adebayo, as well as the former Vice-Chancellor of the University of Lagos, (UNILAG), Akoka, Professor Oyewusi Ibidapo- Obe.
Gloria's both parents- Mr Joseph and Mrs Grace Adagbogun- were also around and so also the Executive Director of Schlumberger Nigeria Limited, Mr. Nosa Omorodion, a geologist, who delivered the convocation lecture.
However, Gloria, 21, and second born in the family of four children graduated with a degree in Biological Sciences from the 15 year's old faith-based private university.
She graduated not only with First Class honours but also as the overall best of her set. They were 243 in all across disciplines-less 24 others at the postgraduate\master's degree levels. The 4.88 Cumulative Gradient Points Average (CGPA) she obtained out of the possible 5.0 marks earned her the first position.
The two others who queued behind her have a CGPA of 4.85 and they are Samuel Amogbonjaye and Oluwatoyin Oloyede from the departments of Information and Communication Technology and Mass Communication respectively. As expected, good performance always come with sumptuous rewards. And so by the achievement, Gloria went home with eight different awards all alone. Receiving the awards came with a mixed feelings of that of jubilation and expression of surprises most especially by the audience who recurrently applauded her as she was called now and then to the podium to collect her numerous prizes.
Gloria received the Overall Best award in the university, the best in her college- College of Natural and Applied Sciences and the best in her department- Biological sciences
She also received that of Parent's Forum and likewise three individual endowment awards.
These are the Professor Peter Okebukola Science Foundation prizes as overall best in the university and also in the college of Natural and Applied Sciences and that of the Oluseyi Ogunlana's Prize also as the best in her department.
Certainly, attaining this feat would never be a day dream that just came on the platter of gold. So like every other person who excelled legitimately in their endeavours, Gloria had both sweet and bitter experiences during her academic pursuits.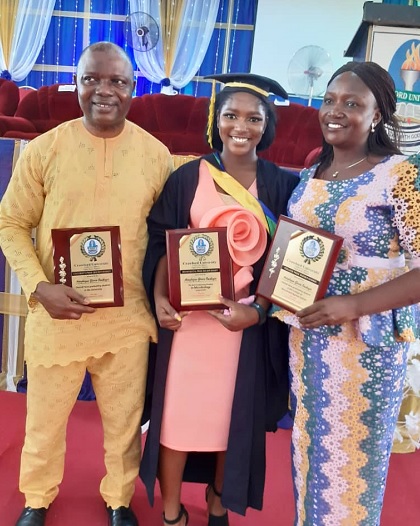 "It wasn't an easy ride for me to attain this feat," she told Saturday Tribune shortly after the programme. "So, I really worked very hard for it."
Gloria had wanted to study at either the University of Portharcourt (UNIPORT) or the Edo State University, Ekpoma, before she was later adviced by her mother to come to Crawford University.
The considerations for the change of institution according to her was based mostly on the long distances of both institutions to the family who based in Lagos, poor roads and the perceived better security situation in the private universities in the country.
"And my father supported the move and then I came to Crawford," she noted.
Now at Crawford, Gloria didn't find things as easy as she had thought initially. Students must have to live what one could called a regimented lifestyle. You must have to go to class, attend church fellowship and services and also involve in all other required activities. The dress code, especially for female students is also a great concern for her.
But without long, she was able to cope conveniently according to her with the system.
She said, "I worked with determination to attain this feat. It cost me lots of efforts,  sacrifice and discomfort.  But I was motivated and inspired by my parent, course supervisors and what I saw during the previous convocation ceremonies. And all glory be unto God who I always called for support."
Does it then mean that all was about reading and studying and no to social life on campus.for Gloria? She said that wasn't the case, noting that even though she is not the type who attends social party frequently, she still found a way of striking the balance among all activities required of her including academic and spirituality.
"I just know that there is time for everything in life and that philosophy really helped me in my daily activities including that of weekends. So, I did attend dinner, excursion and also socialite with other students- males and females alike.
"But I did all these in moderation without one conflicting with another. I quite understood that catching  fun wasn't the right thing  at the period of study for a serious student."
ALSO READ: Despite suspension of NIN for JAMB registration, applicants flood NIMC headquarters
Gloria, who was a school head girl during her secondary school days in Lagos and also a  leader at Crawford said even though she had been academically brilliant in her secondary school days, she put in more efforts in the university.
Certainly, so many students in junior classes and those upcoming generations would also want to excel in their studies and graduate with excellent grades like Gloria. Gloria has pieces of advice for them.
"My advice is centred on the fact that there is nothing good without a prize and therefore to do well in life and also in academic pursuits always comes with a prize and mist times very costly."
These, according to her, require discipline, commitment, diligence, focus and above all God's benevolence.
"I observed that discipline plays a vital role and this is what many in my age and academic brackets lacks in the country.
"Naturally, the body likes pleasure all the times but you are the one to determine and sacrifice the pleasure of today for real pleasure tomorrow. You have to sustain good contact with your God. Some times when you are confused He proffers a way out. It is not about going by the belief in some quarters that heaven helps only those who help themselves. That thought is not true. It is God that truly helps one.
"Even though,  it is not all about reading, you still have to read and study consistently to be able to understand what you are being taught in class.
Expectedly, every parent has some important roles to play in ensuring their children are successful. This scenario is applicable also to Gloria's parent as they supported her both financially, morally and in many other ways.
"And I drew a lot of encouragement from them," she pointed out. "Because whenever I was down and felt discouraged, they encouraged me to keep on pushing and this paid off today."
Now on what next to do after completing her one- year mandatory National Youth Service Corps (NYSC) scheme, she said her plan is to go for her masters' degree programme in public health and thereafter takes up teaching appointment with a university.
"I love teaching people and I believe I will make a successful career in that line," she pointed out.
Interestingly, both Gloria's parent expressed joy over the achievement of their daughter. Certainly, they knew that Gloria would be celebrated at the event and one could see visibly on their faces the joy of the proud parent.
Her father in particular said Gloria performance didn't take him as a surprise. Academic brilliance according to him runs in their blood in the family.
So, Gloria takes after me as I was also graduated with distinction and as the overall best student in the School of Business Studies at the Lagos State Polytechnic.
"So to graduate with first class is a trait in our family," he emphasized.
On their part, both Professors Okebukola and Ibidapo-Obe, who are the chairmen of Board of Trustees and the Governing Council of the university respectively and the Vice Chancellor, Professor Isaac Rotimi Ajayi said Gloria and her mates had been thoroughly baked for world of work and life generally by the university.
They told Saturday Tribune separately in an interview that they were really proud of her outstanding performance and urged her to remain focus as she continues with her life pursuits.