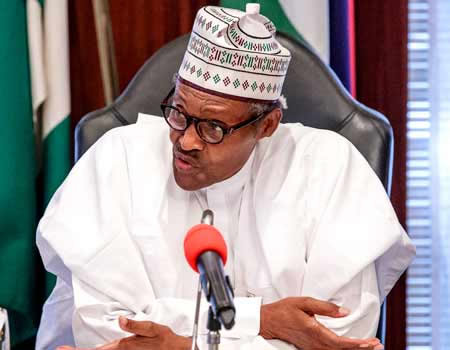 PRESIDENT Muhammadu Buhari has assured that succour will come the way of farmers negatively impacted by the excessive rains of this year.
A statement issued by Femi Adesina, Special Adviser to the President (Media and Publicity), in Abuja on Saturday, said this was contained in a message to Farmers' Day 2018 held Saturday at Yenagoa, capital of Bayelsa State, and organized by Nigeria AGIP Oil Company for farmers in Rivers, Bayelsa, Delta and Imo States.
He pledged that compensation would be paid soon to farmers that suffered reverses.
ALSO READ: NYSC fixes date to kick-start newly built orientation camp clinic in Nasarawa
The statement quoted the President as saying: "Two weeks ago, the National Food Security Council met and we approved a compensation package for all flood impacted farmers and fishermen. I want to assure all flood-affected farmers and fishermen that you will be helped. This government is with you in your time of need. As I speak to you now, the modalities for this compensation programme are being finalized and very soon, we shall start implementation."
President Buhari commended the theme for the Farmers' Day, which is, "Youths, Agents of Agricultural Development in the Niger Delta," noting that farming is the bedrock of the Nigerian economy.
"Our future economic prosperity hinges to a large extent on how we modernise and expand our agriculture," he added.
Underscoring the place of youths in developing agriculture, President Buhari said:
"Youths account for some 62 per cent of our population. This group, full of energy and drive, are the catalyst that will steer Nigeria in the direction that will make us realize our full potential.
"For many years, our God-given resources have been abandoned, under-utilized or mismanaged. This is very apparent in the field of agriculture. In the past three years, we aggressively pushed the agricultural agenda with special emphasis on youth empowerment.
"Across many value chains, we are supporting meaningful projects in partnership with private sector players. This is the only way Nigeria can feed itself in a sustainable manner. We are working very hard to enable the youths actively participate in this agricultural revolution, and I take this opportunity to congratulate you all on responding positively to this call."
The President urged youths to stay focused, stressing that active participation is a patriotic duty, whose success will create millions of jobs for many generations to come.
"We cannot afford to remain a mono-product economy, relying only on oil as our mainstay. We cannot continue feeding ourselves with imported food when God has blessed us with all the bountiful resources we need to feed ourselves," he said.
Thanking farmers across the country for their resourcefulness, President Buhari disclosed that the country was on course towards food self-sufficiency, adding that the importation of rice, maize, and other grains had significantly reduced.
He also informed that the Federal Government was working to revive the River Basin Authorities, in order to plan for lean times.
On the excessive flooding, President added: "Floods are a natural phenomenon that man cannot control. I want to appeal to you all not to be dispirited, but to rise to the challenges."