Valuables were on Tuesday destroyed when a fire caused as a result of power surge razed the upper part of a one-storey building in the Surulere area of Lagos State.
The incident, which happened at 16, Yaru Street, Ikate, Surulere, on Tuesday evening around 5.30 p.m., was said to have razed all the rooms at the upper part of the storey building.
It was gathered that the fire started as a result of surge when the electricity distribution company restored power in the area after some hours of power failure.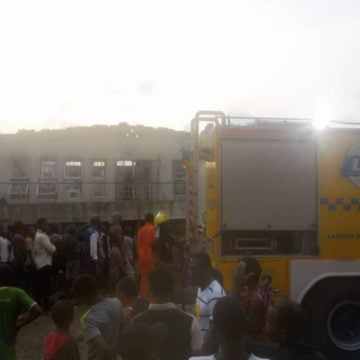 According to the Lagos State Emergency Management Agency (LASEMA) which reported the incident on its Twitter handle, though no life was lost or injuries sustained, the fire destroyed all the valuables in the upper floor before the arrival of firefighters and emergency responders.
According to LASEMA, the combined efforts of both agency responders and firefighters from both the Lagos State Fire Service and the Federal Fire Service
battled frantically in curtailing the fire and preventing it from spreading to adjoining buildings.
According to LASEMA: On arrival at Yaru Street, Ikate Surulere, Lagos, first responders discovered that the upper floor of a one-storey building has caught fire due to an electric power surge on restoration of power supply in the area.
"No life was lost and no injuries sustained during the incident.
"The combined efforts of agency responders and firefighters in conjunction with
Lagos Fire Service and Federal Fire Service were engaged in curtailing the spread of fire to adjoining buildings. Operation concluded."
YOU SHOULD NOT MISS THESE HEADLINES FROM NIGERIAN TRIBUNE
COVID-19 Infections Surge Again As Nigeria Records Highest Weekly Cases In Four Months
Last week, the country's COVID-19 infections witnessed yet another significant increase. Nigeria recorded 3,817 new COVID-19 infections which is the highest the country has recorded in over four months, Tribune Online analysis shows…
[ICYMI] Minutes After Electoral College Elected Joe Biden, US Attorney General Resigns (Resignation Letter Inside)
A close ally of President Donald Trump and the United States Attorney General, William Barr, has resigned his appointment after holding a meeting with the president…
Bandits Moved Abducted 333 School Boys On Bikes —DHQ
THE Nigerian Army, on Monday, gave more insight into the abduction of school children in Kankara Local Government Area of Katsina State. …
Valuables destroyed as fire caused by power surge razes one-storey building in Surulere, Lagos