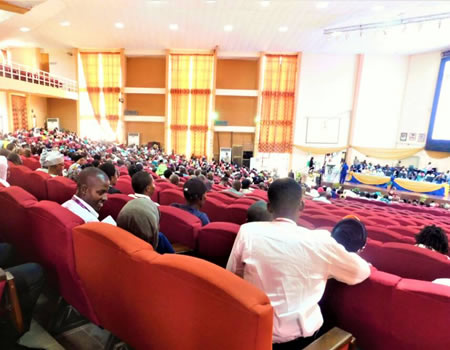 DR. (Mrs.) F.M. Olowoleni has been officially ushered in as the 6th Registrar of the University of Ilorin, Kwara State.
Her ascendancy to the coveted seat, was effected Monday, 30th April, at the University Auditorium in the mould of a Personality Lecture titled, "To Whom Much is Given" as delivered by the Aboaba of Offa, Chief Yinusa Folorunso Oyeyemi, and presided over by the Vice-Chancellor, Prof. Sulyman Age Abdulkareem.
TRIBUNEONLINE gathered that the event was the initiative of the Vice-Chancellor and the first of its kind in the history of the university, to usher in someone to the office of the Registrar in such manner.
Furthermore, in addition to being the 6th Registrar, the appointee is the second female to assume the position as well as the first Registrar with a Ph.D in the university community.
In his speech titled, "Deserving Rewards", the Vice-Chancellor gave thanks to the Almighty God for making the occasion possible and also applauded the new Registrar's competence whom he claimed, had worked hard for the survival and sustainability of the University.
Prof. Sulyman also showered encomiums on the Guest Speaker, whom he described as a "Principal Emeritus Administrator by excellence" and revealed further that Chief Yinusa was his secondary school Principal who never compromised on discipline.
The Deputy Registrar Counseling Affairs; Dr Adisa, gave took the welcome address. In his speech, he congratulated the new Registrar on her new position and also placed emphasis on her commendable level of professionalism and character.
In turn, the celebrant of the event, Dr. (Mrs.) F.M. Olowoleni, began her speech by thanking the VC for such an event and prayed that her new era will "usher in a positive change". She highlighted her core duties as Registrar.
 ALSO READ: Elizade University offers automatic employment to 16 First Class students

Dr Olowoleni didn't fail to remind members of the university community of the fact that the event was not about her but the university system. "It is not about me, it is about all of us." she said.

She also hinted that better times are coming to the University in view of the new event, and also disclosed her agenda to uphold professional ethics such as firmness, fairness and justice and above all, operating an open-door policy designed to welcome constructive criticism and ideas in her administration.

In his lecture, the erudite speaker gave some pieces of advice to the new Registrar in particular and the members of staff of the university in general.
---
---