'This amnesty issue is a scam'
•Generals, security experts, others say FG policy unfair to victims and families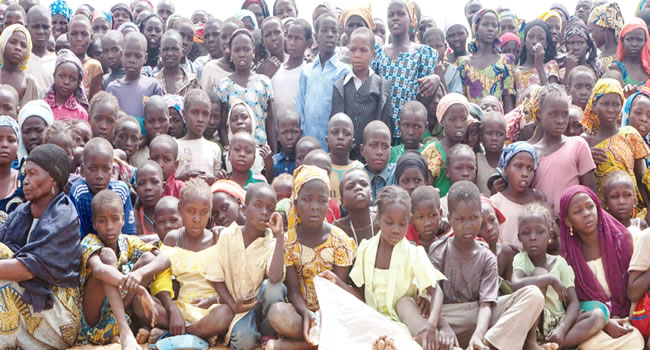 ISAAC SHOBAYO examines the amnesty policy of the federal government for 'repentant' Boko Haram members and rampaging bandits and the sheer neglect of their victims who have remained at the mercy of the insurgents.
Boko Haram, a terrorist organisation founded by Mohammed Yusuf in 2002 and led by Abubakar Shekau from 2009 until his death this year, haS been a constant  security threat to military authorities in Nigeria with virtually no concise solution in sight. According to statistics from the United Nations Office for the Coordination of Humanitarian Affairs, Boko Haram has killed more than thirty thousand people in frequent attacks against the police, armed forces, civilians and international organizations, while more than 2.3 million people have been displaced from their homes and now live in Internally Displaced Persons (IDPs) camps spread across the country.
Recently, the federal government announced that it was going to grant amnesty to repentant Boko Haram members numbering about 1000. It was an announcement that did not sit well with many Nigerians and the reasons are not far to seek.
A major one is that there has been no form of compensation for victims' families, while the perpetrators have neither been arrested nor punished. Secondly, families of victims now live in poor conditions in IDP camps, surviving one day at a time.
Thus, to even think of granting amnesty to the criminals without taking care of the victims is an issue many Nigerians cannot easily come to terms with.
One of the groups which reacted to the amnesty issue is the pan-Northern socio-political organisation, Arewa Consultative Forum (ACF), which through its National Chairman, Chief Audu Ogbeh, said rather than being granted an amnesty, the 'repentant' insurgents should rather be prosecuted. He argued that the militants had done incalculable damage to Nigerians and Nigeria and should pay for their crime.
"We are currently witnessing large scale surrender of large numbers of Boko Haram Insurgents, among who are bomb makers, commanders, arsonists, rapists, and child snatchers.
"Do we have good reason to cheer and hope for an end to this decade-old insanity? Is 'I am sorry' enough to bring relief to Nigerians and the thousands of the dead and the maimed? What of those victims bombed in the churches, mosques, schools, and markets? What of all the men and women in uniform murdered by them?
"Who can count the thousands of widows and orphans they have created?
"So, what do we do with them? Should we just embrace them and trust them wholesale? Are their moves informed by altruistic repentance? We seriously doubt," the group said.
Similarly, others argue that the FG must be very careful not to take the surrender of the militants hook, line and sinker advising that a thorough check must be carried out on them to determine their sincere so as not to further jeopardise the security of the country.
A retired general, Brigadier General John Sura (rtd) who is also a formidable member of the Peoples Democratic Party in Plateau State, in his own view said the Boko Haram militants should be treated as prisoners of war according to international convention but should also be punished.
"They should be treated with some sort of modifications; the 1000 repentant Boko Haram members should be treated as prisoners of war but with modifications, while a POW in the Geneva Convention has some privileges like protection against any act of violence, as well as against intimidation, insults and public curiosity.
"However, the case of POW is a defined war against the state and areas of conflict stated, as such surrendered personnel could be treated humanely and accepted in the society. In the case of repentant Boko Haram, they should be treated as a person imprisoned with hard labour to serve as a deterrent. Imprisonment with hard labour which defines minimum conditions for detentions such as accommodation, feeding, medical, food and clothing etc should not be inconsonance with the Geneva Convention.
"I will therefore suggest that the Boko Haram repentant should be treated lower than the provisions given to the Internal Displaced Persons (IDP). They should be treated to bring true repentance and dignity to human life. They should be used to cultivate agricultural products that they deprived the IDPs to produce. What we are facing in Nigeria is not a conventional war. Some people had gone out to kill a lot of people, destroyed peoples properties and coming back to surrender.
"I am thinking we should look at it with modification, they must pay for their crime to serve as a deterrent to others. They should pay for their sins; they should not have a conducive atmosphere that those they displaced do not have. People in the IDPs are crying for attention daily without little or no effort to ameliorate their deplorable situation, these are the set of people who need attention and urgent care, not the repentant Boko Haram. There is no guarantee that they would be loyal completely, so the government should be careful in handling their issues," he said.
On the issue of reintegration, Brigadier-General Sura expressed reservation arguing that after rehabilitating them, they may return to their old ways if they had nothing to sustain them
"If there are no resources to keep them going there is the possibility that they may return to the bush to join their members and thereafter return for succour again. Government should ensure that they go through some processes before they are released into society," he added.
Major Saliyu Kumbashi, a retired military officer, while speaking, advised the federal government to tread softly and not rush into the amnesty and rehabilitation policy because those involved had committed grievous crimes against Nigeria.
"Inasmuch as surrender is globally allowed in any form of war situation, it is also very important for government not to rush into admitting them into the same society where they had killed so many people and destroyed livelihood.
"The authorities should work on their mindset and purge them of the bad indoctrination they had imbibed. They should be seriously grilled and government should make sure they are actually repentant," he said.
Speaking on reintegration, he added that the repentant militants should be isolated from their various communities and states for a period not fewer than six months under rigorous de-radicalisation process with constant monitoring before reintegration.
Also, a security expert, Dr. Inuwa Dodo, wants the government and other stakeholders to take drastic actions by prosecuting ex-Boko Haram militants through a special court, explaining that their victims would not be happy to see them walking freely and they may no longer feel safe living with them in the same community.
A Senior lecturer with Bauchi State-owned Abubakar Tatari Ali Polytechnic, (ATAP), Bauchi, Abdullahi Yalwa, is of the opinion that sincerity of purpose is absent in the proposed policy of the federal government.
According to him, "I think we are into a 'mutual deception' because Boko Haram militants are not surrendering but changing tactics due to the current unpleasant circumstances they are pushed to."
Yalwa, who is also the National Publicity Secretary of ASUP, added that, "Nobody directly affected by the brutality and inhumanity of the Boko Haram militants has been trained to forgive or forget, let alone integrate the 'repentant' insurgents.
"Remember some of the 'rehabilitated' terrorists were found in front line fighting the state forces after their so called de-radicalisation at a centre in Malan Sidi; Gombe State. We can't do otherwise but pretend to accept them even without their heavy weapons, at least to send positive signal for the remnants to follow suit. The amnesty is just like the surrender; to me both are for now, scams."
Another senior lecturer from Umaru Ali Shinkafi Polytechnic, Sokoto, Mr Jamiu Oladele, also warned against a hasty amnesty while victims continue to suffer, saying the process may backfire.
"I can't fathom the reason why something like this will happen when members of the public who are victims of the various attacks are left unattended. My appeal to the federal government is to first and foremost, think about what to do with the victims of the various attacks.
"I appeal to the government to first of all attend to the victims especially the Internally Displaced Persons who are presently in the camps. A lot of people in the IDP camps today are just there at the mercy of the government. They all want to go back to their various houses or farms to plan for themselves and their families," he stated.
Mohammed Aminu Tukur, a politician, in his own reaction said that, "I am not comfortable with the idea and approach taken to grant them (Boko Haram) such a blanket freedom from prosecution. In any normal setting, weaponry comes along with the persons to be considered for such a State Amnesty.
"We have never seen them surrender along with even a cutlass or knife. Where are the superiors weaponry that we used to see them brandishing against our Armed Forces?
"I think there is more to the surrendering; we need to be very careful about it. What is making them surrender in turns should be thoroughly investigated so that they don't come back to become more aggressive in the society."
A legal practitioner, Shippi Rabo, said "Legally speaking, amnesty is part of international Humanitarian Law. Amnesty has been in practice in every war; it is done after all the world wars and the American war with Vietnamese."
He, however, said that "The Boko Haram war is not a conventional war but amnesty can be used to end the war but it must be done properly. The insurgents must be kept and deradicalised first before they can be reunited with the society. Measures must be taken to make sure they will not go back to their old ways."
A retired general and All Progressives Congress chieftain, General Idris Bello Dambazu, however, said that there is nothing wrong in granting amnesty to repentant Boko Haram members or any criminal for that matter as the policy would reduce the number of active militants and assist the government deal with the remaining few.
He also disclosed that the policy will also pave way for the government to get needed information from the repentant ones to track down those still actively engaged with Boko Haram.
"By giving them amnesty, they will be able to give necessary and important information on the activities of the other side and that will help the country know how to deal with others and conquer them.
"Look at the Afghanistan issue, despite the fact that a America, the most powerful nation on earth negotiated with the Taliban, completely surrendering and pulling out from the country because they were convinced that it is not only war that can win in that situation, there is need to dialogue as well. So, this something unavoidable," he said.
General Dambazu argued further that the Niger Delta militants committed similar crimes against the country but when they were granted amnesty and compensated peace returned to the region.
"Did they (Niger Delta militants) not kill and destroy the economic situation of this country? However, when the amnesty was granted them, they laid down their arms and I think they were even compensated. Now you can see that peace has prevailed in that zone.
"This is an issue of carrot and stick approach. In as much as the security agents are doing their best in taking the battle to the insurgents… when you have people among them who are ready to surrender, they should be accepted accordingly. It is very necessary to have this amnesty that will help towards total defeat of this unnecessary war and untimely death of innocent people," he said.
As the argument rages on amnesty and rehabilitation of 'repentant' Boko Haram militants, victims continue to suffer wondering when salvation would come their way. The most realistic true answer however lies with the IDPs and within the camps where life continues to bear its fangs at them.
Additional stories by Kola Oyelere; Ayodele Ajoge; Ishola Michael & Olakunle Maruf
YOU SHOULD NOT MISS THESE HEADLINES FROM NIGERIAN TRIBUNE
We Have Not Had Water Supply In Months ― Abeokuta Residents
In spite of the huge investment in the water sector by the government and international organisations, water scarcity has grown to become a perennial nightmare for residents of Abeokuta, the Ogun State capital. This report x-rays the lives and experiences of residents in getting clean, potable and affordable water amidst the surge of COVID-19 cases in the state…
Selfies, video calls and Chinese documentaries: The things you'll meet onboard Lagos-Ibadan train
The Lagos-Ibadan railway was inaugurated recently for a full paid operation by the Nigerian Railway Corporation after about a year of free test-run. Our reporter joined the train to and fro Lagos from Ibadan and tells his experience in this report…