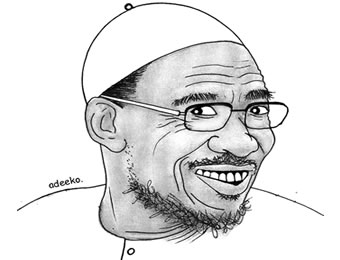 A few days back, Iyiola Omisore made a political decision of epic proportion. He gave debatable reasons for it. Yoruba call it oro sunnunkun (confounding situation). Many believed he has buried his politics and future relevance. The nay-sayers would pop champagne, should APC step out of the agreement's fine-line. They could be wrong or right, but there is a thread in their argument that will always make nonsense of the perceived sense in Omisore's logic. The central theme of his abiding decision was, the "good people of Osun State" and the traumatised civil servants.
If a simple majority of the voting citizenry at first ballot, picked PDP ahead of his new friends, what justification would the veteran candidate claim, in favouring the rejected one? And if it was all about a better deal for the public servants, then the Ife-Prince would be guilty as charged, of high-end hypocrisy. How would he explain his emergency conviction that the one who was the engine room of an administration in perpetual conflict with the state civil servants, would serve their interests better as governor, when he was said to be the de facto governor in the expiring administration? Maybe if APC had presented an outsider, who hasn't been a part of a largely-debatable eight years of questionable leadership in a state that required more sober heads than it got from the Ajantala conclave.
The consequences of our actions are mainly ours to bear. Omisore will definitely carry this cross someday, because a lot of non-partisan goodwill has been flushed with the tough decision. Sadly too, the applause isn't also ringing as it should, from his new friends. A few hours before the call, the ruling party boasted he needed Omisore not, to win the disputed and disputable supplementary poll. That was before APC national relocated to his Ife country home because of his Garage Olode ancestry and royalty. The national leadership possibly saw beyond the usual braggadocio of the state chapter which got it into the beggarly situation in the first place, but the reality is that apart from Abuja patronage, the so-called unity government to be formed between Omisore and APC, is purely, a state affair and for the ruling party, the Ife-Prince could be a passenger, for all its cares.
Except for Providence, the much of gubernatorial title Omisore would ever carry again is "the best governor Osun never had." And he would be deserving of it. At the televised debate, he won many doubting Thomases over, with quaint understanding of how the state could and should be rescued. But it is doubtful, if he would ever be in lead position again. Miracles, do sure happen and with God, nothing is impossible. But being a vaunted engineer, a better calculation should have gone into fixing the bolt and nut. There is the argument that APC was decidedly settled on not fluffing the second chance offered it, by INEC, by "winning" the rerun at all costs, including all that attempted to stand in its way.
The lightening speed with which party rebels like Moshood Adeoti of anti-climatic ADP and Yusuf Lasun fell in line, alongside Omisore, possibly attests to persuasive abilities beyond oratory. Something, or a combination of, appeared to dash everybody, sense.
In Omisore's defence, it has been reasoned that he would have been cleared off alongside PDP, if he chose differently, considering the chunk of the contested votes being in his Garage Olode confines. A top APC chieftain said there would have been bloodshed if Omisore decided on resistance, but APC would still crawl through. There was still bloodshed anyways, with Omisore being on the side of the crushing train. Could it then be that his decision did not enjoy shared affinity with the voters in the said area? Or maybe, his princely connection isn't counting for much with the rural fellows, who might not be totally pleased with being a mere supplementary support.
Whatever the people's resistance is construed to mean, it would be dubious for anyone to claim that the Omooba dansaki (royalty heritage) didn't have a role to play in whatever APC did to finally secure the Ife South and North cancelled votes. My guesses are, one, despite its poorly-concealed desperation for last-gap victory, APC didn't want to be rabid in snatching the cancelled votes, particularly in Ife, considering the carnage that could follow any form of resistance by an Omisore on the other side. Two, with the elite leader on its side, commoners could be overrun with no fuss, like the fellow allegedly killed in Ife, whose heavily-pregnant wife, would now have to alternate between mothering and widowhood. If an Omisore had been as much as tear-gassed, newspapers' front pages would have been awash with his tear-streamed visage. But the killed Ife barber, who sabi am?
I daresay Otunba took a major risk being on the side of continuity. Just like some people are now apologising for bringing about the Buhari presidency, Omisore may constantly need his knees for his anointed not to make the citizenry pelt his unique gobi (cap style) with rotten potatoes, before judiciary decides the arising matters, one way or the other.
I had wished Otunba's travails in PDP, which are fairly known to me, would be compensated with Abere. The scars are definitely still fresh and not going with the Adelekes after the alleged botched agreement of last year, to support him, in return for Demola's senatorial cause, would be perfectly understood. Once bitten, they say. But his eventual berth is also wrong-headed, with all respect. None of the arguments of either being promised, or threatened, would cut it. He should have stamped his electoral authority on the area, by sweeping nearly all the votes since he was not barred from the supplementary contest. He was earlier beaten in the two local governments. The rerun should have been an opportunity to prove he "owns" the four councils in Ife. Everyone now knows, he is a two-council champion. Otunba, with all love, should have been a statesman for history. I disagree with the dealership understanding. Even if the ruling party had flashed its cannibal canines, a la EFCC, he should have stood for time. Real men die once. abi?