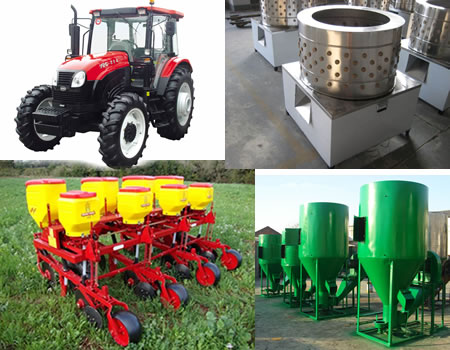 The Managing-Director/Chief Executive Officer, Goshen Greenland Limited and representatives of LOVOL Arbos Group A Sino- Italian Company, David Okpon, has made an appeal to the federal government  for the harmonisation of custom charges on all agricultural machineries and equipments.
Mr Okpon made the appeal while speaking with journalists at the company's Exhibition stand during the just concluded AGRIKEXPO/NABG  in Abuja.
According to him " Four wheel tractors attracts 0% custom charges as against 2 wheel tractors which is classified under the HS code 8701,9019.00 and  attracts 35% custom charges.
"We want government to harmonisé the charges because they are all agricultural equipment and so that when we bring in tractors whether 4 wheels or 2 wheels they can all fall under the same code," he said
According. To him, "While preparing for this exhibition, we imported one of the two wheel low end tractors called the Motor cultivator ( Also known as the Pedestrian tractor),which is mostly for small holder farmers who constitute about 70% of Nigerian farmers, with women and children being the larger percentage. And we think that we should empower this segment of farmers in Nigeria".
"This was something we could not imagine, infact we were so shocked, considering if we brought in this motor cultivators which we bought for N2.1 million naira and customs charges are 35% about N745,000 which we have been unable to pay up to date and we have come into the exhibition without these tractors, we have no opportunity to show it,rather we only have pictures of it instead of having the machine as we proposed.
"This is a dilemma for us, because the tractor has  been there and incurred demurrage because we had thought it was going to attract 0% charges with customs
"The major interest behind bringing in the motor cultivators is because the people who are feeding Nigeria are small holder farmers who have been labouring with making use of hoes and cutlasses and we think that we should empower this segment of farmers in Nigeria."
Okpon lamented that implication of the company's inability to bring in the motor cultivator  due to the high charges has resulted in loss of potential customers they would have gained at the exhibition and also defeating the aim of providing affordable farm machinery for the small holder farmer as the cost of the machines would be too high for farmer
if we have to bring a tractor for N2m and add another 1 million as a result of the charges and the additional VAT we won't be able to sell to our target market. After spending 35% which is N740,000, you need to add another 5% which is almost N200,000 making about N950,000 which is another N1million on the original cost,how much can we then sell,so this tractor cannot sell and cannot get into the hands of people that should receive it
He therefore called on  the government to reverse and harmonise the charges.
"My request to the government is to reverse this particular charges because this motor cultivators falls under agricultural machinery
"Right now, agriculture is the way to go because that is what can increase the base of our economy, from agriculture we can start cottage industries and the basic and fastest way to go into agriculture is to bring some kinds of  technology to help people in farming and the lowest end we thought was to bring these motor cultivators in" he added.