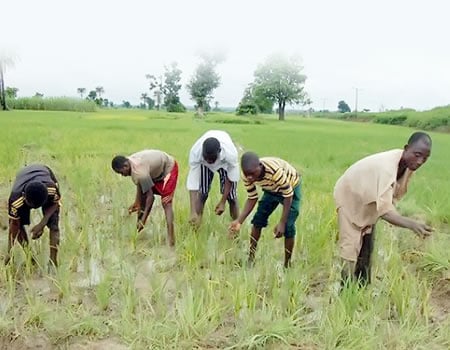 The Chairman,  Association of Grain Processors and Allied Produce of  Nigeria (AGPAN) Oyo State chapter, Mr Dare Adeyemo, has appealed to the Federal Government to put in place measures that will encourage more Nigerians to take into farming, simplified agricultural process and aid marketability of agricultural products in the country.
Adeyemo, who was recently inaugurated as the state chairman stated  this in an interview with the Nigerian Tribune recently.
He said there has never been anytime when agricultural products are  lying valueless in the market, except in a situation where storage and  marketing are major problems.
According to Adeyemo, "humanity will always need food, shelter and   clothes. If we do not give concern to farming, who then will feed the  global population that is projected to reach 9.2billion people by  2050."
He reiterated the fact that the Federal Government can assist Nigerian  farmers to access the opportunity provided by the growing population to give the sector the boom and practically check high rate of unemployment in the country.
He said the association is "dully registered by the Corporate Affairs Commission , Nigeria with the intentions of bringing youths into the farming business, encourage and strengthen the real farmers to do more."
He added that the aim of the association is to make farming easy for interested applicant through the supply of land and input to reduce the level of unemployment, provision of foods and reducing hunger in Africa at large.
"We need to put the culture back into Agriculture by turning the act of farming around to attract new fresh minds. Our tomorrow is much dependant on what we grow today. Undoubtedly, without farming, civilisation ceases to exist and so will Humanity.
"As you can see, as the world grows with population, so is the opportunity for farmers to always be relevant. It is an unending natural business. With the projected population in less than 30 years now, the Nigerian Government should tap into this golden opportunity by assisting Nigerian farmers to tap into this.
"Every manufacturing company will always need agricultural products. And because there is increase in the world population, naturally that will spark increase in demand for agricultural produce. Nigeria should be prepared to tap into this," Adeyemo said.