Sniper: Useful, yet deadly
In order to rid the home or crops of pests, people could inadvertently be harming themselves, TADE MAKINDE reports on the good and bad sides of pesticides.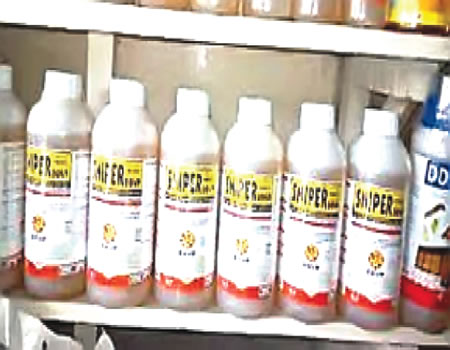 SNIPER! That word sends shivers down the spines of most people when they hear it. The word connotes death, hence the fear that has gripped many grain consumers lately. A sniper is a military marksman who shoots at an individual from a hidden place to kill. Whether a marksman or pesticide, the two are deadly. While the former kills a set  target, the latter kills human beings slowly, but kills pests instantly. No wonder its manufacturers warn that the pesticide should not be applied directly  on grains.
A Lagos-based DJ, popularly, known as Djxgee, shocked many when he drank the substance sometime in December. In a suicide note reportedly posted on Instagram, the young disk jockey admitted that he drank Sniper. In There was a similar occurrence about a month after, when a father reportedly poisoned the meals of his two sons with Sniper because they stole his money. The incident, according to media reports, happened in the eastern part of the country.
For negative reasons, Sniper has forced itself into the vocabulary of many. The pesticide has created palpable fear among many Nigerians, especially consumers of beans, following the Minister for Agriculture, Audu Ogbeh's recent appeal to farmers to stop using the  product to preserve beans. The two tragic stories and a warning message from the Minister of Agriculture has got many to be wary of the deadly pesticide as they are desperately seeking information on Sniper.
What's special about Sniper?
Before now, pesticides widely used by farmers to prevent pests from eating up their grains were Rocket, Gamalin 20, etc. A farmer, Mr Segun Faji, who has his farm at Ogunmakin in Oluyole Local Government Area of Oyo State, said the active ingredient in the pesticide is a toxic chemical called cypermethrin.
Until the minister called attention to Sniper, not many had heard about it, nor known what it was used for. Even as it appears to have come to the knowledge of many just recently, Sniper has actually been in existence for a long time. Nigerian farmers have been using it to preserve their harvests from pests and other infestations. Many people, apart from farmers, used to apply it in homes to get rid of pests, reptiles and other crawlies.
A respondent, Mr Ade Fasehun, told Sunday Tribune that he applied it in his cupboard after smelling the presence of a shrew in his home. He sprayed the cupboard very early one morning and by the time he got back home in the evening, not only did he find a dead shrew  close to the cupboard, there were wall gecko, cockroaches, centipedes, bugs and several dead insects everywhere in the room. The small scale farmer, who has been using the product since 2012, described those who use Sniper to preserve grains as 'killers'.
"If you know the potency of Sniper, then, you will know better than to use it directly on grains. A small sprinkle at home is enough to choke one to death if the windows and doors are shut. It's like holing up in a house that has been tear-gassed. Tears will well up in your eyes, while breathing will become difficult. Sniper, in one word, is a killer if not rightly applied. I use it to kill pests and rodents on my farm, but I only apply it on the edges of my farm fence. No rodents or pests will survive it."
He advised that the product should not be applied directly on grains, but rather, on the farm's surrounding. "Some chemicals in pesticides can result in irritation for some people, depending on how much they are exposed. That's how potent Sniper is. Your skin may itch, while eyes and lung issues can develop thereafter," the Ilesha-based farmer said.
Mr Faji admitted to Sunday Tribune that one of the biggest problems faced by beans farmers is the infestation of farmlands by beans weevils.
"These pests can eat up acres of farmland within weeks of harvest, resulting in huge financial losses to farmers. As an insecticide, Sniper is used on farms to kill insects so as to reduce to barest minimum their losses from grains eaten up by insects. To prevent such losses, farmers seek for solutions to stop, or minimise destruction to their crops.
Dangers of pesticides to humans
Joseph Matekai from Yola said it has been proven that if beans sprayed with Sniper is consumed within six months of harvest, it could activate ulcer and other internal injuries.
"Every consumable contaminated with Sniper can cause ulcer or other internal injuries due to its toxic contents. The liver, however, is the most often affected organ when pesticides are ingested from foods.
"The infection could start with bleeding, unconsciousness, anemia and high fever. Jaundice may also appear after few days and could last for several days if not treated," he said. He warned those in the habit of regularly fumigating homes without professional help to stop it or risk having low white cell count, diminished platelets and low hemoglobin.
A dermatologist, Dr Richard Ajayi of Hilltop Clinic, Surulere, Lagos, said that the symptoms of pesticide poisoning ranges from a mild skin irritation to coma or even death, just as individuals also vary in their sensitivity to different levels of these chemicals.
"Some people may show no reaction to an exposure that may cause severe illness in others. Because of potential health concerns, pesticide users and handlers must recognise the common signs and symptoms of pesticide poisoning.
"The effects of pesticide poisoning can be either topical or systemic. Topical effects develop at the site of pesticide contact and are a result of either the pesticide's irritant properties, or an allergic response by the victim.
"Inflammation of the skin is accepted as the most commonly reported topical effect associated with pesticide exposure.  Its symptoms range from reddening of the skin to rashes or blisters. Some individuals tend to cough or sneeze when exposed to pesticide sprays, while some react to the strong odor and irritating effects of petroleum distillates used as carriers in pesticide products. The eyes, mucous membranes of the nose,  the sensitive linings of the mouth and back of the throat, feel raw and scratchy.
"Systemic effects often occur away from the original point of contact as a result of the pesticide being absorbed into and distributed throughout the body. Its effects often include nausea, vomiting, fatigue, headache, and intestinal disorders. In advanced poisoning cases, the individual may experience changes in heart rate, difficulty breathing, convulsions, and coma, which could lead to death," the medical practitioner cum farmer told Sunday Tribune.
However, Dr Victor Adeyefa of All Souls Hospital, Ibadan, could not explain why there is so much noise about Sniper lately because it has been with us for ages, though he is worried that the chemical compounds in insecticides could be harmful to health.
"We should also be wary of canned products because of their chemical contents, which can cause cancer of the intestine, he warned.
Alternatives
To avoid abuse of the powerful product, the Yola-based doctor warned that farmers are in the best position to use Sniper, not the marketer or storekeepers.
"Once Sniper is used on the farm, it exposes the chemical to sunlight and rain, which reduces the harmful content of Sniper before consumption," he said.
However, Faji suggested other alternatives which farmers can use to stop insect infestation. "Dongoyaro (Neem) plant is a good insecticide, but the question is how many farmers can go through the stress of processing one. Also if grains are kept in aerated and cool environment, insects such as weevils won't be able to live on them or feast on grains."
The use of Sniper from investigation appears as a quick fix to most farmers who may not discontinue its use despite the inherent dangers. But these dangers, it is said, can be mitigated or totally avoided even with the use of pesticides not just Sniper. According  to Mr Yohanna Vandi, a farmer who is based in Adamawa State, pesticides in crops can be easily managed and made impotent by farmers.
All the farmers need to do is to "wait for at least eight months after harvest before releasing their harvests into the market. The long period [of storage] will ensure the removal of toxins from the harvests, and, therefore, make the grains suitable for consumption," he explained.
This claim by Vandi was corroborated by Professor Olorunfemi Peters, the Executive Director of the Nigerian Stored Product Research Institute (NSPRI).  In a recent report, Professor Peters suggested that beans of safe moisture content can be stored with or without the use of chemicals.
"Harvested and threshed beans could be stored for short and long term periods. This technology works on the principle of exclusion of oxygen gas from the storage environment. Hermetic storage facilities are air – tight structures which can be flexible or rigid and require no synthetic chemical application. When using polythene lined jute bags, it should be filled to the brim with beans and properly tied or sealed.
"This structure can be used as domestic, retail and commercial storage for beans and grains in general, and can protect the grains for over 12 months, as long as the air tightness is maintained. Even if the beans had been infested, the infested beans could be placed in air – tight containers and placed in home freezers as a cold shock treatment.
"This method kills all life stages of the insect within four days. Thereafter, the beans can be removed, sieved, aired and kept in air – tight containers under ambient condition as is the practice, especially among farmers in Adamawa.
"Inert Atmosphere System (IAS) is another approach to grains storage and in particular, beans, without the use of chemicals. This option is to deprive the pest access to oxygen by replacing the air in the storage environment with nitrogen gas.
"Clean beans are loaded into metal silo and purged with nitrogen gas. The system is maintained with nitrogen gas to keep the environment inactive. Beans kept in this structure up to 36 months retained their food and seed qualities," the NSPRI boss added.
From all indications, farmers will continue to use Sniper as well other pesticides on their crops, but more education and enlightenment by extension agencies could wean them off this dangerous method or make them more thorough and patient in their usage of the chemicals.  However, as food and nutrition experts have often advised, it is the consumers that are expected to be wary of the dangers in the produce they buy.