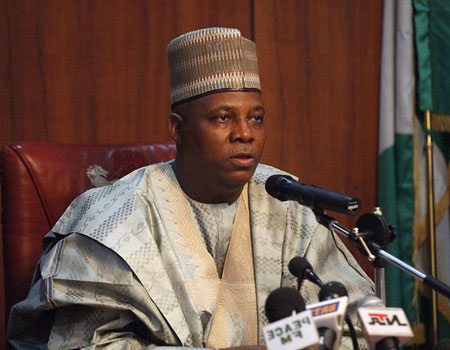 BORNO State Governor, Kashim Shettima has called on all public servants and political appointees to dedicate themselves to service to their people even as they compare their personal gains to their service to humanity.
As if in a valedictory session during his recent budget presentation to the House of Assembly, the Governor asked all elected and appointed Government officials, politicians and associates to reflect on what Borno citizens have benefited from their individual roles in public office in six and half years.
Within their reflection, he asked them to compare whatever each of them might have benefited personally from the system and makeup to the people by being dedicated to serving them.
"When I first appeared here in December 2011, I believe most of us here, and other associates of our administration must have thought that the eight years we aimed to have in office, was too long a time. Perhaps, some of us might have seen eight years as forever.
"Today, here we are, at the end of 2017. If Allah spares our lives to complete our tenure of office, at about this time next year, I will be presenting my final budget as Governor of Borno State.
"What this should remind all of us is the ephemeral nature of power. Most people don't like to be reminded that their term in office is winding down but I have never been carried away by power. In and outside public office,  what will always be remembered is the legacy one is able to bequeath. It is never how long or short one holds public office, but how well citizens benefit from the time you hold sway in their trust.
"I will like all of us here to create some quiet moment today and reflect on the six and half years we have served at different capacities in this administration. Let us ask ourselves how much benefit the people of Borno State have had from the individual roles we have played. We should perhaps even go further to compare whatever we might have benefited personally with the service we have given to our people.
"Regardless of what we are honest enough to tell ourselves, I believe the next one year presents another opportunity to work hard and build on the legacies we intend to leave behind. It is to be expected, that the middle of 2018 will be disrupted by politics,
"But again, I will like to remind us, that we have individual and collective responsibilities to move with the speed of light, if necessary, to ensure that we complete and put to use, our numerous projects and programmes, particularly the new schools for education of over 52,000 school-aged children whose parents were murdered as a result of the Boko Haram crisis.
"We should all work hard see to it that our displaced brothers and sisters return to safe, rebuilt and functional communities. Importantly, they should return with their dignity," he said.
The governor went on "there is a lot more to be done. We must remember that while previous administrations had the luxury of peace to work, we inherited, and so far have been managing one of the worst crisis to befall mankind in recent times. Previous administrations had the luxury of taking steps forward. In our case, we had to combine steps backwards with taking steps forward. I believe posterity will ultimately be kind to all of us.
"But like I said, we have to complete our work for the good of Borno State. When we do that, Insha'Allah, our names will be written in gold. No matter how anyone tries to distort history, facts will always speak for themselves." the governor said.
---
---