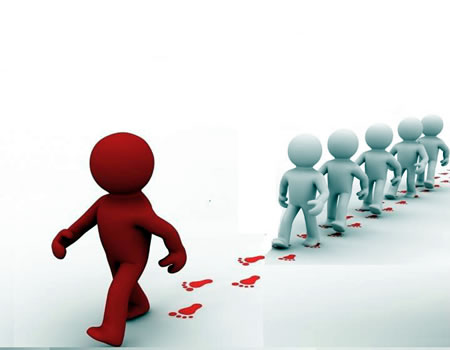 When it comes to every sphere of life, leadership is everything. And until we get it right in leadership in Nigeria and Africa as a whole, we would not truly move forward as a people. It is not debatable and contentious that the difference between third world countries and first world countries is leadership. And there is no nation that can rise above the corporate quality of her leaders.
Over the years, I have been asked by many people on how they could recognize a leader—when they see one. In synopsis, I will try and answer this question today. Buddy, it is important I unveil to you who a true leader is, because most of our people in Nigeria do confuse mere position-holders and rich people for leaders. The truth is, you may not have money and what money can buy, and leadership positions and still be a rock-solid leader. There are too far many rich people in Nigeria who are not leaders!
The question is: how do you know a leader when you see one? You will know by the way his or her life draws people to him or her without opening his or her mouth. Many people will want to be like him or her, and this will be happening without being induced with money. Also, you will know a leader though his or her selfless lifestyle and through the quality of life that those who surround him or her live.
Furthermore, when the discontented ones, the distressed ones and those in debt gather unto him, after a period of time, they are going to be transformed and those who see them would not be able to recognize them anymore. Debtors are going to become city-takers, nation-changers and global transformation agents. Distressed people are going to become obsessed with dreams that impact the ends of the earth.
Leaders are not known by how much they either have in their pockets or in varied banks, but leaders are known by how much those who are following them are controlling. In Africa, we know a leader by how big he or she has become after a period of time that folks have been following him or her, but the truth is true leaders are known by how big those who are following him or her have become after a "process of time."
In Africa, those of us who call ourselves leaders do forcefully take 'swords' from the people and give them to our wives, children, extended family members and friends. When there is a war in the land, those who are close to us will be protected, but the common man on the street will be cut off from the earth. Beyond the issue of war and violence, the sword represents every good thing of life. We and those who are close to us can access common social amenities, but the best the poor man can do is to pray to God. This is not leadership!
When slaves gather to a leader, they are going to become warriors. A leader does not turn people to slaves, but a leader changes them from being slaves to sleek-men. What is happening in Nigeria today? We deliberately keep people poor, so that we can continue to use them to advance our selfish agendas. We make sons to become slaves. And we make legitimate citizens to become slaves in their own fatherland. This is not leadership.
A leader helps you to achieve what's beyond your intellect and strength. A leader gives you opportunities; he or she will not take them from you. A leader opens doors for you, he will not close them. Taking this issue a little further, a leader turns worthless men to territorial holders. Does this happen overnight? No! But it does happen overtime. If your life does not begin to change after you have been faithfully following a leader for years you may need to move on with your life.
Many years ago, a very promising man came to me for counseling. He was at a crossroads and did not know what to do anymore. He began to follow a leader about five years before he came to me for counseling. It will be improper to divulge everything that transpired between the man and his former leader, but all I can say is that the man moved from being a man of high-value to being a worthless man! Value was completely taken away from him! I did counsel him on what to do. And the rest they say is history.
In your years of following folks, is value being taken away from you or value is being added to you? You will need to be sincere with yourself, because you are not likely going to become better than the corporate quality of those who are leading you. Is your leader a lid or he allows you to grow? Have you gotten to a level under his or her leadership where you have stopped growing emotionally, financially, spiritually and socially? If the answer is yes, you may need to seek for a counsel.
As a leader, you may need to ask yourself these salient questions: am I truly a leader or am I just occupying a leadership position? Am I truly adding value to my followers or I have been taking value from them? Are these peoples' lives changing by following me or is it only my own life that has been changing? Am I truly worthy of being called their leader? Am I just being followed by mere a crowd or I have been able to transform a mob to territorial holders? How many vain men have become valiant men just by following me? If you cannot answer yes to just one out of those asked questions, I humbly advise that you stop calling yourself a leader. You are just wasting the time of those following you.
If a leader does not have sleepless nights because of those following him or her, he or she is not worth following. The quality of life of those following you should give you sleepless nights as a leader.
See you where great leaders are found!
ALSO READ: Kidnapping: Senator Arise recounts ordeal, says 'I paid N20m ransom'