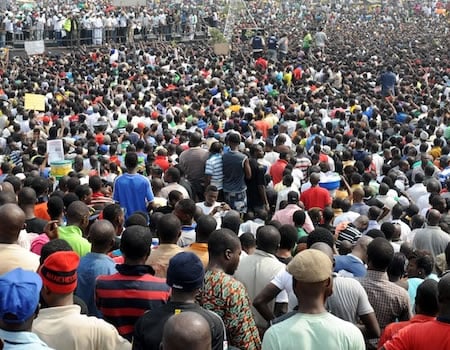 NIGERIA is a country where we forget so quickly, the hardship some of our leaders have brought upon us. Shall one say we are immune to hardship? We just seem to move on like a clock. But let us not forget that the clock moves with durable batteries. But do we have durable batteries to move on smoothly like a clock? Looking back to the 2015 general election, we will all agree that what the majority of people clamoured for was "CHANGE."
Change of leaders, change of old orders, changes in food prices and some other basic amenities that could add value to human life. The rate at which Boko Haram was striking in 2015 was so alarming that hardly would a day pass by without a record of death or casualties in the northern part of the country. We were made to believe that the terrorists were being sponsored by politicians who felt it was their time to exact a revenge. Chiboks girls were abducted. There was tension all over the states. People were just tired of the government in power then.
We also recall the scenario that played out when Professor Atahiru Jega was reading out the results of the presidential from different states. I guess we all remember the man shouting "You must count River State result!"? The situation, if not properly handled by Jega, could have thrown us into another war. Why? Because the majority of Nigerians had decided to bring in a new leader. Even those senators and honourables who did not perform well seized the opportunity of the change agenda to win a second term. I guess we also remember the professor that was given a lamp to read out results of the presidential election? We may also not forget the jubilations that came after the result was announced officially. Beer parlours and suya joints recorded high patronage. Lest we forget, people were going about with calculators, adding and subtracting election results, the majority of whom were not even politicians but patriotic citizens. This indeed shows that the 2015 election result was widely accepted and the man who wore the cap was the people's choice.
So, the questions now is, how well has the present government performed? How much was petrol in 2015 and how much is petrol in 2018? If I may also ask, what was the minimum wages in 2015? And what are the minimum wages in 2018 considering the increase in fuel prices? How much did it cost you to board Ibadan to Abuja bus or flight in 2015? And how much is it in 2018? Companies which cannot cope with the economic situation embraced staff downsizing, and many could not pay the retained staff. Overhead cost is now the opportunity cost in our present economy. My dear country people, nothing has changed for better.  We are now paying double to buy basic needs. With the increase in the prices of basic needs, the minimum wages have not changed; it remains stagnant. And civil servants will be expected not to swallow N36 million, claiming a snake did the trick? Are you sure you will be able to kill all the snakes in the civil service? Don't bother yourself with any antivenom.Why? Because you have not done the right things to ensure that the minimum wage is increased to meet up with people's needs. When you look at the rate at which people trek from their homes to their workplaces, you will be shocked. But I will tell you not to be surprised because you caused it.
If we had our own refinery and our agricultural sector was doing well by encouraging the youths to farm, we may not have suffered so much. So, now that 2019 election is fast approaching, could we have a general endorsement? I doubt it unless necessary things are done to ameliorate the suffering of the masses. Meanwhile, can't we have a youth as the president of this country? We need youths with a vision and progressive ideology who are doing very well in their various field to pilot the affairs of this country, youths with a record of excellence.
As the 2019  election approaches, we are all seeing how selfish some of our leaders are. You can see how our parliamentarians are dabbling in the election timetable to favour themselves and also how our executives are grumbling over the amendment of the election timetable. If truly it is not for their selfish interest, why the hullabaloo? If you are widely accepted in your community, ward, local government, federal constituency, senatorial district, state, region or all state, should there be any need for the fright? Enough of pretence! All is not well with  Nigeria. Stop telling us that the government is on top of the situation. Swing into action to reposition our economy. We must have our own refinery, affordable health care, quality education, good roads, constant power supply and other basic amenities. Kindly change your gear; the current gear is weak.
Olawoyin is an associate member of the Nigerian Institute of Public Relations. For feedback; olawoyin4u@gmail.com or @olawoyin4u on Twitter.