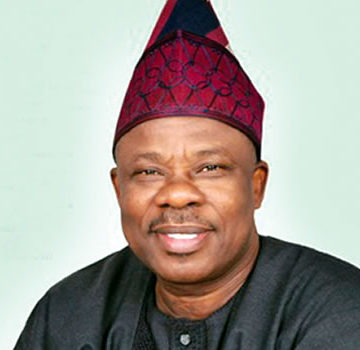 WORKERS in Ogun State have asked the State Governor, Senator Ibikunle Amosun, to pay their leave allowances running into four years, before vacating office on May 29,2019.
This was among other demands such as payment of gross salary and all arrears of salary deductions; remittance of arrears of the Contributory Pension Scheme to the Pension Funds Administrators; restoration of monthly payment of running cost to agencies as well as public schools were tabled before him, during the 2018 May Day Celebration, held at the MKO Abiola Stadium, Kuto, Abeokuta, on Tuesday.
The State Chairman, Trade Union Congress, Comrade Olubunmi Fajobi, in his address noted that the continuous payment of net of salary instead of gross had adversely affected the lives of workers in the state.
The union leader added that workers in most field offices used their hard earned pay to running government businesses due to inconsistency in the release of monthly running cost.
He said, "While the efforts of the state government are appreciated, the continuous payment of net of salary instead of gross has negatively affected the lives of workers in the state and should be jettisoned.
"To date sir, there are a total of 18 months of global deductions outstanding. For the first time in the history of the state, the government is owing workers leave allowances for four consecutive years.
"It is on record that the promotion for 2016 and 2017 are already in arrears while that of 2018 will fully mature come 1st July, just two months away, thus completing three years of promotion in arrears.
"In most of the field offices, public servants levy themselves to pay for electricity bills to avoid disconnection, buy papers to generate reports to headquarters and pay for the production of such reports from open private business centres. This is ridiculous and unbecoming of a public service."
Corroborating his counterpart, the State chairman, Nigeria Labour Congress (NLC), Comrade Akeem Ambali, called on the state government to fill existing vacancies in all government establishments to increase productivity.
Ambali in his speech read by his deputy, Comrade Dare Ilekoya, appealed to Amosun to recalled all labour leaders dismissed by his administration.
Responding, Amosun, represented by the deputy governor, Mrs. Yetunde Onanuga, acknowledged all the issues raised by the workers and promised that his government would not take their welfare for granted.
"Let me reiterate that our Administration will never take you for granted nor refuse to continue to attend to your welfare. Let me assure you that your promotion, as and when due as well as other benefits have always engaged our attention," he said.