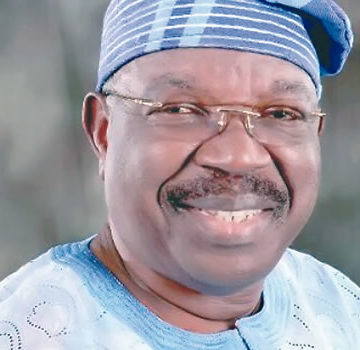 AHEAD of primaries to elect the flag bearer of the Peoples Democratic Party (PDP) in Osun as the prelude to the conduct of September 22, 2018 governorship poll, a gubernatorial contender in the opposition party, Hon Albert Adeogun, on Friday stepped down his ambition for Senator Ademola Adeleke.
Adeleke, who currently represents Osun West Senatorial District in the National Assembly, Abuja is also one of the governorship aspirants on the platform of the PDP in Osun State.
Addressing a press conference after a consultative meeting held inside the residence of a chieftain of the PDP, Chief Abiola Morakinyo with his teeming supporters in Gbongan community, Adeogun said his decision to drop his gubernatorial ambition was as a result of wide consultation with stakeholders and the need to record electoral victory for the opposition during the election.
According to the lawmaker, who represents Ife Central/East/North/South Federal Constituency in the House of Representatives, the collective interest and welfare of the people in the state compelled him to step down for Adeleke.
Adeogun stated, "you have listened to my leader, Chief Abiola Morakinyo and he has clarified these issues.
He has mentioned the position of the party through their body language that this position is likely to go to Osun West and I am from Osun East.
I do mention that Osun State is made up of three constituents. Igbomina and Oyo, Ife and Ijesa. As we speak today, Igbomina and Oyo had their terms through Akande and Oyinlola".
"Similarly Ijesa, through Aregbesola is occupying the seat. It is only Ife that is left out, but there are other arguments and these other arguments become unsustainable and it's quite reasonable therefore to be realistic as a politician who has the best interest of Osun State.
And, coming down to work with Adeleke is borne out of our concerns for the state", he posited.
ALSO READ: Osun 2018: APC elders' forum in Irewole LG backs Osun west for gov ticket
Adeogun continued, "it is for the citizens of Osun State, we want this government to be taken away from the APC.
If we are going to do that there is a lot of sacrifices that each and every citizen of the state must render.
That is why we are saying we can collaborate. It is obvious that there is no argument that can be adduced because Ife/Ijesa today occupies the governorship seat.
There is no two way to it".
Earlier in his remark, Chief Morakinyo contended that "as you can see we are all aware of the popularity of the PDP in Osun State.
With the forthcoming election, by the special grace of God, the PDP is going to win".