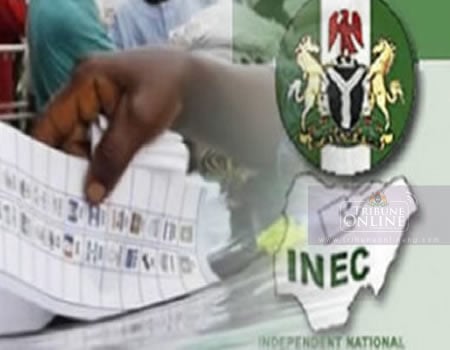 The Independent National Electoral Commission (INEC) has said that the 2019 election will only be conducted with the use of Card Reader.
A top official of the commission who spoke in Abuja on Sunday said that there will be no voting without the Card Reader in the 2019.
The official said that the Card Reader helps the Commission in three ways, including gelling to confirm that the Permanent Voters Card was issued by INEC, that the biometrics of the holder are correct and that the identity of the holder is authenticated though the fingerprints.
The official said that the Commission was set to upgrade. That status of the Card Readers such that whatever was experienced in the past was not replicated.
The official stated that part of the challenges the Commission had in 2015 was the violence unleashed in the Card Reader during the 2015 election adding that in Rivers state alone, the Commission lost 1,321 Card Readers during that election.
Also speaking on the 30,000 polling units, the official said that the commission has ruled out the possibility of creation of 30,000 new polling units before the 2019 election.
The official, who spoke on condition of strict anonymity said that the commission has since ruled out the possibility of creating any new polling units before the 2019 election.
He said that though the commission was able to uncover through its checks that a lot of communities and settlements have outgrown the current number of polling units in the country, the controversy generated around the plan made any Nigerians to misconstrue the intention.
The official cited the example of Gwarinpa Estate I Abuja which is regarded as the largest estate in Africa but which he said has only nine polling units adding that such examples abound across the country.
"One thing the commission has ruled out is the possibility of creating new polling units before the 2019 elections. No polling units will be created before the 2919 elections. If you create polling units, you have to populate them, then it will create confusion and you will have to replace the voters cards," the source said adding that what the commission has resolved to do is to decongest the existing polling units by creating voting points where voters exceed 500 in a particular point.
According to the official, the Commission prior to the administration of Prof Attahiru Jega had no record of the number of the Polling Units in the country but that the audit conducted under the previous INEC Chairman yielded 119,793 polling units. He also stated that the commission will not add any unit to that existing units before the 2019 elections.
"Under Jega, the commission conducted an audit of all polling units . Before then some polling units were located in shrines and different places. But with the audit, we now have 119,973 polling units across the country and there is no more obscure polling units nationwide," the official stated.