Due to the twin evil of oil glut and COVID-19 pandemic, Nigeria's 2020 first quarter revenue nosedived leading to deployment of 99 per cent of revenue to debt servicing. SANYA ADEJOKUN here looks at the issue.
Often times, individuals run into liquidity crises and need help from banks or other financial services companies or even friends to be able to sort themselves out. It could be to settle school fees, buy a car or even purchase foodstuff! So what happens when a country runs into a similar situation? For a number of emerging economies, issuing sovereign debt is the only way to raise funds, but things can go sour quickly. How do countries deal with their debt while striving to grow? From developing economies to the richest nations, most countries simply issue debt in order to finance their growth. It is just like a struggling company taking a loan to finance a new project, or how a family taking out a loan to buy a home. The difference however, is size; while sovereign debt loans are almost always in billions of dollars, personal or business loans are often smaller.
United States of America (US) has retained its position as the world's largest economy since 1871 reaching $21.44 trillion in 2019, it is yet the largest debtor nation in absolute numbers. The US national debt reached a record of $24.22 trillion in April 2020. According to the US Bureau of Public Debt, in 2015 and 2017, US had debt to GDP ratio of 104.17 per cent and 105.4 per cent respectively. China is the second largest economy after the US with its GDP amounting to $14.14 trillion in 2019. As of May 2020, China's national debt stood at N5.48 trillion equivalent to about 48.4 per cent of GDP. These go to show that no matter how prosperous a country is, it still goes out to borrow from time to time.
In the first quarter of 2020, Nigeria's debt to revenue stood at almost 100 per cent and except the situation improves, things are likely to get worse. In May, the country accessed a $3.4 billion IMF facility which it will begin to repay in the third quarter of 2023 in eight equal quarterly installments.
According to data from the Debt Management Office (DMO), Nigeria's total debt as of June 2015 was approximately N12.12 trillion. By the end of December 2019 however, total public debt stock stood at N27.4 trillion, including N21.7 trillion owed by the Federal Government and N5.6 trillion owed by the state governments and FCT. Foreign debts account for 32.93 per cent of the total debt at N9.02 trillion, with the Federal Government owing N7.53 trillion and the state governments owing N1.48 trillion. Domestic debts made up the remaining 67.07 per cent. The Federal Government had a domestic debt portfolio of N14.2 trillion, accounting for 52.09 per cent of total, while the sub nationals owed N4.1 trillion or 14.99 per cent of the total debt stock.
And although DMO has yet to release debt data for the first quarter of 2020, the Senate approximates that the debt figure had moved further to N33 trillion, with the approval of the $22.7 billion foreign loan request it approved during the period. Deputy Chairman of Senate Committee on Local and Foreign Debts, Senator Muhammad Bima Enagi, who spoke at a public lecture in April agreed that borrowing had always served as veritable financial platforms for many developing countries of the world in running their economies, on the condition of judicious use of loans for the intended projects. He, however, worried that the realities on ground including the required infrastructure and the debt accumulated between 2006 and now did not show any correlation.
According to him, about 68 per cent of the N26 trillion owed as at September 2019 were domestic debts, while foreign debts accounted for the rest. "With the recent approval of the 2016-2018 External Borrowing Plan, the total debt stock would be about N33 trillion and 21 per cent Debt/GDP ratio. What do we have to show as a people for these huge debts accumulated over the last four decades or so?"
On June 16, former Vice President Atiku Abubakar in a widely publicised article titled: Nigeria In Financial Crisis: Robbing Our Children to Pay for Our Greed, expressed worry over a report that Nigeria spent ₦943.12 billion in debt servicing in the first quarter of 2020 out of a retained revenue ₦950.56 billion, which translated to a debt to revenue ratio of 99 per cent. In his estimation, Nigeria was already in a crisis when the amount was just to service debts and not repayment.
"We are at a precipice. If our revenue figures do not go up, and go up quickly, Nigeria risks a situation where our revenue cannot even sustain our debt servicing obligations. Meaning that we may become insolvent, and our creditors may foreclose on us, as has occurred in Sri Lanka and the Maldives.
"Not only have we squandered our opportunities, we have also squandered the opportunities of our future generations by bequeathing them a debt that they neither incurred nor enjoyed. As a matter of utmost urgency and importance, I call on the Federal Government to take immediate steps to drastically reduce its expenditure, especially on wasteful projects, such as maintenance of the Presidential Air Fleet, and unnecessary renovations of buildings that could serve as is, limousine fleet for top government officials, overseas travels and treatments, and the ₦4.6billion Presidential villa maintenance budget, etc.
"The Federal Government cannot continue to justify these unsustainable numbers by pointing at Nigeria's debt to GDP ratio. That is only half the picture. Our debt to revenue ratio paints a much more realistic portrait of our financial situation, especially as our revenues are majorly tied to a mono-product, oil and gas, which are very vulnerable to global shocks. Again, I warn that Nigeria is facing a crisis, and we cannot continue to keep up appearances by taking out more loans to prop up our economy. That will amount not just to robbing Peter to pay Paul, but to robbing our children to pay for our greed!"
In replying the presidential candidate of Peoples' Democratic Party (PDP) in the 2019 election, Minister of Information and Culture, Lai Mohammed said the alarm and doom predictions by former Vice President Atiku Abubakar on the country's debt profile was anchored on a false premise and so, had no basis. He insisted the figure of Nigeria's debt to revenue ratio of 99 per cent in the first quarter of 2020, quoted by Mr Atiku was not in the Medium-Term Expenditure Framework and Fiscal Strategy Paper, where he claimed he got it from.
He agreed nonetheless that there was need to shore up revenue. "One of the reasons why debt service to revenue is high is because revenue generation in Nigeria has been low, with over-dependence on the oil sector. This is corroborated by the fact that the ratio of Nigeria's tax revenue to GDP is one of the lowest in the world at about six per cent. We have said that in the face of massive infrastructural decay, no responsible government will sit by and do nothing. This administration's borrowing, therefore, is aimed mostly at revamping our infrastructure. The loans for the educational sector will contribute to the development of our human capital while the loans for the agricultural sector will help the move to diversify the economy," he said.
According to Mohammed, Nigeria had not experienced alarming and unprecedented increase in the ratios of debt to GDP and debt service to revenue as posited by Mr Atiku saying that on the contrary, the country's ratio of debt to GDP was one of the lowest in the world at 19.00 per cent as at December 31, 2019.
Commenting on the high percentage of debt service to revenue in the first quarter of 2019, economist and Managing Director of Financial Derivatives Company, Bismark Rewane, said it was a natural consequence of economic reality. "Once your revenue drops and your debt service is fixed, then you find that the ratio goes in the other direction. He noted, however, that the situation could have been worse but for the fact that cost of money dropped both locally and internationally. "What we are seeing today, is that in the international market, debt rates have gone down. You can see that even in the United Kingdom it is .01, in the United States; it is about .10 per cent. So, because interest rates have come down, the amount of interest to pay on debts has actually come down. In Nigeria, 90-day Treasury Bills rate is about 1.982 per cent where a year or two ago, it was about 13 percent."
Rewane who is a member of Presidential Economic Advisory Council, explained that debt service on unproductive investments is a major issue as Nigeria has invested in so many uncompleted projects. "If we take a Sukuk bond to finish the Lagos-Ibadan expressway but it is yet to be completed, we continue to pay interest on the loan but we are not getting any productivity on the project. Therefore, the absorptive capacity of the country to take additional debts when the borrowing cannot be applied to increase productivity is negative. We call that negative investment multiplier and that is what is happening."
It would seem that Mohamed and some senior government officials were not aware that Budget Office of the Federation (BOF) has already published Addendum to the 2020-2022 Medium Term Expenditure Framework & Fiscal Strategy Paper on its website where details of first quarter budget implementation was contained.
On revenue, BOF states: "as at end of March 2020, FGN's retained revenue was N950.56 billion. The share of oil revenue was N464.03 billion (representing 70 per cent performance) while Non-oil tax revenue was N269.41 billion (60 per cent performance). Company Income Tax (CIT) and Value Added Tax (VAT) collections were N129.72 billion and N42.23 billion respectively, representing 62 per cent and 58 per cent of the prorata. Customs collections was N97.47 billion (60 per cent of target). Other revenues amounted to N217.11 billion, of which independent revenues was N51.12 billion.
"On the expenditure side, N9.71 trillion was appropriated, while N2.37 trillion (representing 97.6 per cent of the prorata, N2.43 trillion) was spent. Of the expenditure, N943.12 billion was for debt service, and N820.1 billion for Personnel cost and Pensions. As at March 2020, only N139.70 billion has been released for capital."
Director General of DMO did not comment when contacted. She said debt figures for the first quarter of 2020 were yet to be published. However, she had in April expressed fears that the global economic effects of the coronavirus pandemic could frustrate Nigeria's attempts to service its debts appropriately. At a seminar organised by the National Institute of Legislative Studies, she said that Nigeria's debt was sustainable as the total Debt-to-GDP Ratio was within a 25 per cent limit, which was lower than the 56 per cent advised by the World Bank and IMF.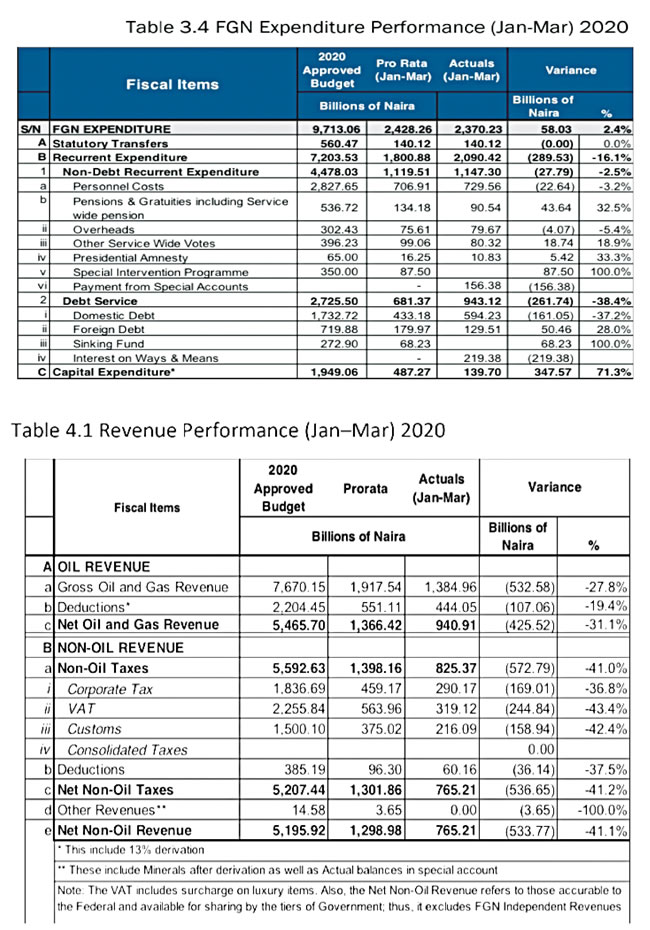 YOU SHOULD NOT MISS THESE HEADLINES FROM NIGERIAN TRIBUNE
Massive shake-up in Aso Rock security architecture
THE recent serious fiasco in security at the Aso Rock Villa has warranted a massive reorganisation of the security architecture at the country's seat of power. The development is connected with security breach, particularly the shooting incident that rocked the Villa for about two weeks… Read Full Story
Nigeria Records 661 New Cases Of COVID-19, Total Now 19,808
Nigeria's coronavirus (COVID-19) cases, on Friday, increased to 19,808 as 661 new infections were announced by the Nigeria Centre for Disease Control (NCDC)… Read Full Story
APC crisis: INEC in dilemma over Edo primary
AHEAD tomorrow's conduct of the All Progressives Congress (APC) direct primary to produce its standard-bearer for the Edo State governorship election, the Independent  National Electoral Commission (INEC) appears to be in a quandary on whether or not to supervise the process… Read Full Story
Panic, Gloom… •Experts Reveal What COVID-19 Pandemic Portends For Nigeria's Economy
WHEN Nigerians, at the beginning of the year, expressed their reservations about the 2020 budget, especially the signing of the Finance Bill, which, they argued, would further impoverish the common man, little did they envisage the advent of a public health crisis, in form of COVID-19, throw economies of individuals… Read Full Story
COVID-19: EU, UN Hand Over Medical Supplies To Nigeria
European Union (EU) and United Nations (UN) have received and handed over urgently needed essential medical supplies to the Nigerian Government to fight COVID-19 pandemic in the country… Read Full Story
I Did Not Stop Investigation Of NIRSAL ― Malami
The Attorney-General of the Federation (AGF) and Minister of Justice, Abubakar Malami (SAN) has denied an online report that he stopped the investigation of the Nigeria Incentive-based Risk Sharing System for Agricultural Lending (NIRSAL)… Read Full Story
Security: It Is Buhari's Call, Not Buratai's
President Muhammadu Buhari, last Thursday, gave a damning verdict on the nation's security and intelligence chiefs when he told them that their best was not good enough for the nation and that he would no longer take any excuse from them for the rising insecurity in the land. According to the National Security Adviser… Read Full Story
Edo: Of Oshiomhole, Saraki's Snail And Naked Masquerade Allegories
COURT-SUSPENDED All Progressives Party (APC) Chairman, Adams Oshiomhole, a few days before his court ouster, subtly flexed his power muscles and demonstrated a commendable grasp of African proverbs and aphorisms. Taking to his Twitter handle to do this, Oshiomhole had aptly announced that his smallish… Read Full Story
90 Days Of Pandemonium: A Nation At War With COVID-19
WHEN the Nigerian Presidential Task Force (PTF) on Coronavirus codenamed COVID-19 was constituted on Tuesday, March 17, the mandate was clear. With a timeline of six months, the body was assigned to "strengthen the national response strategy, particularly in the areas of testing, containment and management… Read Full Story
Resident Doctors Set To Call Off Nationwide Strike, As NGF Intervenes
The leadership of the National Association of Resident Doctors (NARD) on Saturday night communicated its resolve to suspend the ongoing nationwide strike which commenced on Monday, 16th June 2020… Read Full Story
Alleged Rape Saga: D'banj May Lose UN Ambassador Status
Just days after marking his 40th birthday, Nigerian singer and multiple award winner, D'banj has not been finding things funny as the Inspector General of Police (IGP), Mohammed Adamu, has ordered a probe into the allegations of rape levelled against him… Read Full Story
Nigeria's New Rapeublic: Where Repulsively Rapacious Men Prey On Female Gender
TWENTY-TWO-YEAR-OLD Vera Uwaila Omozuwa had hoped to become an evangelist due to her passion for the gospel of Christ. Since the lockdown and closure of places of worship occasioned by the dreaded coronavirus pandemic began, the young lady had always sought the quietude of her church premises to study… Read Full Story
76 Nigerians Killed By COVID-19 In One Week
SEVENTY-SIX Nigerians died of COVID-19 in the last week, data from the Nigeria Centre for Disease Control (NCDC) have shown. Also, 273 patients died of the disease in the country between May 20 and June 18, 2020… Read Full Story