Nigeria owes over $90bn debt with nothing to show for it ― Peter Obi
•As Sanwo-Olu appeals to residents over poor state of roads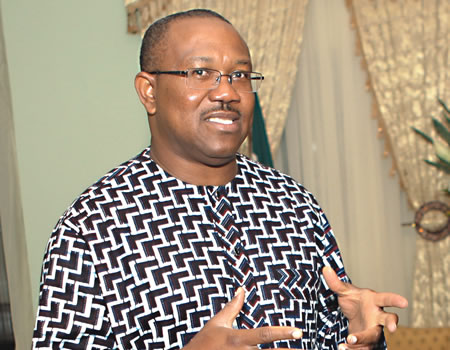 Vice Presidential Candidate of the Peoples Democratic Party (PDP) in the last general election, Mr Peter Obi, on Tuesday lamented that Nigeria has a $90bn (N28tr.) debt portfolio with nothing to show for it.
Obi made the disclosure while speaking in Lagos as the guest speaker on the theme: 'Re-designing the Nigerian Economy with New Ideas,' on The Platform, a programme of The Covenant Christian Centre.
This was just as he equally disclosed that Nigeria, in 2017 spent over N1,6tr to service debt and a total of N2.9 to service debt in 2018, adding: "Yet, there was nothing to show for it."
Obi, who is former governor of Anambra State, said while other nations borrowed to embark on developmental projects, Nigeria borrowed to consume, contending that such situation made growth impossible, just as he pointedly noted that "the problem is not about debt, but what you use your money to do."
According to the former governor, more people now live in extreme poverty in Nigeria than both China and India, the nation's with the highest populations in the world combined, declaring that 98 million people in the country now live in extreme poverty, indicating a growth of over 5per cent annually.
"Nigeria is home to the highest number of poor people living in extreme poverty in the world. Nigeria now has more people living in extreme poverty than any other country in the world. Every minute, six Nigerians fall into extreme poverty," he disclosed.
Obi warned that the country is like a keg of gunpowder on the verge of exploding with over 22 million young people in their productive years unemployed, adding: "It is worrisome."
Lagos State governor, Mr Babajide Sanwo-Olu, who also spoke at the forum, appealed to residents for patience over the poor state of roads in Lagos, attributing the condition to the continuous rainfall since he was sworn-in about four months ago, which he said had been slowing down rehabilitation/palliative work on the affected roads.
Sanwo-Olu promised that there would be extensive and massive rehabilitation of roads after the raining seasons, but added that all the roads cannot be fixed at the same time
ALSO READ: We lost Oyo because progressive took electorate for granted ― Akintola
According to the governor, it had been raining since he was sworn-in, pointing out that bitumen does not like rain as a result of which work on the roads was being slowed down.
This was just as said that his government was still working day and night to remedy the state of the bad roads in the state.
Besides poor state of roads, Governor Sanwo-Olu said water, small landmass and population explosion were responsible for traffic congestion but that his government's remedy for the traffic problem being experienced on a daily basis was a multi-modal transportation system.
He said this would involve developing the rail, water transportation and bus transit system which the government was already working on.
"On water transportation, we are encouraging the building of a lot of jetties and we have just acquired 6-7 new passenger- boats that can take 60-70 passengers at a time," Sanwo-Olu said.
On commercial motor-cycle operators, he said the government was trying to harmonize and come up with a regulation system all because the government felt it was important to give everybody a chance to be part of the state development plan.
"This is designed to know who they are, their activities and how to manage them to ensure that they don't add to the problem of traffic flow in the state, we don't want to disenfranchise anybody," Sanwo-Olu said.
On education, the governor also disclosed that since his assumption of office, it was one area he had given a major approval for the recruitment of about 10, 000 teachers into the state public schools, a process that he said was already on-going.