The acting national chairman of the Peoples Democratic Party (PDP), Elder Yemi Akinwonmi, Saturday told delegates to the party's national convention that Nigerians want the former ruling party to return and pull the country out of the mess caused by the All Progressive Congress (APC).
In his welcome remarks at the convention in Abuja, he pointed out that the country is in a disturbing and uncomfortable condition while the ruling party is clueless as to what to do.
He said the PDP had done well for Nigeria before and will do it again.
He urged all party members to set aside their differences and work for the success of the party in the 2023 election.
The party boss stated: "It gives me great pleasure to welcome our teaming members of the PDP family in Nigeria to this very historic event of our Elective National Convention.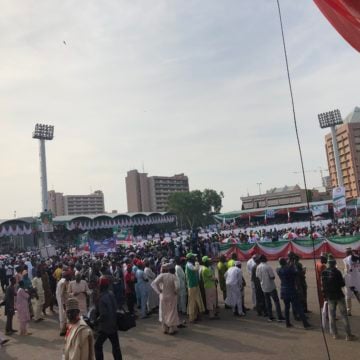 "Today is a day that new leadership of our great Party will emerge, and by the grace of Almighty God, the leadership that will lead us to victory come 2023 General Election.
"I am personally happy to associate myself with the winning Party in the coming 2023 election. I call on all members of this Party to come together, bury our personal, individual, and collective differences, and put PDP and the interest of Nigeria above any consideration.
"We all know the disturbing and uncomfortable condition and situation Nigerians are in today
"The APC led-government is so clueless that Nigerians need a better hand to get them out of this mess. I believe we can do it as we did before.
"I cannot address this elective national convention without paying tribute to our State Governors who are the pillars of support to this great party. Special commendations go to our dogged members of the National Assembly, Elders, Leaders, and Stakeholders of our great party.
"I also want to especially thank members of the National Working Committee staff who worked with me during our four years of stewardship.
"I sincerely thank everyone who has come to this Elective National Convention, and I pray to God to lead this Convention to a successful end."
YOU SHOULD NOT MISS THESE HEADLINES FROM NIGERIAN TRIBUNE
Viral Voice Note On WhatsApp Billing False
Claim: A viral WhatsApp voice note, purportedly made by the director and CEO of WhatsApp, claims users will have to start paying for WhatsApp services.
Verdict: The viral WhatsApp voice note claim is a hoax. The content is not new and has been circulated as a broadcast message several times in the past.
Experts Say Mixture Of Snail Slime, Evaporated Milk Cannot Cure Stroke
CLAIM: A Facebook user claims water gotten from snails (snail slime) and peak milk can cure partial or full stroke.
VERDICT: The claim that water gotten from snails (snail slime) and peak milk can cure partial or full stroke is false.
FULL STORY: On July 26, 2020, a Facebook user, Prince Nnamdi Enyinnaya Emelelu Eluwa, in a post claimed that water gotten from snails (Snail slime) and peak milk can cure partial or full stroke. The post which is over a year old has recently been reshared by other Facebook users.
Marburg Virus: What You Need To Know About Disease Recently Detected In West Africa
On Monday, August 9, 2021, the World Health Organisation (WHO) confirmed the first case of Marburg virus in West Africa in Guinea. This development has sent shivers down the spines of West Africans who are still grappling with the effects of the coronavirus pandemic. But before this dreaded disease is greeted by rumours and misinformation, here is what you have to know about the virus.APC states to establish Health Emergency Trust Fund…
FACT CHECK: US Did Not Give Nigeria 48 Hours Ultimatum To Detain Abba Kyari
CLAIM: Several social media posts claim the United States of America (USA) gave Nigeria's Federal Government 48 hours to detain suspended Deputy Police Commissioner, Abba Kyari, or face severe sanctions.
VERDICT: The claim is false and misleading. The US did not give Nigerian Federal Government 48 hours ultimatum to detain Abba Kyari.