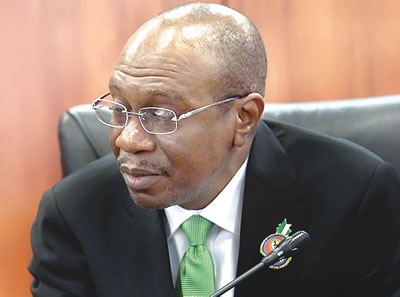 GOVERNOR of the Central Bank of Nigeria (CBN), Mr Goodwin Emefiele has given assurance that the Monetary Policy Committee (MPC) meeting will hold early in April.
Emefiele who spoke on the sidelines of the commissioning of Sunti Sugar Estate in Niger State on Thursday said the meeting, originally scheduled for April 20 will be postponed by seven to ten days.
"The MPC meeting will hold and I'm very delighted that Senate has decided to screen the nominees earlier sent to them by the President.
"We will have a few days delay. MPC was supposed to hold on the 19th or 20th of March.
"What I suspect is that we will be holding our committee of governors meeting and we will decide. And I believe we will just have between seven to ten days delay and the MPC will hold."
He commended the Senate for changing their decision not to screen nominees sent to them by President Muhammadu buhari for the positions of vacant MPC members and deputy governor positions.
Speaking on the 100 ton per annum sugar factory, the CBN boss said "I feel extremely delighted that the objective of the President that we should produce what we eat and eat what we produce is manifesting.
"Manifesting in the sense that sugar is one of those basic items that is being imported into the country today and it's depleting our scare foreign exchange resources.
"The fact that we can produce sugar now in this country is good. I know this is not the first factory but it is a major one being commissioned in the life of this administration and I am delighted to be a part of it."
He disclosed that CBN took part in the funding of the project by providing N25bn loan at single digit interest rate with a tenure of 10 years.
"It's one of those facilities that we have disbursed out of our real sector support fund under the auspices of a couple of banks.
"Flower Mills is a local conglomerate in Nigeria. It produces not only sugar but flour and foods generally. So I have no doubt that they will be able to repay the loan."
Elaborating on the Real Sector Support Fund from where the loan was accessed, the apex bank governor said it is about N300 billion.
"And we are craving to create more of that fund but we are very careful in disbursing that fund.
"Everybody wants to partake in it but our emphasis at this time is to disburse a substantial portion of that fund into agriculture, agro processing and agro allied business. So I will say it's doing very well."
He enthused that the success of the sugar factory project has shown that nothing is impossible and no hurdle is insomantable.
"That we could see this happen in Nigeria shows that it is a country endowed with a lot of resources, it's endowed with youth and intelligent people, good soil, I believe we can do it.
"I want to repeat the promise I have made, if any company is interested in any agricultural, agro allied and agro processing industry, we are ready to support them," he stated.