Let's have a plebiscite to determine our future —Rotimi-Williams
Chief Oladipupo Rotimi-Williams is a Senior Advocate and scion of the F.R.A Williams dynasty. ELLIOT OVADJE and LANRE ADEWOLE had a thought-provoking session with him on the state of the nation.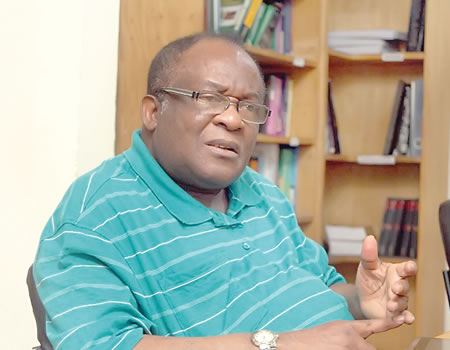 YOU are a stakeholder in the Nigeria Project. Are you worried about where the nation is headed today?
Definitely.
What are your worries?
Number one is the fact that the security situation of the country is at a very worrying stage. People can't sleep with their two eyes closed, especially, in certain parts of the country, Benue State for instance. It is terrible.  I can't imagine that just five lives are lost in the United Kingdom, in the manner we are losing lives here, that will be national crisis. In fact, the prime minister may be forced to resign. So, security is the most important.
Then there is the question of poverty. And when I say poverty, I mean abject poverty. Poverty has acquired a new meaning in Nigeria, and Nigeria has no business being poor in all sincerity.  We still earn money from oil. The country is not being sanctioned by any of the world powers, like some other countries are sanctioned. So, I don't know why this nation should remain poor. But then when you look at what we spend money on, it's very painful.  We don't spend money on target that will be of benefits to the people of Nigeria.
So, our priorities are misplaced?
Definitely misplaced. We are not getting things right. We are placing emphasis where there is no need to place emphasis and we are not placing emphasis on where we should place emphasis.  What could be so hard that is pursuing our young men and women out of the country and are prepared to cross the Sahara desert, crossing the Mediterranean to Italy or Spain, despite the stories about what they are doing to our ladies, especially in Libya.  Many of them are raped and they have babies whose father they don't know.  Because when a lady is raped by two or three men, how can she tell which of them fathered the child? We are creating such children in this country. Before you will leave your home state and choose to cross the Sahara, from Northern Nigeria, go to Mali and then continue through desert, the condition has become so terrible. The question is: what is the government doing about this situation to ensure that our children stay within the country?
Those in government may not agree with you. They always claim that this current administration is laying a solid foundation for future prosperity.
A solid foundation that people should be going to Libya through the desert?  Is that a foundation at all? I don't think it's a foundation. I will be very disappointed if any one of them tells me that what they are doing, I mean the stifling economic situation, is not responsible for our young people going through the desert.  Do you know what it is like going through the desert?  It's a terrible thing.  I have been to Dubai on a visit and driving their four-wheel vehicle through that desert but that is a mild thing. This one, no money, no food, we don't even know how many Nigerians that have perished on the way going to Europe.  If they are laying the foundation, there must be an end. Where is the security foundation that is being laid?  It's getting worse,  people talk about Boko Haram, that it has become a household name.  What are we doing about it?  Yes, our soldiers have been brave enough to go and confront them, but some of the people who should know better are telling us that the weapons the Boko Haram are using are superior to the ones our soldiers are using, because most of their weapons, I believe, are coming from Libya. These are sophisticated weapons that [Muammar] Gadaffi purchased over the years. So, where do we go from here?
Then, let's go to education. Do you know that in Nigeria, History is not taught? They don't teach history, though they said they are bringing it back now. Have they brought it back? Do you know they are young children who have never heard of your founder [Chief Obafemi Awolowo]? They see his picture on the one hundred naira note, but they don't know the history why he deserved to have his picture on that currency. They don't know. So, to go back to what I was saying about the education. Education is going from bad to worse.  Now, I have not mentioned corruption because corruption in our country today is king.
But the administration is fighting it.
Oh! Are they really?  That is what they tell us but are they willing?  You see corruption starts from the lowest part of the ladder right to the top. Some of our Judges are taking money.  Yes, it is true that this government is trying to unravel it, but why should it be so in the first place.
You give this government credit for that?
Well, reluctantly.  The number of them yet untouched is probably not being unraveled, maybe because of one connection or the other. Then I ask myself: is it because of the money that they are getting? I know of a particular Judge who is a director of a company. We were able to get copy of the document which she signed even as a sitting Judge. She is a director of the said company. She signed the cheque and nothing happened, except for warning by the Nation Judicial Council (NJC). The petition against this particular Judge was made in 2011. But the NJC did not summon the Judge until about seven years later. So, if you still have the connection,  you can still do what you like.
So, nothing has changed?
Nothing has changed.  You see, the NJC as it is constituted, may not be the best machinery to deal with this situation.
But the NJC did well in Onnoghen's case.
Well, Onnoghen's case is another matter.  If you believe him, the man said he forgot to list all his assets. And some of the monies that were found in his account, he said were gift. Now, where do you cross the border between gift and inducement? It is a very thin line. While I sympathise with Onnoghen as a person, the saying is that Ceaser's wife must be above suspicion. That was a very sensitive position he was holding and it's like walking on the banana peels. You have to be extremely careful when you are holding that kind of position because the people of Nigeria repose confidence in you.
Are you worried that judgments are becoming predictable in Nigeria, especially in election petition when people can accurately tell the outcome of a case in which judgment has not been officially entered?
If we are to be frank with ourselves, things are not the way they ought to be in the Judiciary.  One proposal is that we should reintroduce the jury system, which we used to have in those days.  We don't have them anymore. What we have now is just five justices, at most seven, who can upturn the wishes of the people and that is not a very good option.
Are you for the jury system?
Yes, we should go back to the jury system.
Have you taken any step to communicate this to your colleagues, especially in the inner bar?
Everybody is running after their own interest. If you try to do that, they will go and see the senior judges and will say look at what Williams is saying about you. He is saying they should bring back the jury system. He is trying to say he doesn't have confidence in you and then when you appear before their court, they begin to be very hostile to you and who is going to suffer, your clients.  So, people like me just keep quiet, most unfortunately so. And to those who say Nigeria Judiciary is now cash and carry, I can't blame Nigerians for thinking so. It is the fault of few judges who are corrupt, because most of our judges are not corrupt. I have been in practice for 47 years, almost half a century.  When Judges are to be appointed, they should list their names in the newspapers, so that Nigerians will know who and who are going to the bench and if you have any reason why they should not be appointed, you should say so but we are not doing that. In the case of Senior Advocate of Nigeria, they do have name of those to be considered published so that people can comment for and against.
Justice Muhammed Tanko is going to be appointed the new CJN, do you expect anything different from him?
The Justice Tanko I know is a very conservative man, steeped in Northern Nigeria culture and tradition.  When it comes to Sharia law, he has no equal in this country. He is a fantastic judge for Sharia.  But, unfortunately, Nigeria is not an Islamic country and to make Nigeria an Islamic country, there will be bloodshed on a large scale because there are Christians who will not just agree and there are some Muslims who are also radical that they want to use force. So, Justice Tanko coming in now, he should regard himself as a statesman and not as an Islamic scholar.  If he does not regard himself as a statesman, he will fail.  He should see himself as a statesman, independent-minded,  ready to discharge justice without fear or favour and it's not an easy thing to achieve. I can tell you that.
Let's go back to the insecurity in the land. Apart from the fact that in Katsina State, open inauguration for the governor's second term was cancelled, bandits have been picking Emirs here and there. If the backyard of the Commander-in-Chief is that porous, is anarchy not knocking on the door?
The bitter truth is that the security apparatus needs to be reformed. A lot of commentators are saying that they are making Northerners heads of security formations, like Police, Army, EFCC, customs and the rest. That is not a problem, if they do the work well. My own solution to the security problem is that when it is time to get security chiefs, the post should be advertised, get qualified people to apply for the posts, get a panel of seven people from the Senate to interview them, let them even do a written examination to test their integrity and their ability and then we will now close our eyes and select the best from amongst them irrespective of where they come from. Yesterday, Nigeria won a very important football match. I want to use it as an example. Majority of the players are from the South- East and the two people who scored are from the Eastern region. Are we going to apply to FIFA to say cancel those goals because none of the people who scored are from the North?  No. When we are out there they see us as Nigerians, one nation, one destiny. If we can use meritocracy for the selection of our football team why can't we use the same for the selection of our security chiefs. For example, if appointing people from the North will solve our security problems, so be it.  Let all our security chiefs come from the North. Now, you go to the Air Force and you want to put somebody there because he is from the North, meanwhile, the person cannot even fly a kite. Even in my personal home, we don't see ourselves as coming from here or there. My wife is not even Yoruba and we have been together since 1968 (51 years). So, let us get the best man who can do the job. When I choose lawyers who come here to work, I put them into oral test; they do a rigorous written test because this is where my bread is buttered. I cannot just put someone there because he is from Egbaland. If he is good, whether he is from Egbaland or not I will put him there. So, let us go for merit.
The president doesn't appear to listen to constructive pieces of advice.
That is unfortunate and I think it is the fault of the people who surround him. Why should someone like me with no contract with government and I don't want to be a minister, ambassador or government contractor be a suspect?  All I am asking government for is good governance, securing lives and property. That's all.
Crime has always been around South-West but everybody agrees that recently there have been a spike in kidnapping and all fingers are pointing to our brothers up North. Some people will say we should not profile any ethnic group, that crime is crime. What do you think?
Of course, crime is crime but when it is becomes epidemic and that the people who are doing this are from a particular part of the country, it would be foolhardy not to recognise that and this brings me to why we should have state police. When we have state police and you are arrested for a crime, you will know that it is not because you are Yoruba that you are being arrested, because the person arresting you is also a Yoruba man. You will know that it is because you have done something wrong and the policeman also knows the area, he understands the culture.  So, it is going to help.
What about abuses sir, particularly by governors who are now going to be the mini commanders-in-chief?
An arrangement can be made whereby the state police will be controlled by a different organ even though the constitution says the governors shall be the chief executive of the states. But we can have a body whereby you can report the governor because you cannot sue the governor. He is protected.  Now you can remove the immunity of governors as regards criminal offences so that when they begin to mess around with the state police, which is a criminal act, and there is perversion of justice, then they can be dealt with while still in office.
There is this argument that the herdsmen should be paid N100 billion compensation, if they will stop killing Nigerians, just like the Niger Delta militants, because the lives of Nigerians are more than that money. So let's pay them and have peace. Are you for that?
That will be blackmail. The Western world no longer succumbs to blackmail. They will tell you to do your worst. So, using that money to settle leaders of people who are prone to crime is not the answer.  Set up industrial estates. Awolowo did it in the Western region.  Ikeja industrial estate was not built by the Federal Government. It was when Lagos State was carved out, they now took everything and gave it to Lagos State.  Now they will now say that Oyo is poor. Why won't Oyo be poor? Ikeja industrial estate was developed with cocoa money not Federal Government's money.  Don't forget that during that period, the Action Group, which was ruling the West, was in the opposition and  this conspiracy to jail Awolowo happened and that had a profound  negative effect on the progress of the South- West.
The cattle rearers' leadership also said recently when the nation moved against the Ruga policy that nobody should blame them for anybody that is killed and that they will not be part of any security meeting with anyone again.
Does that not mean that war is declared?  War is declared.  It is tantamount to treasonable felony.  I will put it as high as that because you are issuing threat against the corporate Nigeria, and should not be let go unpunished. Very severe steps should be taken to curtail that.
On what side of restructuring are you?
Many don't understand federalism and what it entails. Right now Nigeria is not practising federalism.  In a federal system, each state is sovereign within itself, leaving matters of defence, monetary policy and foreign affairs for the central. Why should Federal Government say they want to sit in Abuja and then go to Akwa Ibom and control things there? The closest government to the people is the local government. The restructuring that they are talking about is to slim down the overriding power of the central government. Take the Judiciary for example, the NJC is there to promote Judges,  discipline Judges and recommend their remuneration and all of that. To my mind, the CJ of a state should control the Judiciary of the state. Then we can now have the state Court of Appeal, from where you now go to the state Supreme Court. Each state will now have its own Court of Appeal and its own Supreme Court. You now leave matters of the constitution, fiscal policies, maybe company law and taxation for the Supreme Court in Abuja because right now they are over-burdened.  In my experience, when your matter gets to the Supreme Court before it can be heard, it won't take less then five years, unless it is a political matter. But does that not show that we are not the same before the law? Once you are a politician and your matter is a political case, then they will hear it in time. Whereas all manner of cases go to the Supreme Court. So, you have to reduce the heavy load on the Supreme Court where over two hundred million people from Zamfara, Akwa Ibom and others, will want their cases heard. Nigeria is twice the size of Western Europe.  The provision in the Constitution says you have the right to appeal that is why the court is clogged.
Then take our Legislature. The federal Legislature does not have to legislate over everything.  Yes, we have the list which is called the Exclusive List for instance, but I think that what the Federal Government can legislate upon should be what the Federal Government has the powers to execute.  For instance, if you take sports, each state should have its own sport council and each state legislature should be able to legislate for its internal sports council.  Then when it comes to a broad policy like Nigeria wants to go and play against Afghanistan where they are fighting, do we want to go and expose our young ones to harm? No. So, the Federal Government can now handle that. Then of course immigration, the Federal Government is in the position to control immigration. At the moment, there is no control. People just walk into Nigeria without checks. I am even surprised that our population has not yet reached three hundred million.  Look at America, just a few hundred people who were trying to enter America, Trump says no. I am not saying we shut our doors, but you need to do it and come in the proper way. I agree with Trump to that extent. We must control our population growth, our land is getting smaller and smaller because of urbanisation.  So, how do we feed? All types of people just enter Nigeria anyhow, no control.
Almost all the things you have said are set around the activities of government.  Is this government going the right direction?
It depends on what areas we are talking about. For the fight against corruption, they are making some kind of effort in scratching the problem on the surface.
What about health?
Go to general hospital. It stinks.
Your colleague, Femi Falana, believes that something worse than revolution could come upon the country if we continue on this path. Do you think so?
I don't foresee that coming. Nigerians are not Arabs and South Americans. We have a lot of patience. If you talk about peaceful change, I will agree.
Like a sovereign national conference?
We can't have a sovereign national conference, but we can have a national conference which we have had before but the problem is: will they accept the recommendations of the conference?  For the sovereign aspect, the sovereignty of the constitution is vested on the National Assembly and that is why, though the constitution we are using is not made by the people of Nigeria.  When it says "we the people" it is a lie within itself.  Maybe we should have a plebiscite for instance. From the days of Biafra, things have changed a lot. The Yoruba are now asking for Oduduwa State which was never the case before but the Yoruba are doing it differently from how the Igbo did it.  The Yoruba are not asking for war. They are not going to carry guns, but they can make life difficult for government much as they have to talk to them.
Are we toeing that path?
No, we are not but the leaders are talking and they are giving warnings. If our colonial masters are doing that, trying to renegotiate the future of the United Kingdom, why can't we do it. Let's have a plebiscite and the group that wants to have their own government, let them have it. If the Biafrans are saying they want to have their own country, let them have it. But one thing I know is that for example, in Yoruba land, we are homogeneous. When you listen to the Itsekiri man or the Kogi Yoruba you know we are homogeneous.  In fact these people we have mentioned are even quarrelling that the other Yoruba do not care about them.
But in the case of South-East, the South-East is not homogeneous in the sense that Akwa Ibom,  Cross River and others not only are they not Ibos, they do not want to be called Ibos. So, I don't know if they want to go with Biafra.  If you go to Rivers and you see an Ikwerre man and you greet him Kedu and replies don't make the mistake of calling him an Ibo man because he will get angry but if he knows that you are a stranger he may not be too angry. So, those are the areas where there might be little kind of problems.