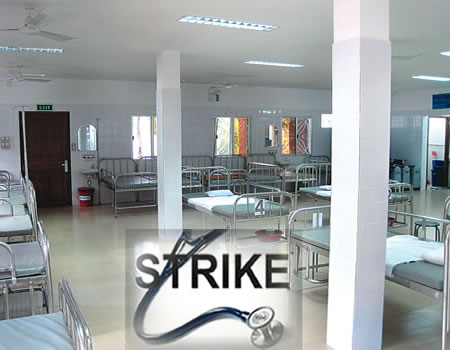 SOME officials of Joint Health Workers Union, JOHESU in Benue state stopped their members interested in resuming work in the hospital yesterday.
The union officials have taken to hospitals in the state forcing their members from returning to work as directed by the federal government.
Our correspondent report that some of the officials had gone to federal medical centre, Makurdi in Makurdi where their activities caused a commotion and obstructed the free flow of traffic.
Aside from stopping their members from entering the hospital premises, some patients and relatives were also prevented from entering.
One of the officials was heard threatening a JOHESU member " if you enter here I will beat you, try now let's see."
A patient who identified herself as Mrs Theresa Agebir expressed shock at the behaviour at the hospital gate, which she said was embarrassing.
"This is embarrassing why should they stop those interested in work," she quipped.
The state chairman, Medical and Health Workers Union of Nigeria, Comrade Dennis Nyam, vowed that the state chapter will continue with the strike until their demands were met.
He told our correspondent that the leadership of the union was on a monitoring exercise in all the hospitals to enforce compliance and promised to ensure that 100 percent compliance with the strike.
In his own response, the Head of Clinical Services, FMC, Dr Paulinus Abu, said the hospital management was working with the police to ensure maintenance of law and order within the hospital.
He regretted that despite all entreaties, the JOHESU members in the state still remained adamant and were recalcitrant to their pleas.
Our correspondent noticed the presence of policemen as at the time of leaving the hospital.