I refused my husband sex 'cos he has a boil on his manhood which refused to heal —Wife
•She seized my shoes, car key, refused that I went to work —Husband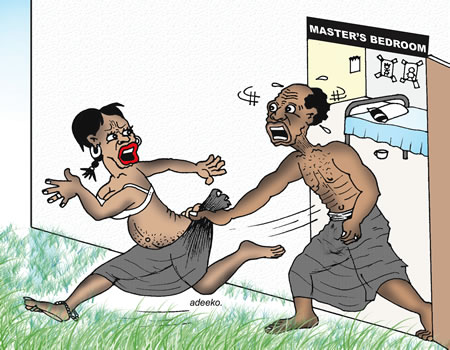 Ile Tuntun Customary Court, Oja Oba, Mapo, Ibadan, Oyo State has adjourned till November 2, the divorce suit brought before it by a man, Aliu Mabinuori, against his wife, Zainab Mabinuori.
Aliu, who dragged his wife to court alleged that she was stubborn and disobedient and added that she was in the habit of fighting him.
The plaintiff stated that his wife ceased that he had rest. He thus entreated the court to end their marriage.
He also prayed for the custody of their children so that he could bring them up well.
Zainab agreed to divorce.
According to her, Aliu dragged her to court because of her resolve not to have sex with him any longer.
The court president, Chief Olasunkanmi Agbaje, after he had listened to both parties stated that more evidence was needed.
Agbaje therefore adjourned the case and ordered both parties to come with their children and family members.
"My lord, my wife has no respect for me. She treats me with disdain and ridicules me before our children and neighbours," the plaintiff stated.
He went on: "Zainab constantly disobeys my orders and loves to have her way.  She has turned herself to the lord in our home.
"Any day I stand my ground or insist my will must be done, she will fight me tooth and nail.
"Our children and neighbours now take me for a weakling because of the way my wife treats me.
"She recently accused me of failing to fill our cylinder with gas thereby starving our children. She failed to listen to my explanation and fought me.
"Zainab refused that I went to work on this day. She seized my shoes and the key to my car. My wife closed her ears to the pleas of our neighbours that she should release them.
"I felt humiliated and decided I was going to end our marriage.
"My lord, I implore this honourable court to separate me and my wife and also grant me custody of our children so that I can give them proper upbringing," he stated.
In her response, Zainab said: "I'm also no longer interested in my marriage to Aliu. I beg the court to pronounce that we are no longer husband and wife.
"All that my husband said were false. His plan is to win the court's favour.
"Aliu has refused to state the real reason for his coming to court which is my resolve not to have sex with him any longer.
"My lord, I took this decision in order to preserve my life and health.
"My husband has an infection on his male organ. It looks like a boil and he has failed to treat it.
"I have encouraged him to go to the hospital for a check up but he has remained adamant.
"I felt uncomfortable and never relaxed any time we had sex because I don't know what the ailment is and I conveyed this to him.
"We resorted to the use of condom but I felt constant discomfort and later contracted some infections as a result of its use.
"I took ill and was on drugs for some time.
"I decided I was through with sex with my husband while I was on the sick bed.
"I don't want Aliu to cut short my life as a result of his non challant attitude towards our well being.
"I never seized his shoes or his car key.
"My husband is comfortable but he has regularly denied me and our children a measure of comfort. He seldom gives us feeding allowance and prefers that we starve," Zainab concluded.
YOU SHOULD NOT MISS THESE HEADLINES FROM NIGERIAN TRIBUNE
ICYMI: Presidential Panel On Police Reforms Agrees To Meet All Demands By #EndSARS Protesters
The Inspector-General of Police (IGP), Mohammed Adamu, has convened a meeting with stakeholders and has agreed to meet all demands raised by the #EndSARS protesters, which include halting use of force against protesters and unconditional release of arrested citizens.
ICYMI: Lagos To Compensate Victims Of #EndSARS Protest With N200m ― Sanwo-Olu
Lagos State governor, Mr Babajide Sanwo-Olu, has said the state government has earmarked N200million as compensation for families of victims of #EndSars protest.
ICYMI: I Was A Victim Of SARS Brutality Twice, Oyo Deputy Gov Tells Protesters
Oyo State deputy governor, Mr Rauf Olaniyan revealed that members of the Nigerian Police Special Anti-Robbery Squad (SARS) have attacked him twice.
ICYMI: #EndSARS: Protesters Block Oyo Secretariat Main Gates (SEE VIDEO)
#ENDSARS protesters, on Tuesday, blocked the main gates leading to Oyo State government secretariat, demanding the total end to Special Anti Robbery Squad (SARS), saying no reformation of the disbanded police units should be carried in the Nigeria Police Force.
ICYMI: Buhari Nominates Lauretta Onochie, Three Others As INEC Commissioners
President Muhammadu Buhari has nominated his Special Assistant on Social Media, Lauretta Onochie and three others as National Commissioners of the Independent National Electoral Commission, (INEC).