Yetunde Fadeyi, founder of Renewable Energy and Environmental Sustainability Initiative for Africa (REES Africa), a youth-led non-profit initiative, advocates environmental sustainability across all target audience and provides renewable energy access for rural and marginalised communities. In this interview with Yejide Gbenga-Ogundare, she talks about her passion for sustainable solutions to the issues of energy, poverty and environmental deficits in five major states in Nigeria, touching lives century-old rural communities with no prior access to electricity in Lagos and Oyo states, among other issues.
How would you describe Yetunde Fadeyi?
Yetunde Fadeyi is an embodiment of the new Africa; working tirelessly to effect change in Africa by redefining the African lifestyle through sustainability. She is a social impact advocate with focus around clean energy, equality and the environment. I am the founder of Renewable Energy and Environmental Sustainability Initiative for Africa (REES Africa), a youth led, non-profit initiative which advocates for environmental sustainability across all target audience and provides renewable energy, access for rural and marginalised communities. I spent the last 24 months providing sustainable solutions to the issues of energy poverty and environmental deficits in five major states in Nigeria, my sincere passion has birthed over 24 impactful projects in Nigeria and powered eight century-old rural communities with no prior access to electricity in Lagos and Oyo states.
JUST IN: Israel's First Lady Nechama Rivlin dies at 73, PM Benjamin Netanyahu mourns
In a bid to pursue passion for the environment and concern for our changing climate, I quit my job in February 2018 and through this work, I now organise over 200 volunteers in REES Africa across five states in Nigeria and in Ghana and over 20, 000 direct beneficiaries of our energy and environmental sustainability programmes and intervention organised in the last 24 months. I also mentored youths into providing for profit entrepreneurial solutions to environmental challenges. I will say I am a prodigious vibrant young woman who positions herself to make a huge contribution to a better earth, a better Africa for us and future generations. I have over six years' progressive experience in project management, business development, sales & marketing, campaign specialist, social media strategy, renewable energy, environmental sustainability, climate change, digital marketing & facilitation and entrepreneurship. I am also a certified expert on inclusive service delivery and the SDGs from The Hague Academy in The Netherlands.
How would you describe what you do?
My concern from the environment stems from a perspective of urgency. What I engage in is highly needed in our clime if we are to survive the impending doom. We have begun to experience the effects of climate change as it is too late to stop this catastrophic change. Species are going extinct at an alarming rate including giraffes; humans will soon be on that list. Our energy demands keeps skyrocketing with increasing population in Africa which even jeopardizes our habitat as energy is the major contributor to climate change, economic growth and lifestyle. What I do is so urgent that it determines if our children will die of old age or climate catastrophe. –
Aside this, what else do you do?
Asides advocating for the environment and implementing sustainable community development projects, I am also passionate about small businesses. Hence, my interest in digital marketing to help businesses drive sales and publicity on a budget. My interest in small businesses also sprouted the desire to help business owners create sustainable businesses. I render free corporate/ business sustainability training to organisations such as SoFresh to enable sustainability in their processes, not as an afterthought. I also have a few other businesses I run in order to make ends meet.
Why are you so in love with nature and the environment?
My love for nature stems from the realisation of how big God is and as for the environment, I would not say it is necessarily love – I think it is more than that. It is about survival, our environment is our habitat. No species can exist without one and as it stands, we are at the brink of losing our habitable planet. I have experienced the effects of what energy poverty and environmental issues can cause. I was a victim of flooding throughout my teenage years which could have been avoided if people disposed their waste appropriately. My father kept spending ridiculous funds renovating the fences and building trenches but when the floods came, they made a way. Only if he knew that the lifestyle of the community was his problem. We lost a whole lot. Also, I was a direct victim of energy poverty as my childhood friend and family died of carbon monoxide poisoning from a generating set. I have also witnessed the pains and struggles of a Niger Delta community where their livelihood, lifestyle and the environment has been destroyed immensely by fossil fuel.
How did you get into it?
As regards my academic background, I studied Chemistry from the University of Ibadan but I have since diversified into pursuing my passion for solving environmental challenges, borne from my experiences. I needed to change the narrative so I enrolled for a Masters programme in Energy and Environment in 2017 to acquire in-depth knowledge about this field and international exposure, but funding was a huge barrier. Today, under my leadership, with no masters and very limited international exposure, I have successfully done things differently from what is obtainable in the books. I have mentored youths, illuminated communities, provided solutions and trained a team of hundreds who provide out-of-the-box entrepreneurial solutions to environmental and energy challenges in communities across Nigeria.
What is your vision for REES Africa?
I envision a continent fully liberated from energy poverty and fully given to environmental sustainability practices.
Which aspect of your activities do you enjoy most?
It is truly difficult to choose but essentially, the execution phase of the projects is what I enjoy the most. It is fulfilling to see indigents and the pro poor experience a change that they have anticipated for so long (for free). The joy that comes with lightning up communities and seeing people actually do better for their environment is what I enjoy the most.
How do you balance being an advocate for green environment with other things you do?
It is basically just planning and prioritisation. There are days that I get so overwhelmed but I survive and get back in shape.
As a young woman, how do you get people to take you seriously?
In taking me serious, I have been tagged as being too intense and related to Margaret Thatcher and Angela Merkel, character wise. In getting people to take me serious as a young woman, I speak my truth always and  I am always confident in my abilities. It can be difficult being a young woman, more so being a young woman in an uncharted and "abstract" territory but work has to be done.
How relevant is your business to the average women?
It is said that the effect of our environmental issues will hit developing countries the more and hit women harder. Addressing some of the environmental issues around us is plastic pollution- it is known that the effects of plastic pollution on women are bound to increase infertility and cancer. The adverse effects of air pollution resulting into dementia are stronger in women who have the APOE4 gene, a genetic variation that increases the risk for Alzheimer's. In rural and marginalised areas where energy poverty is prevalent, women are responsible for ensuring the availability of firewood and lighting from archaic sources jeopardizing her health. In addressing these issues, this organisation is relevant as providing mitigation or adaptive solutions can help liberate the average woman.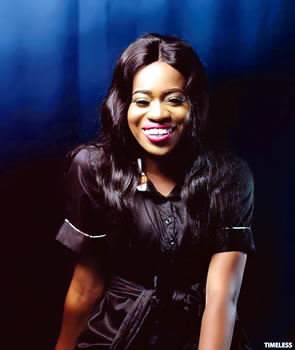 What are the challenges you face?
Essentially, organisations like ours face a great challenge of funding. Apart from this, religion is another challenge. How do you explain to a religious person the effects of climate change and the fact that climate catastrophe is near without hearing comments like the world is about to end. Taking a cue from the bible, God gave us dominion and an instruction to protect the earth. Dominion is not destruction which we have successfully achieved with our selfish actions and desires. A major challenge is the government as well- how does the government sign the Paris agreement, attend all COP sessions and still make plans to solve our electricity issues with coal? How does the government include in its Economic growth and recovery plan more refineries? How does the government see the use of electric cars as a threat to economic development?
Where do you see REES Africa in five years time?
In the next five years, REES Africa as a community of millennial passionate about the environment will record more youths operating for profit enterprise solutions for the environment and being the torch in different intrapreneurship engagements. As an NGO, we would have reached out to at least 3 million people across three sub Saharan counties in Africa as regarding energy access and environmental sustainability.
What in your background prepared you for this?
I think it was my experience as a victim that prepared me because I have always wondered how I could stop complaining and make some changes.
How long have you been into this?
Two years now.
What advice do you have for other young women with similar vision?
Life is not a competition, it is a journey. In this journey, do what makes you happy, put your skin to the work and never settle for less.
If you are not doing this, what would you be doing?
Married perhaps and working with one of the biggest audit firms in Nigeria.