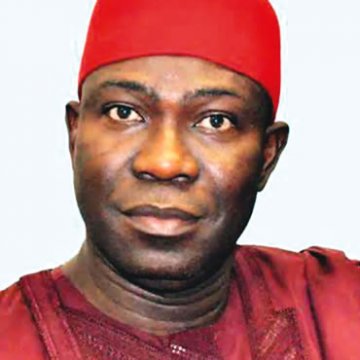 DEPUTY President of the Senate, Senator Ike Ekweremadu, has faulted statements which insinuated that he called for a military intervention in the country.
The Senator, in a statement by his Media aide, Uche Anichukwu, said that what he said on the floor was being twisted by some persons.
The statement, which quoted Ekweremadu as speaking in Yenagoa, Bayelsa State when Governor Seriake Dickson hosted him and other African lawmakers attending the Executive Committee meeting of  74th Commonwealth Parliamentary Association (Africa Region) stated that he spoke on the floor of the Senate "unambiguously in defence of democracy."
He regretted that the statement was being twisted or misconstrued by
some persons.
Ekweremadu restated his respect for the Nigerian Armed Forces and advised that comments made by lawmakers in the course of their duty should be situated within the proper context before any form of reaction.
He also explained that parliamentarians had a duty to continue to defend democracy in the country adding that in that light, he cautioned fellow politicians against the mistakes of the past, which he said inevitably led to the abrupt end of the previous republics.
The statement quoted Ekweremadu as saying:"We had one of our colleagues from Kogi, who was hosting a constituency briefing and empowerment. He alleged that the state government sponsored thugs to chase away people, disrupt the programme, and destroy the equipment he bought for his people.
"We condemned such acts, especially wherein a particular case, the house of a parliamentarian was pulled down. We condemned a case whereby parliamentarians were stopped from holding meetings and where a parliamentarian was stopped from coming to a state where he was governor for eight years.
"We warned that it was such reckless abuse of power and impunity that scuttled our previous republics, especially the first republic and I cautioned politicians not take our democracy for granted.
"Of course, some people took it out of context and said I was calling for a military coup. I never called for a military coup. I never said the military was planning any coup. Even the military's statement admitted that my statement was only cautionary and that we were sincere. But they went as far as saying that the international community should ignore my words of caution.
"I hold the Nigerian Army and the Armed Forces in high regard. They have defended our democracy, our people and have acquitted themselves creditably. If they need anything now, it is encouragement, because this is not the best of times for them.
"But we do hope that when parliamentarians make statements, they (the military) should be able to know exactly what they said before reacting so that we don't overheat the system.
Coup scare: Ekweremadu spoke out of frustration ―Oye, APGA chairman

"Our debate is circulating on the internet, unedited, and I never said the army was planning a coup and I never invited them to plan any coup. But I strongly hold the view that our political leaders should ere on the side of caution by refraining from past mistakes and actions inimical to democratic practice."
---
---