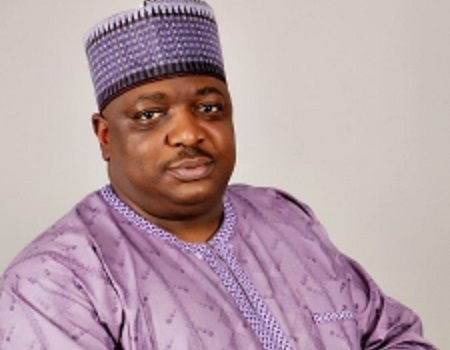 SENATE Minority Whip, Senator Philip Aduda, who represents the Federal Capital Territory (FCT) in the Senate, said on Thursday that he has no plans to defect from the Peoples Democratic Party (PDP).
The Senator, who debunked media reports indicating that he had defected to the ruling All Progressives Congress (APC), said that the report was fake and unfounded.
Senator Aduda, who fielded questions from Senate Correspondents said that the story was untrue adding that it was a figment of the imagination of those behind it as according to him, he has no such plan.
He stated that he has been a member of the PDP since 1998, adding that he has not defected and will not defect.
When asked to respond to the story of his defection, he said: "No, I have not defected, I am in People's Democratic Party( PDP) I am not planning to defect, body and soul, I am in PDP. I am a bonafide PDP member and I am a leader in the PDP, and not only being a leader in PDP but I a loyal member of the party from my ward to the national level.
"I have heard the trend on the social media and also all sorts of stories on the alleged defection but it is false. People have called me from all over the world and even my constituents. I want to thank those who expressed concern about my political career and future.
"We must continue to build not only institutions but parties. And as such my ideology is with the PDP and I am still a member of the PDP."
ALSO READ: 2019: Catholic Bishops bar clergy, religious leaders from endorsing
Also speaking on the defection of Senator Godswill Akpabio, the former Minority Leader to the APC, Aduda said that though Akpabio is his friend, the defection of the former Minority Leader would not have any influence on him or his decision to remain with the PDP.
He said: "You should know that politics has nothing to do with friendship and as such, we have our political differences.
"For me, I want to re-iterate that I worked very hard for the people of FCT and nothing will hamper me from working for the people of FCT. So, Akpabio has his reasons for leaving PDP but for me, I will continue to serve the PDP and I am loyal to my party."