If you have a video where the audio is the only thing that matters, you may delete the video and save the audio track solely to free up some space on your storage device. It is essential to understand how to convert MP4 to MP3 since most modern videos are in the MP4 format, while MP3 is the most often used audio format.
It's crucial to understand the finest programs for this conversion and the advantages and drawbacks of installing them on your PC. So keep on reading because you will discover how to convert video to audio utilizing the well-liked and well-used video to audio converter tool known as Wondershare UniConverter in this article.
How does a Best Video Convert Help User?
Several different video file types exist, including MP4s, MOV files, AVI files, and more. Most of those files are compatible with the vast majority of video playback programs on the market. A video file may sometimes need to be converted from one file type to another.
With efficient video to audio converter, you can accomplish your objectives and convert your video to the formats you want. You may convert or modify videos from one format to another with video converter software. The use of video converter software enables you to watch videos that aren't typically compatible with your device or to convert your video into a format that is so that it can be viewed by anyone else.
A crucial decision is which video conversion software to use. You want top-notch software to give your video the information and editing tools you want. The Wondershare UniConverter is currently the most outstanding video tool converter on the market in this respect.
To convert your videos to audio, download Wondershare Uniconverter on any device.
Wondershare UniConverter: Best Tool to Convert Video to Audio:
Wondershare UniConverter is an AI-powered video converter available for Mac and Windows users. It may correctly and rapidly convert practically every video to another format. With UniConverter, you may download several videos at once and batch convert them to your chosen video or audio format. The program provides fast conversion speeds and excellent output for various video and audio formats.
Additionally, you may edit your videos with UniConverter's built-in editor. You may cut out superfluous scenes, trim the video frame, add watermarks, or add subtitles while editing movies in batch mode.
The application has advanced features, including lossless conversion, rapid processing, and high-quality output. It also includes other tools like a background remover, advanced video editing with options for cutting and cropping, and an AI-powered voice remover to take the voices out of songs.
Step-by-Step Guide to Convert Video to Audio through UniConverter:
Any video file may be converted into another format with Wondershare UniConverter without sacrificing quality. It has an intuitive UI and is straightforward to use. It would be best if you did the actions listed below:
Step 1: Select the Desired Video:
Open Wondershare UniConverter, select Converter from the interface and then click "Add Files" in the box. To add the Video to Wondershare UniConverter, locate and select the video clip you wish to convert, and then click Load in the bottom right corner of the screen.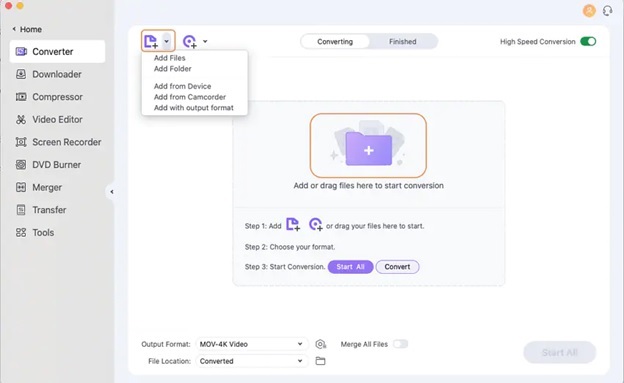 Step 2: Determine the output format:
Click to open the Output Format menu at the bottom of the page after selecting your output format from the list in the left pane on the Video tab.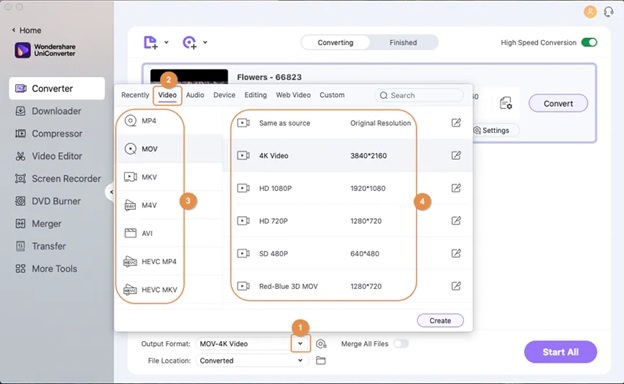 Step 3: Preview and Save:
Next, click Convert to the right of the imported media and select an output folder in the File Location box at the bottom. Make sure the High-Speed Conversion option is turned on in the top-right corner. When the conversion is complete, the word Success appears beneath the Convert button. Go to the "Finished" tab to view the converted video.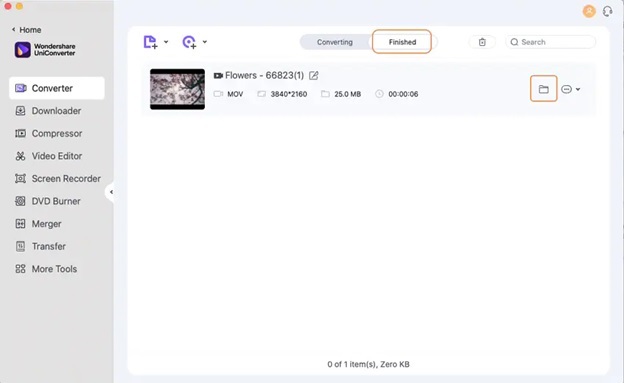 Why should you choose Wondershare UniConverter?
Use of Wondershare UniConverter is recommended since it is up to thirty times faster and more effective than another web- and PC-based converters. Even folks who are unfamiliar with computer technology may efficiently utilize this application.
Other Features of Wondershare UniConverter:
An all-in-one media converter, UniConverter can convert video, music, and picture files into more than 1000 different formats. Below are a few other features of Wondershare UniConverter:
Users may anticipate a substantial acceleration in conversion speed with the launch of Wondershare UniConverter 14.
The best option to convert, edit, and compress 4K/8K HDR HD videos are Wondershare UniConverter.
Video conversion software that supports lossless compression of audio files is Wondershare UniConverter.
You can effortlessly reduce the size of your video files by up to 80% using Wondershare UniConverter without sacrificing quality.
To suit the compression needs of various circumstances, UniConverter includes several compression options.
You can quickly eliminate background noise from your audio and video recordings with UniConverter.
This program can quickly remove the vocals from any song using AI-based technology, leaving you with an instrumental recording ideal for karaoke or practice.
Final Words:
Whether you need to convert one file or a thousand, Wondershare UniConverter is the one-stop shop for all your video conversion needs. It supports many video file formats, including more traditional codec types and more contemporary 4K-capable codecs like H.265 and HD.
You may clip and edit videos, apply filters, and add hardcoded subtitles, all inside a streamlined interface that makes conversion simple with this video to audio converter. If you often work with video files intended for the web, Video Converter will significantly simplify your approach.
---
---