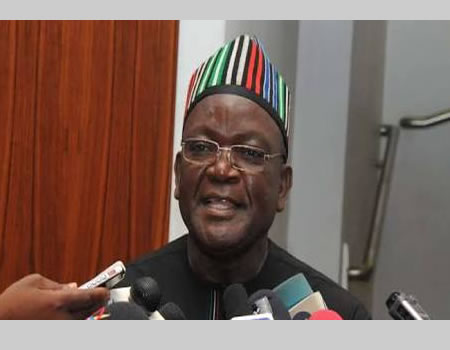 BENUE State governor Samuel Ortom has called State chapter of Christian Association of Nigeria, CAN, to instantly organise prayer and fasting as  foreign Fulani herdsmen have concluded plans  to invade the state.
Ortom raised the alarm at NKST church in Taraku, Gwer local government area of the state during the burial of one Mama Atese Rebeca.
Governor Ortom said that the security reports at his disposal has indicated the plans of Fulani herdsmen across the West African sub region to invade and cause serious havoc in the state.
He said that the herdsmen's plan attack might have been triggered by the recent anti grazing law enacted by his administration which he said had been resisted by the herdsmen.
Ortom siad that no amount of threat though could revert the anti grazing law but called on people of the state to join in the prayer and fasting whenever the Christian body declare days for prayer and fasting.
The governor also enjoined his people to run away from any act of violence, particularly, land dispute but advised them to embrace peace and report any break down of law to law enforcement agents stating that no lives lost could be replaced.
According to him, 'the anti grazing law our government came up with was to protect both farmers and herdsmen, I have been saying it that this government is ready for any superior alternative but to me the global practice is ranching of cattle.'
"Let me appeal to our religious leader, CAN to organise prayer and fasting for peace to reign in the state, because the security report at my disposal is that the Fulani herdsmen across the West African countries are planning to attack the state because of our stand on ranching."
It will be recalled that the governor  while hosting the country representative of United Nation High Commissioner on Refugees UNCHR, Edward Kallon  in Makurdi, recently  had told his visitor  that over 1,878 persons were  killed and by herdsmen  in the last three years.
The governor added that 200 persons were still missing while   750 persons were critically injured and over 99,427 households affected in the Fulani herdsmen attack and that property worth N94 billion were destoryed in 2014 alone to the attack.
Also, at the time the anti grazing law was assented to by the state governor, herdsmen under the aegis of Myeittii Alla Breeders Association of Nigeria had kicked against the law and vowed to challenge it in the court of law while at the same time said that they were joint owners of Benue valley.