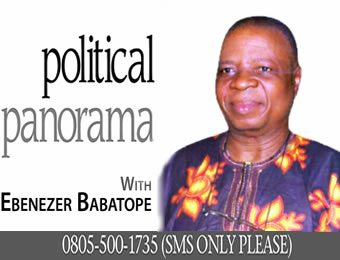 Today, I turn 75. I was born in Ifaki in Ekiti State 75 years ago to Very Reverend and Mrs. Daniel Babatope.
Though I am Ijesa, as my two parents are full blooded Ijesa people, I cannot forget the Ifaki people that ensured my survival as a human being. I had my primary and secondary education in Ifaki. Ekiti State.
I have decided to end formally, the Political Panorama that I have written for the Nigerian Tribune for over 20 years now. Before I started writing Political Panorama, I had written for this great newspaper founded by the Avatar, the late Papa Obafemi Awolowo, Periscope, Focus and from the Rostrum.
I wrote my first article for the Tribune in 1967 when I was a second-year undergraduate at the University of Lagos, Akoka, Yaba Lagos.  It was Dr. Obarogie Ohonbamu who had provoked me into writing after he had attacked the person of Papa Obafemi Awolowo. I felt his comments on Papa Obafemi Awolowo unnecessary and uncalled for.
I, therefore, intend to reactivate Periscope as an occasional Tribune publication on current events in Nigeria.
There are some matters I would have wished to cover before throwing in the towel on this page. The events would have covered some major aspects of my sojourn on earth. Unfortunately, this can no longer be done. The journey has unfortunately ended.
We will equally continue to celebrate Papa Obafemi Awolowo as the grand inspirer of progressive politics in Nigeria. With Awo, the struggle certainly continues.
I am so sad to terminate this column.  I say it again that this is a painful goodbye.
We will finish the serialisation on Mama H.I.D's book before finally signing off the political panorama column.
I sincerely thank you all.
God bless you! Goodbye and Farewell!!
It has been a pleasure for me working with Felix Adenaike, Tola Adeniyi aka "Aba Saheed", 'Biodun Oduwole, Folu Olamiti, Sode, Edward Dickson aka"Eddy Eddy", Tayo Lewis, Segun Olatunji and several others in the management of the Tribune Group of Newspapers over the years. They have all been journalistic stars in their own rights.
I have been living with my people in Ijesaland since I turned 70. I am ever happy to have been born an Ijesaman. I have told my children particularly Mrs. Gbojubola Alao and Mrs. Fehintola Akingbogun that whenever God calls me to his bosom, a memorial service should be organised for me at Ifaki Ekiti where (as I wrote earlier) I was born.
I have told them to contact my 'aburo,' former Governor Segun Oni for the arrangement of the service. Segun Oni is a credible candidate for this year's Governorship election in Ekiti State. His father, Papa Oni who was Baba Ijo of the Methodist Cathedral, Ifaki Ekiti was a most loyal friend of my father, the late Very Reverend Daniel Babatope.
I now rest my Political Panorama column. I hope that the good people of Nigeria will remember that a strong Awolowo supporter once wrote for the Tribune newspapers. My pen (my Sword of struggle) now rests permanently in the scabbard.
I will still have more to say next week!
EBINO TOPSY – 0805-500-17355 (SMS ONLY PLEASE)
NEXT WEEK
BYE BYE AND FAREWELL – 2
(BOOK YOUR COPY IN ADVANCE)