Friction with Makinde over land revocation will end ― Ajimobi
• My focus for good governance above squabbles with anyone ― Makinde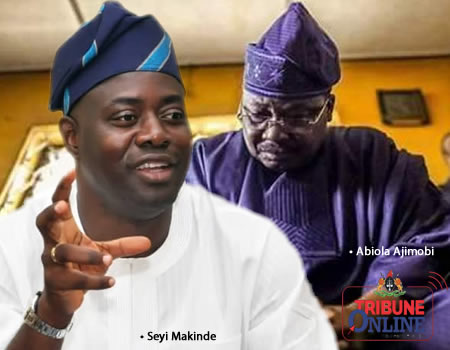 Former governor of Oyo State, Senator Abiola Ajimobi, on Friday, avowed that the current friction between himself and the incumbent Governor Seyi Makinde led government over some issues will become a thing of the past.
Ajimobi stated this at the burial service for Dr. Lekan Are held at The Cathedral Church of St David, Kudeti, Ibadan, on Friday.
Ajimobi's remarks come on the back of the recent decision of the Oyo State government to revoke some quarters and plots of land for alteration of land use, acquisition for private residential and violation of the one man, one plot principle guaranteed by the Land Use Act, 1978.
The Makinde government had revoked the parcels of land to include quarters 361, 371, 372 totaling about 26,627sqm for overriding public interest and for use of the state government.
The former governor had subsequently sued Makinde for revocation of his landed property at Agodi Government Reservation Area to the tune of N15million and sought an order of injunction restraining the state government from carrying out any developmental work on the landed property.
Apparently referring to the current friction, Ajimobi said, "I greet by the governor, Engineer Seyi Makinde. We are currently having issues but we will end it."
In an obvious response to Ajimobi's statement, Makinde, in his own remarks, said his focus was on the development of Oyo state above being involved in any squabble with anyone.
Makinde said he particularly keyed into a piece of advice by the late Dr Lalekan Are that he should not quarrel with anyone but face governance for him to succeed.
"I am not quarreling or fighting with anybody. He (Dr Lekan Are) told me not to quarrel with anybody with focus on governance. So, my focus is the development of Oyo state," Makinde said.
ALSO READ: Ajimobi sues Makinde, others over revocation of landed property
Though he decried that he did not have lengthy discussions with Are while alive, Makinde said he was buoyed that the late Are praised him for being on the right path with regards to education.
Both Makinde and Ajimobi spoke glowingly about the life and times of Are, urging Are's family members to rather than mourn celebrate a life well-lived.
Present at the burial were Are's wife, Olabisi; family members; former Governor Rashidi Ladoja; former Prelate of the Methodist Church Nigeria, Dr Sunday Ola Makinde; National President, Government College Ibadan Old Boys Association, Mr Wale Babalakin; wife of former Governor Ajimobi, Florence; among other dignitaries.
In his homily, Diocesan Bishop, Church of Nigeria (Anglican Communion) Ibadan South Diocese, Reverend Akintunde Popoola lauded Are's love for humanity, commitment to God's work, contentment, humility, trust in God and quietness in giving.
Popoola particularly urged governors of the South West to be strong in ensuring the realization of the Amotekun corps establishment.
He noted that the establishment of Amotekun corps had become expedient to save the South-West geopolitical zone from marauding herdsmen and criminals.