Four youths from Niger State who hid inside trailer carrying foods with their bikes arrested in Ogun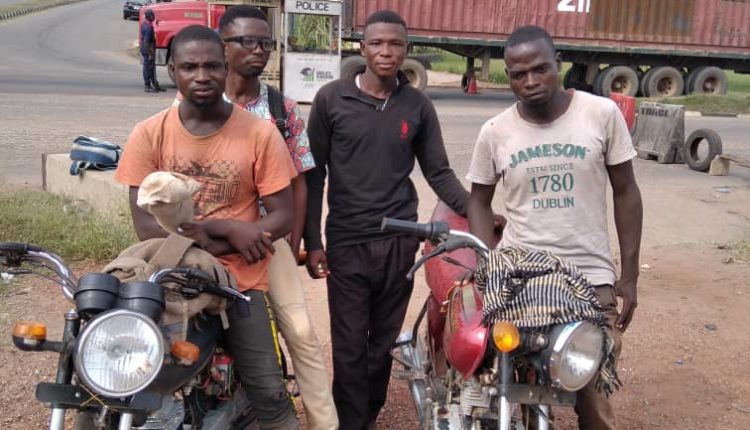 Operatives of the Nigerian Security and Civil Defence Corps (NSCDC) have arrested four Northern youths who boarded a trailer carrying foodstuffs from Minna, Niger State along with their motorcycles to Ogun State despite inter-state travel ban by the Federal Government.
Parading the youths in Abeokuta, the state Commandant of the Corps, Mr. Hammed Abodurin, said they were intercepted at Oke-Ilewo, Abeokuta, at about 10:30 a.m. on Tuesday for violating the lockdown rules and for being in the public without using face masks and riding unregistered motorcycles.
Abodurin said: "Further interrogation showed that the youths who are from Niger State with their motorcycles claimed to have boarded a truck conveying foodstuffs from Kotangora to Lagos, alighted at Ogere and continued the journey with their motorbikes to Abeokuta where they were arrested."
He added that they would be handed over to the state Mobile Court for violating the lockdown and ban on inter-state travel for appropriate sanctions.
Also speaking, the Special Adviser to the Goverrnor on Security, Sola Subair, reiterated the commitment of the government to protecting the people at all times as well flatten the curve of the COVID-19 pandemic.
One of the youths, Ayuba Musa, said they were not aware of the lockdown in the state and the ban on inter-state travel, saying they came from Niger State as a result of hunger to Abeokuta to make a living.
" We boarded a tanker from Minna and the driver dropped us at Ogere and from there, we rode our bikes to Abeokuta. We're here to do commercial motorcycle business, I know Abeokuta before , we're going to Lafenwa to meet a friend, he knows we are coming.
"I don't know that there is a restriction order. We left our state because we don't have food nor money at home anymore. We came here thinking that we will ride bikes and get money to eat," he added.
YOU SHOULD NOT MISS THESE HEADLINES FROM NIGERIAN TRIBUNE
Buy and read digital replicas of your TRIBUNE titles by subscribing through E-VENDING
COVID-19: Notorious Oyo Company Produces 19 New Positive Cases
A company in Ibadan again, on Monday, produced 19 COVID-19 cases after producing 30 on Saturday and eight on Sunday. It has, thus, produced a total of 57 COVID-19 positive cases. The Oyo State Governor, Seyi Makinde, disclosed this in a statement on Monday… Read full story
We Won't Relax Ban On Religious Gatherings For Now Despite Pressures, Says Makinde
Oyo State governor, Seyi Makinde, on Monday said despite pressures from various clerics on the state government to relax ban on religious gatherings over the coronavirus pandemic, the government has no plan for now to relax the ban. According to the governor, based on the expert advice which indicated that transmission… Read full story
Infectious Disease Bill: Bill & Melinda Gates Foundation Denies $10m Bribery Allegation In Nigeria
Country Director of Bill & Melinda Gates Foundation in Nigeria, Dr Paulin Basinga, on Monday, denied allegations over the $10 million bribe purportedly given to the leadership of Nigeria's House of Representatives. Dr Basinga stated this at the opening of the investigative hearing held at the instance of the Special Ad-hoc… Read full story
Why We Didn't Disclose Name Of Company In Ibadan Where 38 Staff Contracted COVID-19—Makinde
Oyo State governor, Seyi Makinde, has given reasons the name of the company where 38 staff member contracted coronavirus has not been disclosed. On Saturday, the governor announced that 30 members of an unnamed company in the South West area of Ibadan contracted coronavirus while on Monday, he disclosed… Read full story
How People Can Boost Immune System Against COVID-19—Makinde
Governor Seyi Makinde of Oyo State, on Monday, listed some plants that residents of the state could consume to help boost their immune system against contracting the virus. Speaking at the Government House, Ibadan, Makinde said that people could boost their immune system against the virus by consuming… Read full story
COVID-19: Ekiti Residents, Authorities Worry Over Insecurity Amid Lockdown
No doubt, the battle against the coronavirus pandemic has remained the crux of major discourses across the globe and Ekiti State in particular in the last three months. Among the measures put in place in the state to curb the spread of the virus is the restriction of movement declared by the state governor, Dr Kayode Fayemi… Read full story
Reps To Partner Governors' Forum To Produce Widely Acceptable Infectious Diseases Bill ― Gbajabiamila
The Speaker of the House of Representatives, Hon. Femi Gbajabiamila on Monday reiterated the readiness of the House to partner Nigeria Governors' Forum (NGF) in the bid to produce a satisfactory Control of Infectious Diseases Bill for the citizens…. Read full story
EDITORIAL: Almajiri And Violation Of Lockdown Order
AS a rule, pandemics put social and political relations of the affected society under a magnifying glass, and Covid-19 has been no different. In Nigeria, it has revivified knotty social questions around unemployment, education, and youth alienation,the Almajiri conundrum being a perfect encapsulation… Read full story
Fake News Is Damaging Credibility Of COVID-19 Response, PTF Laments
The Presidential Task Force on COVID-19 (PTF) has lamented the negative impact of fake news on its work, saying that fake news is damaging the credibility of the nation's COVID-19 response. The National Coordinator of PTF, Dr Sani Aliyu, while speaking during the daily briefing on Monday said the impact of fake… Read full story
Oshiomhole Outsmarts APC Governors As Bulama Emerges National Secretary
National chairman of the APC, Comrade Adams Oshiomhole has finally consolidated his grip on the party national secretariat. Waziri Bulama from Borno State was on Monday sworn in as acting… Read full story
Danjuma Visits Aso Villa, Keeps Mum After Meeting With Buhari
President Muhammadu Buhari on Monday met behind closed doors with former Defence Minister, General T. Y. Danjuma, at the Presidential Villa, Abuja. The News Agency of Nigeria (NAN) reported that the agenda of the meeting between the president and the visiting elder statesman, whose last visit to the State… Read full story
First COVID-19 Vaccine Tested In US, Shows Promise In Data From Eight People
Moderna Inc's (MRNA.O) experimental COVID-19 vaccine, the first to be tested in the United States, produced protective antibodies in a small group of healthy volunteers, according to very early data released by the biotech company on Monday, Reuters report… Read full story