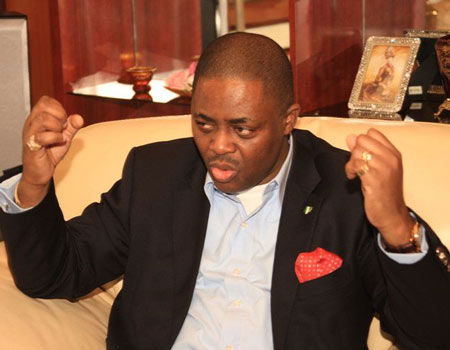 THE Peoples Democratic Party (PDP) has admonished the Nigeria Police to ensure that it is not used by the All Progressives Congress (APC) "in its desperate quest to muzzle free speech and subjugate Nigerians, particularly the opposition, ahead of the 2019 general election."
This followed the police's "fact-finding" invitation extended to Former Aviation Minister, Femi, Fani Kayode, to appear on Tuesday for alleged conspiracy, criminal defamation and inciting publication.
The main opposition party has advised the police to explain the invitation in clear terms.
The party said while it is not against any lawful step by the police in carrying out its duties, the police must ensure that it is
According to a statement issued by Kola Ologbondiyan, its National Publicity Secretary in Abuja on Sunday, "this is particularly as the letter inviting Chief Kayode did not state in specific terms, the alleged issues or conduct bordering on 'conspiracy, criminal defamation, inciting publication, injurious falsehood and conduct likely to cause breach of peace,' for which he has been invited."
ALSO READ: Agbomhere, former Edo governorship, aspirant escapes death
The PDP hopes that the invitation "is not a setup and part of the design to emasculate citizens, which is now being unleashed on media houses, journalists and other citizens for alleged comments and publications considered to be against the interest of the ruling party.
"This is because reports, already available in credible media, have it that Chief Kayode's invitation 'may not be unconnected' with an interview he granted the Africa Independent Television (AIT) where he reportedly controverted claims by the Presidency and the APC that it was Senate President Bukola Saraki that masterminded the widely condemned invasion of the National Assembly.
"Moreover, the recent detention of the Premium Times reporter, the arraignment of Senator Isah Misau for allegedly making injurious statement against the IG of Police, the invitation of Mr. Kassim Afegbua, the spokesman of former military President Ibrahim Babangida for issuing a statement considered critical to this administration and the recent demolition of the studio of Fresh FM in Ibadan, Oyo State capital for allegedly airing materials considered against the interest of the APC in the state, readily come to mind.
"We, therefore, urge the Police to come out clear on why it has invited Chief Kayode and resist attempts by the APC to entangle it with controversial political issues."