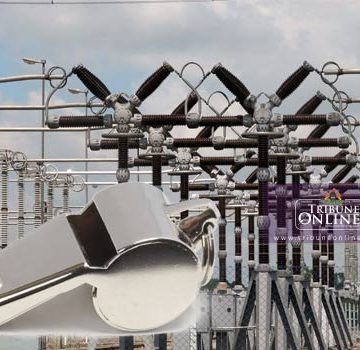 IN a bid to address transmission constraint issues in the power sector value chain, the Transmission Company of Nigeria (TCN) said it has commenced installation of 2400megawatts quadline on its 330KVA lines in three interstates.
The locations are; Delta to Benin, Afam-Alaoji and Kaduna-Kano.
The company's Managing Director (MD), Mr Usman Gur Mohammed disclosed this in an interview with journalists in Owerri, Imo State capital.
He explained that the quadline is also a 330KVA transmission line but stated that a normal line carries a single circuit whose capacity is on 600MWs.
"What we are putting now is quadline, of all the three 330Kv line we have been putting in Nigeria, this is the first time we are putting a quadline which will have a capacity of 2400MWs. Now for us to do that line we need to do a conducting of the new haven to Onitsha so that the generation coming from Afam and Alaoji can be evacuated to Enugu and Onitsha. If you look at the Nigeria Transmission Access project which is financed by the World Bank, it is putting transmission capacity all over the South-East and Port-harcourt and part of the South-South.
"The quadline is just the same 330KVA transmission lines but you know we used to have what we call single circuit the line that we have between Alaoji to Onitsha is a single circuit line meaning it can only carry 600MWs and when we say double circuit, it will be the same 330KVAa  line but it will carry two circuits. When we say quadline it means it is going to be four instead of double times two but it will be 600 times four, it means you have 2400MWs," he said.
Mohammed who decried the issue of interface between the company, distribution companies and generation companies stated that the Independent System Operators (ISO) should be responsible for balance between the generated load and collected road.
In his explanations, he said you know we are transmission company, transmission is made up of transmission service provider and independent system operators. If your capacity to generate power is 10,000, the load that is connected to the generator is 5,000, you can only generate 5,000.
"So it is the duty of ISO to ensure a balance between the generated load and collected road. If the generated load is higher than the connected load. If the generated load is higher than the connected load, you have high frequency and it leads to system collapse, if the connected load is lower than the generated load, you have low frequency and it can lead to system collapse."
The MD pointed out that globally, it is recognised that in every power sector, transmission is supposed to have twice of the capacity of generation companies while distribution is supposed to have twice of the transmission capacity.
However, he noted that Nigeria was still lagging behind in this area but quickly added that this led to the initiation of the transmission rehabilitation and expansion programme which has so far received support of about $1.55billion from donor agencies.
---
---