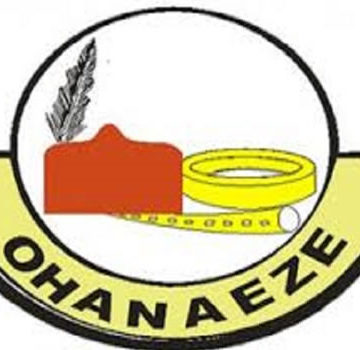 THE apex Igbo socio-political group, Ohanaeze Ndigbo, on Thursday, appealed to Igbo across the country to embrace peace as division is not the solution to the country's challenges.
The Secretary General of Ohanaeze, Ondo State chapter, Mr Uche Erondu, who stated this in Akure at a press conference to launch his musical album, titled: "God Bless Nigeria." charged Igbo across the country not to engage in any activity that can threaten the unity and peace of Nigeria.
He noted that Nigeria as a nation, is being faced with some challenges which include, insecurity, agitations, corruption, poverty, marginalization, but said, his music was released to foster love, peace and unity among Nigerians.
He traced the sources of problems confronting the nation to poor leadership and management, which he stressed, often times result to marginalization of some sections.
"This relevant song which is an inspiration from God was produced in 2014 and is meant to unite Nigeria as one. We must all make sacrifices in order to move this nation forward, starting from the leaders to the led.
"Our leaders should be transparent and dedicated enough in order to earn our trust. There should be no sacred cows in the fight against corruption. There should be respect for the Rule of Law by all."
He urged President Muhammadu Buhari to have a rethink over the call for the restructuring of the country, saying "it more serious than it is being handled currently. The course of restructuring should exclusively be championed by Mr President, not APC."
Erondu, who advocated for "restructuring of our minds," said "Henceforth, the violation of our people's human rights under any guise should stop. The administration of President Buhari should ensure that only the services of competent people are employed without nepotism."
The Secretary General also called on the Federal government to investigate the sudden disappearance of the leader of the Indigenous People of Biafra (IPOB),
Mr Nnamdi Kanu, after the military pre-occupation of "Operation Python Dance" in Abia State.
"It is true that Ohanaeze does not support his agitation but the fact remains that he is an Igbo man and our son. Those that said that they know his whereabouts should assist in the investigation."
The President of the group in the state, Chief Chuks Ezechiefoh, lauded the Federal Government for commencing the payment of pension for retired police officers, who were granted Presidential amnesty in 2000 for serving in Biafra Police.
He stated that the N50b compensation for the victims of the civil war and the additional N38b set aside for the total demining and destruction of abandoned bombs and landmines within the region would end the civil unrest in the South East.
According to him, "When things seem not to be balanced, the people would unavoidably agitate. People will want their rights to be given to them, and when such rights are given, agitations will stop automatically."
"President Buhari to continue in that direction not only to the South East but wherever there are traces of marginalization, government should wade in and pacify those areas. It is a welcome development."
---
---