It's a difficult time for Nigeria –FEC •Approves more external borrowings •Approves contracts for UI, UNILAG •Solid Minerals get $150m loan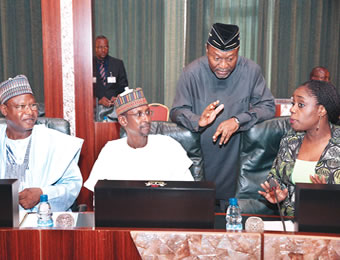 FOLLOWING the latest National Bureau of Statistics (NBS) report which confirmed that the nation's economy is in recession, with inflation hitting 17.1 per cent, the Federal Government has admitted that it is a difficult time for Nigeria, with economic situation confusing, but insists that government is not confused about what to do.
Briefing State House corespondents on the outcome of the Federal Executive Council (FEC) meeting presided over by President Muhammadu Buhari on Wednesday, Minister of Finance, Kemi Adeosun, said the country was experiencing the worst possible time.
"It's the worst possible time for us. Are we confused? Absolutely not. How are we going to get ourselves out of this recession? One, we must make sure that we diversify our economy.
"We can see what happened at the output data of the oil and gas sector. What's happening in the Niger Delta has dragged down the GDP of the entire economy. We're too dependent on oil, whereas 87 per cent of our GDP should be non-oil. So let us drive those other areas.
"We have to invest in capital projects. The time are confusing, but we are not confused. We are extremely focused. We know that if we can just bear and get through this difficult period, Nigeria is going to be better for it.
"If we rely on oil and the price of oil remains low and the quantity of oil remains low, we can't grow. We have to grow our non oil economy
"I think that we have a long way to go. We're not confused and we're not deceiving ourselves that everything is rosy. It's not.
"It's a difficult time for Nigeria, but I think Nigeria is in the right hands and if we can stick with our strategy, we will be better for it. We still have some adjustments to make. I think we need to make some adjustments in monetary policy. It's quite clear we do and we will do that.
"We're working on that. We need to try and find a way to support the manufacturing sector better and we will do that," she said.
Joined by her counterparts from Information and Culture, Agriculture, Mines and Steel Development and Education, Lai Mohammed, Audu Ogbeh, Kayode Fayemi and Adamu Adamu, respectively, Adeosun also revealed that FEC approved external three-year rolling borrowing plan.
She recalled that the present administration had posited that its external borrowings strategy would be focused on concessional debts, low cost loans, particularly from the multi-lateral agencies.
She said the borrowing plan, which will be transmitted to the National Assembly for approval, would be concessional loans average with interest rates 1.25 per cent, four to seven year moratorium, 20 years to pay.
The minister informed that the borrowings would come from agencies such as the World Bank, African Development Bank, China EXIM Bank and other development agencies like Japanese International Cooperation Agency (JICA), adding that the balance would come from Eurobonds.
"These concessional loans will go to strategic sectors of the economy that will help to revive the economy," she said.
She disclosed that the Ministry of Solid Minerals had procured a World Bank loan of $150 million to enable it to strengthen capacity.
Wednesday's FEC also approved a new roadmap for solid minerals, which seeks to grow the contribution of mining to the GDP.
Fayemi explained that what distinguished this roadmap from the previous one "is its determination to build a regulatory agency – an independent regulatory agency in the mining sector."
He said there would now be mining cadastral zonal offices which would issue licences together with the mining inspecting directorate, mining environment compliance unit, as well as the neutical mining units.
In his statement, Minister of Education, Adamu Adamu, revealed that FEC approved contracts for the construction of International House for the University of Ibadan (UI), which is a post-graduate hall, at the cost of N1.302,709,02.34 with a completion period of 44 weeks.
Also approved was contract for the reconstruction of the University of Lagos (UNILAG) new library at the cost of N1.935,135,87.35 billion.
"The library built in 1964 has not been expended or modernised. So, this new library is to augment the old one.It has a completion period 64 weeks," he said.
Ogbeh disclosed that FEC had renewed the contract of a service provider for the technology platform, e-wallet, for the delivery of seeds and fertilisers and capturing the database of farmers in every local government in the country.
He recalled that the e-wallet is a programme of the past administration which he said ran very well in 2012 and 2013, but had few hitches "as ministry got involved in trying to select the providers."
He said, "this led to the figure of debts piling up to the sum of N67 billion," adding that "the quotation by the company was N884.799 million, but we bargained N380.512 million.
"They will work with us for one more year, teach our people how to do it, domiciled the data of farmers which is 20 million of them and continue to work on how to get agriculture inputs to farmers and keep away those who tend not to deliver but make claims."