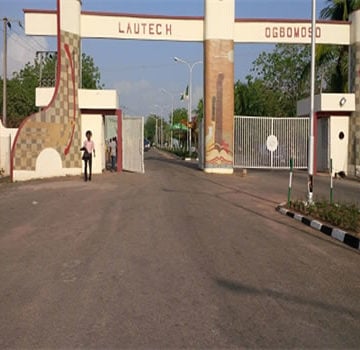 STUDENTS of the Ladoke Akintola University of Technology (LAUTECH) will today (Tuesday October 16, 2018) stage a protest simultaneously in Ogbomoso and Osogbo against a new regime of tuition fees announced by the management of the institution.
According to a copy of the memo addressed to students on Monday announcing the new fees, indigenous students from the owner states of Oyo and Osun will now pay N200,000; while non-indigenes will pay N250,000.
The memo, entitled 'Notice to All Students on Payment of New Tuition Fees with Effect from 2018/2019 Academic Session' was signed by the registrar of the institution, Mr J. A. Agboola.
Students have rejected the new fees, describing it as oppressive, and have vowed to resist it.
Following the announcement, students have organized themselves to lock down the institution beginning from 6am Tuesday morning.
A document signed by the Students' Union President of the university, Mr Abiodun Oluwaseun, entitled 'LAUTECH Mabagement a Joker', also obtained by Nigerian Tribune, described the school's decision as laughable.
"This scorn act by the management has called for nothing but an immediate and incessive fury from the students' populace, as the school management has shown vividly their lack of trust and respect for agreement, following several consultation and consolidation with several assurance of no hike in the tuition fee," the union said.
The students' body said that the school's management has called for war.
"They have dared our strength and unity and we must show them the consequence of oppression. Now is the time we must come together and fight against injustice and proposed exploitation by the management of the institution," the SUG president said.
The union said that both entrances to the institution would be locked by 6am Tuesday.
The LAUTECH branch of the Academic Staff Union of Universities (ASUU) has condemned the new tuition increase.
The chairman of the union, Dr Biodun Olaniran, in a brief chat with Nigerian Tribune, said "ASUU is against commercialisation and privatisation of education in the country, therefore opposes the increment in tuition fee."
Meanwhile, ASUU has "strongly advised" its members to be careful of their movement around the school area, particularly those that may want to take their children/wards to the staff school.
A memo it sent to its members read: "Following the announcement of the University Management on increase in school fees, it has come to our knowledge that the students have organized themselves for a simultaneous protest in Ogbomoso and Osogbo by 6:00 a.m. today, Tuesday (16/10/2018).
"Our members are therefore strongly advised to be careful of their movement around the school area, particularly those that may want to take their children/wards to staff school."